---

---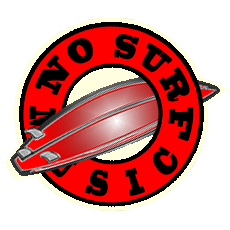 Artist:
Angela Perley & the Howlin' Moons
Members:
Angela Perley (vocals/guitar/saw), Chris Connor (guitar), Billy Zehnal (bass)
Based In:
Columbus, OH
Website:
Album:
Homemade Vision
Release Date:
January 22, 2016
Label:
Vital Companies
Producer:
Michael Landolt
Previous Releases:
Black Cat (EP, 2010), Yellow Moon (EP, 2011), Fireside (EP, 2011), Nowhere Is Now Here (EP, 2012), Hey Kid (2014)
Genres:
Americana, alt country, rock, roots rock, neo-classic rock, indie rock
Related Articles:
---
February Featured Review
Homemade Vision
Angela Perley's Sophomore Album Layers Alt Country Roots with Dreamy, Ethereal Rock
by Jason D. 'Diesel' Hamad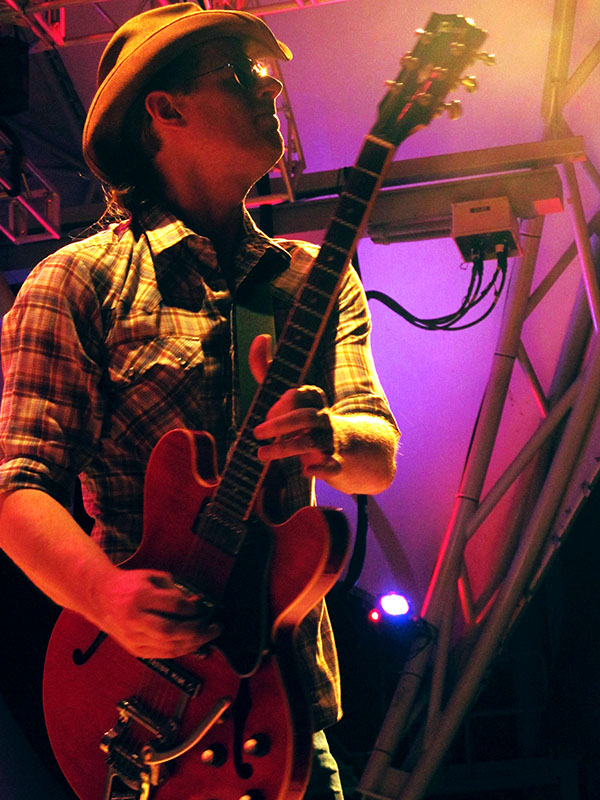 Chris Connor of Angela Perley & the Howlin' Moons performing on the Columbus Commons, 8/14/15. Photo by Jason D. 'Diesel' Hamad, No Surf Music.
A few hours before, Angela Perley & the Howlin' Moons had headlined the Columbus Food Truck Festival, strutting their way across the big stage on the Commons like they owned the whole damn town. After the meets and the greets and the merch sales came load out, and then a trip around the corner to Little Palace for some drinks and grub for those who hadn't filled up on food truck faire. Finally, Perley, guitarist Chris Connor, and I found ourselves in the living room of their apartment, trying to plot a course for the remainder of the night.
"Hey, man," said Connor, a devilish gleam in his eye, "you wanna hear the new album?"
I have a standing policy never to refuse free food or a place to park My Stately Manor for the night, but an offer to be the first person outside the production team to hear Homemade Vision requires no formal sanction. How could I say no?
When I'd met Angela Perley & the Howlin' Moons, they were set to release their first full-length album. Hey Kid eventually went on to win No Surf Music's Shiny Silver Surfboard award for that year's best album, song of the year honors for leadoff track "Athens," and—along with their stratospheric live performances—helped the band garner Artist of the Year honors, the only time anyone has won all three of our top awards. "Athens" even went on to take first place in the International Songwriting Competition's Americana category. With Hey Kid as a backdrop, the band built on an already stellar reputation as live performers, strengthening their fan base at home in Columbus and over an ever-widening touring range.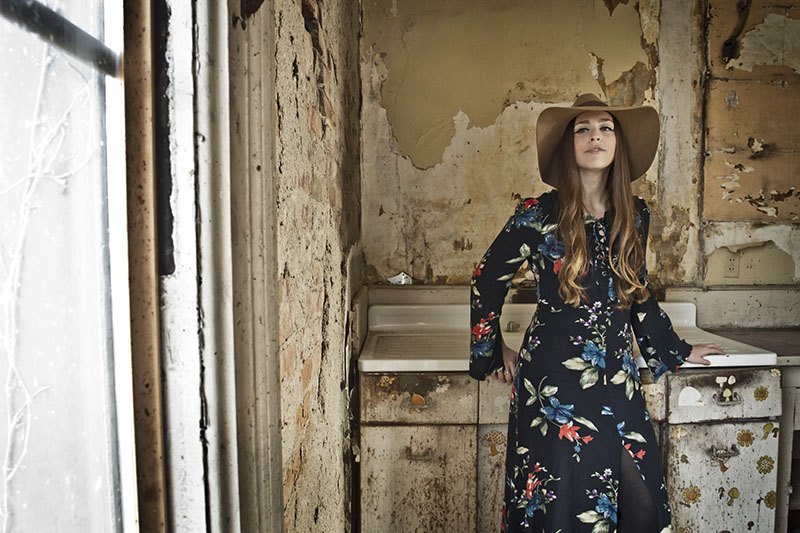 Seriously, if this girl were trying to read YOUR mind, you'd be nervous, too. Photo by Chris Casella.
So Homemade Vision had a lot to live up to, and sitting there on that couch with Angie and Chris watching me for even the smallest hint of a reaction, I didn't know if it had. It was different. That was obvious from the first note. Country influences were still there, but they'd taken a back seat to a richer, more complex rock sound full of delays that reverberated like stones thrown into a quarry lake. With their unique alt country blend being one of the Howlin' Moons' most attractive qualities, it was difficult not to fear that they'd traded in their roots for something more mainstream.
"We consciously made a decision not to try to do another Hey Kid, not to follow in Hey Kid's footsteps," says Connor. But stylistically, "I don't think we made a conscious decision to go any which way. It's hard for us to tell because I don't see it as too much of a departure to be honest… You know, songs like 'I'm Leavin'' kinda remind me of 'George Stone,' a little bit that jangly sort of vibe. 'Green Eyes' has a 'Hurricane' or 'Bad Reputation' kind of aggressive, fuzzed out feel. I think 'Your Love' has at its heart kind of a country backbone, sort of that Outlaw Country/Waylon Jennings backbone. It's a little more aggressive but I feel that in there."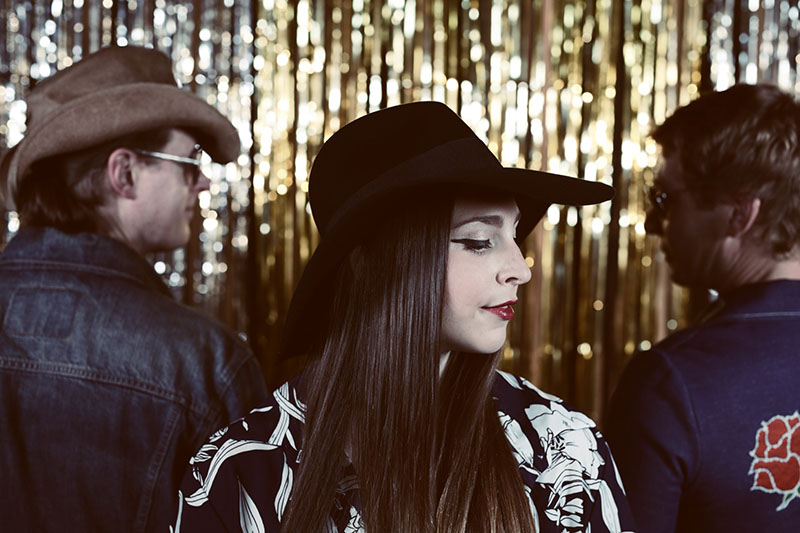 Perley may be out front, but the chemistry between her and longtime bandmates Chris Connor, left, and Billy Zehnal, right, helps make her music with the Howlin' Moons all the more appealing. Photo by Kerry Henderson .
In other words, the same basic elements that have always characterized Perley's music with the Howlin' Moons are present, just in different proportions. It seems in particular that they turned the country dial down and the indie rock dial up, resulting in an overall more cerebral tone. Connor is both more present and less prominent, his crunchy, gunslinging Telecaster guitar lines replaced by a new Gibson-fueled ring. Bassist Billy Zehnal drives each track forward like a freight train, but he's also a step back in the mix. Jeffrey Martin is as solid as ever with the drum kit, in the recording studio if no longer on the road with the band.
Then of course there's Angela herself holding the whole operation together with her finely crafted lyrics, gorgeous voice, and incomparable style. Some of the group's evolution may be due to her taking charge of the band and the recording process in a way she never has before, allowing her to make a number of production choices she had wanted in the past, but couldn't include. The fact that many of the album's songs had rarely if ever been played live prior to recording—a departure from the band's past process—may also have given the band license to experiment in the studio.
"I think it was a good way for us to get pretty creative with this one," says Perley. "I've always had a vision of what the songs are like, but my social skills maybe haven't caught up sometimes, working with other people and the band. This album—after Hey Kid and all of the shows we've been doing—I definitely feel stronger as a band leader and it felt like I had more of a say in everything and I was more comfortable being brutally honest instead of quietly thinking something in the back of my head. I'm just so comfortable with everybody now. We're pretty open. If I don't like something I can mention it with no problem. Definitely way better communication. And just thinking of Billy and Chris when I was writing the songs. I know them so well now I can kind of predict… imagine what the song is going to sound like. They bring it to life, but I'm thinking of them when I'm writing the songs… Now it's definitely a band mentality for me."
"The chemistry was just great in the room," Connor points out. "The recording process this time was very fluid. We did make a conscious decision to have Angela do the harmonies and to put a lot of reverb and delay on it because she's always wanted that and we finally just pushed for it—to have some really cool delays and reverbs—and we also made a conscious decision to fuzz Billy's bass up a little bit, to make it more aggressive—his tone—and I think that pushes it to another realm as well, from an audio standpoint."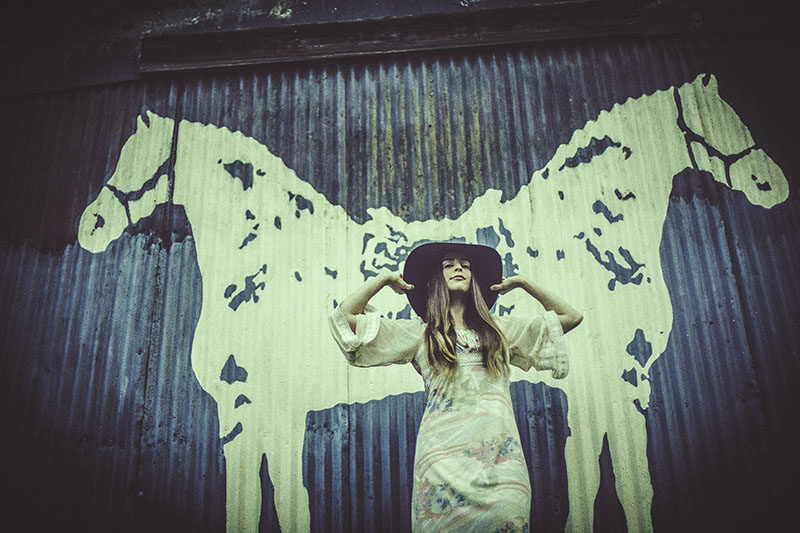 You know, like the kind of mystic burn you would expect from a chic who hangs out with two-headed horses. Photo by Red Generation Photography.
"I love when I have headphones on and I can hear little voices…" Connor continues, "hear her voice delay and repeat. It just adds some candy."
It took me a while to draw any real conclusions, but somewhere driving through the New Mexico desert on my way west, having played the album dozens of times over the previous thousands of miles, I finally realized that Homemade Vision is awesome. It's just a slow-burning awesome.
Compare leadoff singles: Hey Kid's "Hurricane" was a balls-out basher written last-minute to satisfy the label's note, "I don't hear a single," and meant to move the listener with bristling bravado. Homemade Vision's "Electric Flame" goes the other direction, capturing the listener's imagination with a subtle, creeping, tingling approach, full of mysterious imagery and guitar chords that stretch to eternity. Connor takes a slow hand while Zehnal, Martin and organist Linda Dachtyl add just the right touches to create a perfectly balanced and distinctly cosmic sound.
Heard riding atop this wave, filtered through acid-soaked cloth and a haze of smoke, Perley's ethereal, reverberating voice paints out a vintage Sunset Boulevard dream:
She's got the way to move, yeah,
She's got an electric flame.
She's got the way to move, yeah,
She's got an electric flame.
From the mountains of California
To the streets of L.A.,
Smoky bars and gold guitars
Dancing in the rain.
"It is a West Coast song," Perley explains. "The melody line just inspired a Californian feel to it. The songs do come to me as more visuals. In songwriting, I think of a place and a time in my head and that one was just very distinct. I was thinking of water and sand."
Similarly, compare each album's most introspective pieces. Hey Kid's "Athens" is a masterpiece unmatched on Homemade Vision, but you can't expect a girl to write the song of her life every time out. There is, however, perhaps a good comparison to be made to another Hey Kid highlight, the sparse and insightful "Down and Drunk." One of Perley's great talents as a songwriter is her ability to tap into a deep well of personal vulnerability, and her lyrics are often most compelling when her characters are most insecure, as in that song. One of the comments I did manage after that first listen was that I felt the album lacked a track that matched that pure, stripped down nature of that track. Musically this may be true, but lyrically and emotionally it is not. After repeated listening, it's clear that no Perley song matches the woeful anguish of "Dandelion Kisses."
In the song, Angela plays the part of Knight of Infinite Resignation, totally devoted to her love though the object of her desire is already taken. She tries to accommodate the emotional pain by imagining herself in her rival's place, even as she refuses to fight to make it her own. Among the gingerly-picked guitar strings and airy chords, her surrender is heartrending:
Dandelion kisses for you.
I'm the one who adores you,
But all good girls are only satisfied for a little while.
Oh, I hope you keep this letter
And when things with her get better
You think of me as beautiful for a little while.
I won't break it, no, I won't break it.
I won't break it, no, I won't break it.
I won't break it, no, I wanna make a deal.
Oh oh, just pretend it's real.
Oh oh, just pretend it's real.
Oh oh, just pretend it's real.
Just pretend it's real.
But unlike "Down and Drunk," the heartbreaking lyrics of "Dandelion Kisses" are hidden within a lighter musical framework, reminiscent of the work of the Old 97's. Again, it takes a while for the real weight of the song to creep in.
"I love writing that kind of song," Perley explains, "especially hiding it, where it seems like kind of a happy song, and then when you look a little closer it's… not really. I like that. I like mixing those emotions together. It's more fun to perform and deliver, as an artist, something that's not quite what you're expecting."
On a more straightforward track, leadoff "White Doves" forges through a mini-tour of 70s influences as its funky bass is joined by country rock guitar chords, progressive vocal harmonies, and topped off with a pair of hard rock full-shred guitar solos. "It just builds from the beginning to the end," says Connor of the piece. Perley's precocious vocals lay out a Grace Slick-worthy surrealistic vision:
It's true I don't believe in nothing real.
It's all a kind of perception, yeah.
I want to live just how I feel.
I want a heart of a Cadillac.
Hey, you, with your dark sunglasses on
You're like a homemade vision.
How 'bout you show me what you got?
I want to breathe you in.
Everything is fallin'.
Oh, I hear them callin'.
White doves in the sinking sand.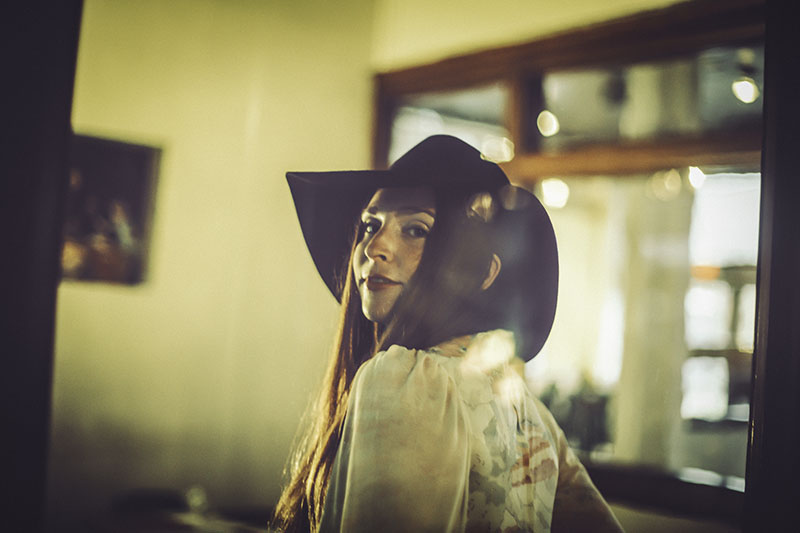 Ok, I'm not saying she won't turn her back on you, but you musta done something wrong. Photo by Red Generation Photography.
But not every track is as thematically ambitious. With a thunderous opening and overdubbed vocal harmonies that give Angela the sound of an entire early 60s girl group, "Don't Wanna Be Your Fool" explores cowboy pickup coping mechanisms that fall to pieces in a jangly-guitar-powered bridge that shrugs, "It's always girls and boys and electric noise," as if that alone explains the fall of the Roman Empire. Intentions towards nonchalance notwithstanding, the whole affair ends in a case of white line fever as the narrator tries to use the rolling odometer to drive her suitor off, as described in a classically Perley turns of phrase:
Yeah I'm taking my time
Like a silk feline,
Crossing state by state
To getcha outta my mind.
I don't wanna be your fool.
I don't wanna be your fool,
Your fool.
Led right off with a blazing guitar lick, "Your Love" is, as advertised, one of several songs of the loquacious variety included in the collection.
When asked why she included both love and breakup songs on the album, Perley replied, "Ever since I was very young I've always been drawn to relationship stories, whether that was in movies or books, so a lot of it is storytelling, a lot of it is a mixture of past relationships and then also other people's relationships that I'm around. I kind of pull in a lot from other people and I kind of mix things up." She laughs. "there's a lot of reality in there and there's also just me embellishing things."
On "Your Love," Perley's voice is breathy and sultry as she declares, "I got, I got a crazy feeling / Your love, your love's for me." The last minute breaks down into a surge of throbbing bass and a smoking hot guitar line that brings the whole thing to a boil.
Perhaps the album's purest rocker, "Green Eyes" is a love song of a more upbeat variety, with a gleeful bad girl sheen reminiscent of the best days of Chrissie Hynde and the Pretenders. The guitar chords are razor-sharp and backed by a powerful bass punch. The whole machine clips along at an unstoppable pace as Perley alternately preens and pouts her way through the verses into bright choruses where she veritably cheers the interjections:
Oooh, oooh, they can talk all they want to.
I said, oooh, oooh, they can talk all they want to.
Oooh, but all I really wanna do is
Get somewhere alone with you.
And give me green eyes in the morning, baby,
Sunshine in my heart now.
(You give me)
Green eyes in the morning
Sunshine in my heart now.
(You give me)
Sunshine in my heart now.
On the other side of the romantic equation, the understated "Leaving" is a tribute to the juxtapositional amalgam of melancholy and mollification that define the end a failed relationship. Painted in classic country style on a distinctly rock backdrop, it is filled out by high-energy bass and gorgeous organ chords that create a Beatlesque feel of natural harmonies. Perley's voice alternately drips with lamentful resignation and stings with defiant reprobation:
I hope she's everything that I'm not,
Roses and kisses and little puppy dogs.
Fortune has turned on this old ring I got.
Don't mean a thing. Guess I'll just take it off.
Ohhh, ohhh, you don't love me anymore.
Ohhh, ohhh, you don't love me anymore.
So I'm leavin. I'm leavin'.
I'm leavin'. I'm leavin'.
I'm leavin' and don't you forget it.
I'm leavin'; I ain't never comin' back.
I'm leavin' and you're gonna regret it.
My love, you'll never get it back.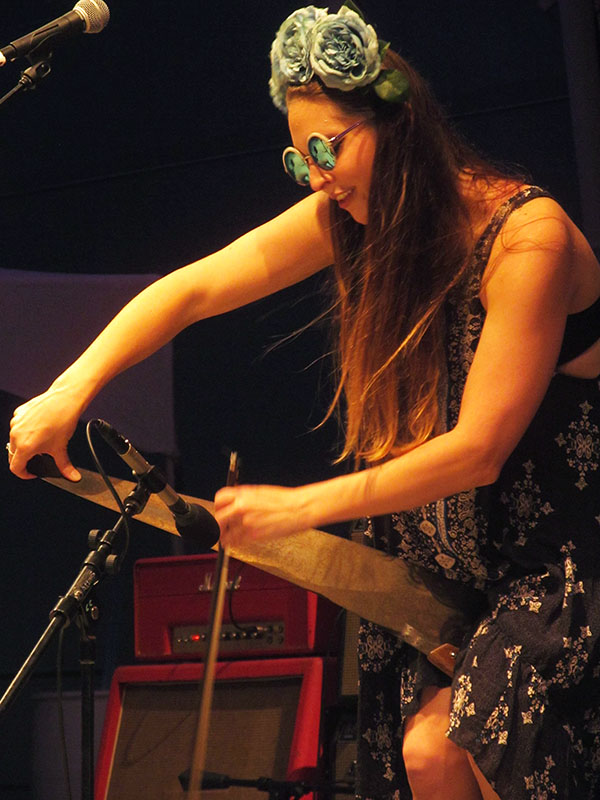 Perley performs the musical saw at Columbus Commons, 8/14/15. Photo by Jason D. 'Diesel' Hamad, No Surf Music.
A last iteration of the chorus is bookended by a pair of particularly inspired Connor guitar solos before the song ends in organ chords ringing to silence.
Defiance is also the order of the day in "Nothing But Trouble," which recounts a split from a narcissistic drag. We've all been there. Perley vacillates between pleading tones and outright vitriol as airy first-movement guitars contrast with a minor key bridge that seethes with resentment.
The emotional low of the album comes with the gorgeously constructed "I've Been Blue," where weeping guitar lines match Perley's purely wistful voice as she laments:
I've been gone for far too long.
I don't know who I was before.
Like a little bird I flew away
Trying to find something better,
But nothing's changing.
I've been blue. I've been blue. I've been blue.
The only way to follow that was with a saw song. Angela's talents with the musical saw are a trademark, and the lack of a showcase for them on Hey Kid was perhaps one of that album's only flaws. "It was definitely one of my priorities to get the saw onto Homemade Vision," says Perley, who rectified the previous oversight with the mellow closer "Easy," which recounts a hazy love vision complete with a retro reference to Marilyn Monroe. It ain't Bogey & Bacall, but it'll do.
A unique sound, well-crafted lyrics, and top-level vocal and instrumental performances mark Angela Perley & the Howlin' Moons as one of the most exciting indie bands in the country. Their live performances continue to win over crowds everywhere they go, and in Homemade Vision they have created an album that matches in the studio the chemistry they have long shown on stage. Subtler than previous releases, it is Perley's most mature album to date and definitely deserves a place in your music collection.
---
Buy Homemade Vision on Amazon!
mp3