---

---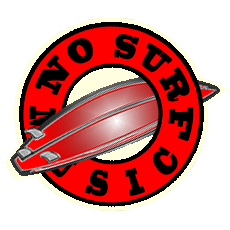 Artist:
Angela Perley & the Howlin' Moons
Members:
Chris Connor (electric guitar/accoustic guitar/vocals), Jeff Martin (drums/percussion), Angela Perley (vocals/electric guitar/acostic guitar/Dobro/saw), Billy Zehnal (bass)
Based In:
Columbus, Ohio
Website:
Album:
Hey Kid
Release Date:
January 21, 2014
Label:
Vital Music
Producer:
Jerry DePizzo and Mike Landolt
Previous Releases:
Black Cat (EP, 2010), Yellow Moon (EP, 2011), Fireside (EP, 2011), Nowhere Is Now Here (EP, 2012)
Genres:
Americana, alt country, rock, roots rock, indie rock
Related Articles:
---
March 2013 Featured Review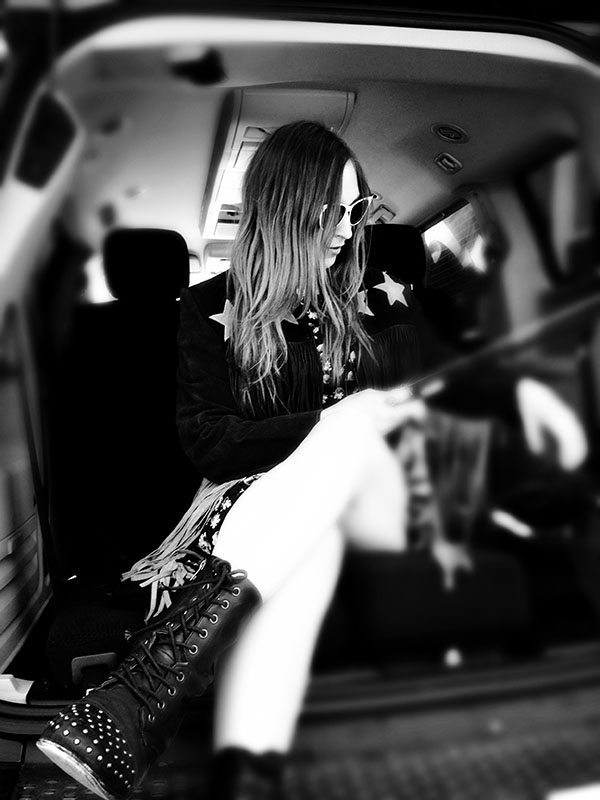 Stylistically, Angela Perley mixes one part gypsy, one part cowgirl, and one part rock 'n' roller. On her debut full-length album with The Howlin' Moons, her music ain't much different, although the rock side is definitely predominant. Photo by Chris Connor.
Angela Perley & The Howlin' Moons Hey Kid
by Jason D. 'Diesel' Hamad
There are a very few among us who are able to do exactly what we are meant to do in life. One of those people is Angela Perley.
Perley is a petite woman with an element of girlish charm and a quick, inviting smile. Under normal circumstances, her voice barely rises above a whisper. She's not so much shy as reserved, or maybe not so much reserved as shy. Absent her vagabond cowgirl chic and with the addition of a pair of thick-rimmed glasses, she would be typecast as a librarian. In fact, she wanted to be a teacher, but couldn't brace herself for the job of wrangling a gaggle of misbehaving kids. She wanted to be an actress, but realized her voice barely carried much past the first rows of a theater. But put her on a stage at the front of a band and she is transformed. She begins to radiate confidence, sass, and allure. She suddenly has no problem being heard overtop blazing hot guitar solos or enthusiastic crowds. She is totally and completely in her element.
Angela Perley was born to be a rock goddess.
After releasing four EPs with her band The Howlin' Moons, Perley has emerged with her first full-length album, Hey Kid. Alt.country heavy on both the alt and the attitude, it falls squarely in that somewhat nebulous but perfectly recognizable genre of badass chick music populated by the likes of Nikki Lane, Those Darlins and Perley's fellow Columbusite Lydia Loveless. Aside from the occasional pedal steel or dobro, perhaps the most countrified element of the music comes courtesy lead guitarist Chris Connor, whose lines maintain a distinctly down-home feel even as they melt your face off.
The album begins with "Athens," its artistic zenith. An expansive, moody, philosophical and obviously deeply personal piece, it is named for the town and county that host Ohio University, Perley's alma mater. It is a coming-of-age piece, fixated upon and yet not fearful of the loss of her relatively carefree youth and entrance into a murkier future:
)
Lovers come and lovers go. I knew a few down the road,
How they flicker in and out of my mind.
Take the right, take the left; take the path you love the best.
Blindfolded, yeah, ain't that life?
Like a train, I don't know if I'm coming back this way.
You think you know me well, but everything fades.
Like a train, I don't know if I'm coming back this way.
You think you know me well, but everything fades.
The divergent paths clearly evoke Robert Frost, but the rail metaphor implies that time only moves one direction, and while the future may never be clear, the path chosen inevitably determines all future destinations. As her former self fades into oblivion, she remakes herself into a new person, related, but never the same. If not already clear, the inexorable march toward a final fade to black is highlighted by the video's setting in a graveyard.
The track opens reservedly, with little more than Angela's naked voice atop the electric hum of gentle chords, an unimposing drumbeat, and a delicate, gingerly picked guitar line. It's not until after the first chorus that the song rises to it full stature, the bass thundering underneath guitars suddenly set loose like beasts from a pen. The final verse collapses back into a reflective quietude before the last chorus sees a return to the raucous dynamism that caries it through its conclusion. An instrumental reprise of equal power closes out the album, highlighting the song's importance among the collection.
)
In contrast to the leadoff's ruminative metaphysics, the next track and first single "Hurricane" is just a balls-out basher. Building from the simulated rev of a carbureted engine, it goes zero to sixty in just four seconds and never throttles back. A maelstrom of sexual fascination and frustration, it is itself racy and libidinous, with Angela's hard-ejaculated vocals imbued with edgy provocation. The video's hip-popping dance moves don't hurt its luridness any, either. If you like your rock or your women full of spunk, "Hurricane" is the song for you.
Although it hits its peak intensity early on, the album doesn't pull back much with the next selection, "George Stone." The most country of Hey Kid's rockers with its twangy guitars and love lost theme, it also provides the album's title via the lines:
Don't you even blink an eye when some stranger passing by says, "Hey, kid, is something wrong?"
What you running from, George Stone? What you running from?
The minor-key pedal steel spookiness of "Ghost" is only amplified by the album's most intricate vocals and some of its best guitar work. A product of Perley's peripatetic nature, it is steeped in a feeling of loss mixed with rebellious restlessness borne of the chasing of an ethereal and ever-elusive goal. It seems destined for a role as the soundtrack to the closing scene in some Western-set indie flick, to accompany the heroine—who just murdered her s.o.b. boyfriend and left his body baking in the sun—as she pulls her convertible onto the dusty road and cruises on out of town.
Women are most often portrayed as cats, but in the semi-eponymous "Howlin' at the Moon," Perley casts herself as a lupine form of predator. Slow, dark, and exuding a sense of slinky sexiness, it's enough to make anyone wish they were her quarry. The first of a pair of more reserved selections that provide a mid-album respite from the otherwise unabated high voltage attack, its opposite number is the ironically placid if unnerving "Rock and Roller," wherein Perley plays the bedeviled victim of her lover's paralyzant sting.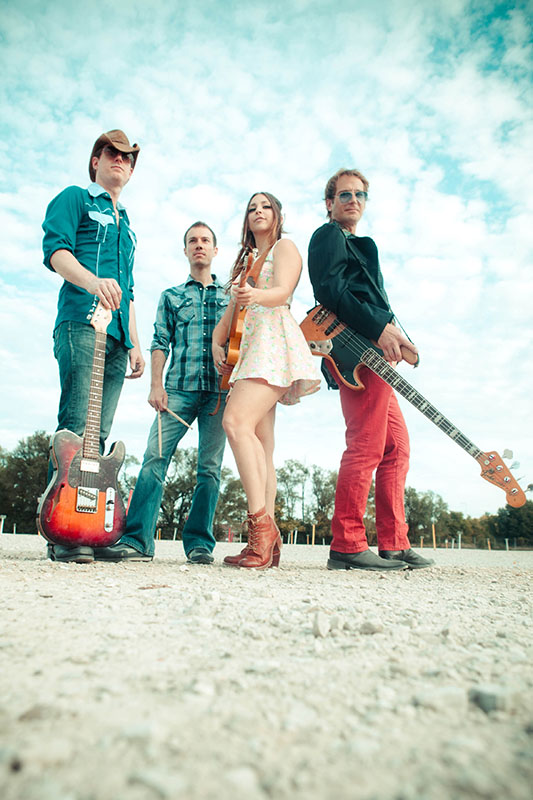 The Howlin' Moons in all their windswept, abandoned space glory. In cinema, this kind of low-angle, high-drama shot was pioneered by director Orson Wells, who actually dug a hole through a concrete floor to achieve the effect during the filming of "Citizen Kane". On the internet, I think they just call it an upskirt. (l-r) Chris Connor, Jeff Martin, Angela Perley, & Billy Zehnal. Photo by Kevin James.
Returning to the jet-fueled power of the album's earlier tracks, even if delivered by a slow hand, "Milk in the Fridge" is part love song, part ode to living life in the moment, and all tied up with some blazing hot guitar:
Honey, honey, honey, I got milk in the fridge.
Honey, honey, honey, I don't want no kids.
I just want to live life out on the road.
Honey, honey, honey, I don't want your things.
Honey, honey, honey, I don't want your ring.
I just want you to drive me to the liquor store.
I don't have any money, oh yeah, it's true.
But I don't need anything, sweetheart, as long as I'm kissing you.
Having had enough of love songs, Perley turns to "Bad Reputation," a track almost as hard blowin' as "Hurricane." It has a bit of a throwback feel, its manic drums, driving bass, and red-hot guitars fueling spit-shot vocals that paint the picture of one of those girls you probably know who just ain't no good:
Mercy, mercy, lord on high,
Heaven help her from her wandering eyes.
She's got a bad reputation for cheating men.
She's got a bad reputation for cheating men.
High heels, short skirt…
Mississippi girl, put you to work.
She's got a bad reputation for cheating men.
She's got a bad reputation for cheating men.
She's got a bad reputation,
Oh oh oh oh.
Ok, maybe Perley hadn't had quite enough of love songs, but "Roll on Over" is a love song with one hell of a surly disposition. Overtop raging guitar and pounding bass abetted by screeching organ chords, she makes it clear to her beau that he's the only one who means a damn thing as far as she's concerned: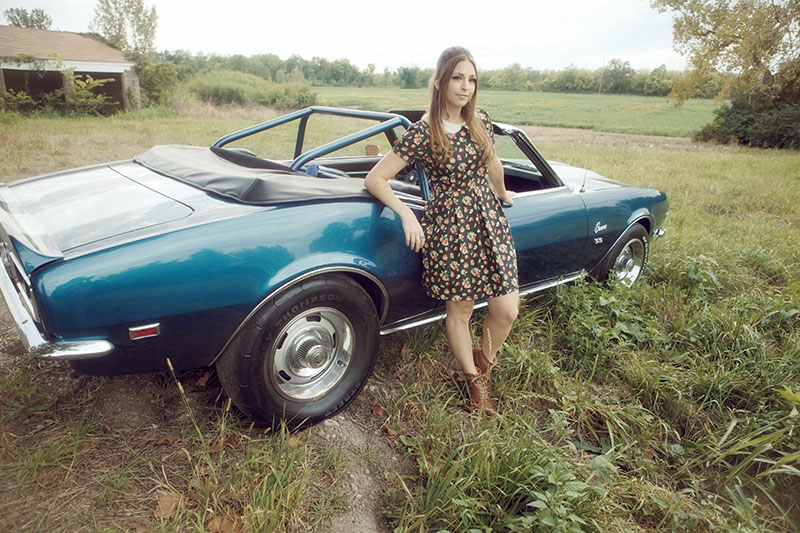 Pink Chevy my ass. A '68 Camaro SS convertible in Marina Blue with white stripes… that'll do just fine. Here, Angela somehow simultaneously channels Steve McQueen and June Carter Cash. I'd say it works for her. Photo by Kevin James.
I just want to take a ride
In my pink Chevrolet to the countryside,
Windows down and music loud,
Lipstick on and my favorite blouse.
Just want to roll.
Roll on over to you.
Yeah, all the boys in this here town
Can't make me smile; just make me frown.
They think that they're so cool
But they're the boringest fellas I ever knew.
Just want to roll,
Roll on over to you.
After an album full of high-octane rockers, Hey Kid returns to the introspection with which it started in its penultimate selection, "Down and Drunk." Leading into the reprise of "Athens," this song shows neither the buoyant, nostalgic exuberance of that track nor the full-speed-ahead bluster of its other predecessors. Instead, it is Angela naked and at her most vulnerable. Her voice bare between the strums of an acoustic guitar, she lays out her frustrations as she realizes a horrible truth:
Down and drunk,
That's when you love me the most.
Thin and pale,
With a ribbon in my ponytail.
I am hurt and I am broke,
Laughing and lighting a smoke.
Oh, ain't it a shame?
Yeah, ain't it shame?
I guess you got what you wanted; I haven't slept in days.
Been greeting the morning sunrise with tequila in my hand.
And just like a Kansas tornado, destroying everything I see,
Beauty doesn't mean anything to me.
No, beauty doesn't mean anything to me.
Hey Kid is just a great rock record. That "just" is important, though, and I mean that to be a statement with dual meanings. On the one hand, songs like "Hurricane," "George Stone," "Bad Reputation" and "Roll on Over" are a hell of a lot of fun. The entire album is a nearly nonstop pulse-pounding, ass-kicking experience. It'd be hard to find any better.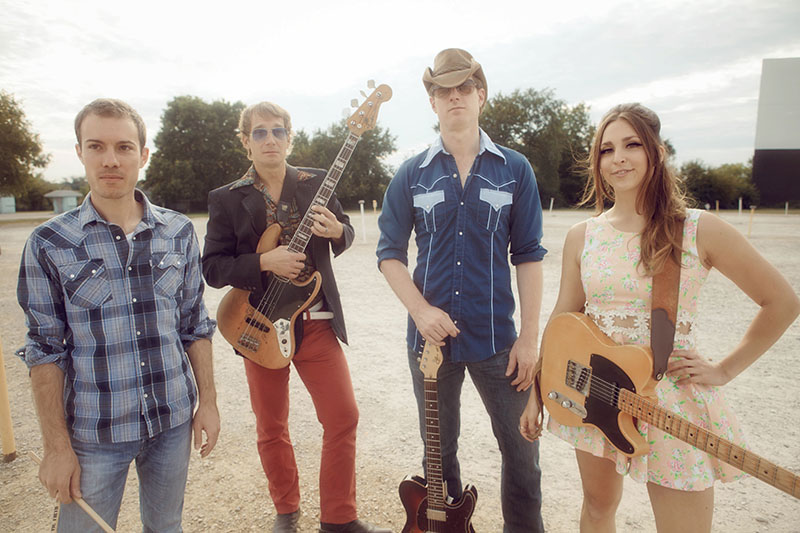 Perley & The Howlin' Moons turn in a bravura roots rock performance with Hey Kid, but with the kind of potential she and the boys already show, it won't be the last (or the best) you'll hear from them. Photo by Kevin James.
That said, while the music is a nearly unassailable demonstration of the best in the roots rock genre, many of the tracks are also kinda mindless. "Hurricane" just ain't great literature. If that were all Perley was capable of, that would be fine; this would still be a terrific album for what it is. But "Athens" and "Down and Drunk" both stand as evidence that Perley has the capacity to craft the kind of quality lyrics that produce songs of real artistic value. The introspection they demonstrate is far more interesting than the bad girl bravado of their cousins. "Athens" stands as a prime example of how a thoughtful song can still rock hard, and "Down and Drunk" is an unexpected and frankly welcome contrast to the somewhat contrived rock star swagger that inhabits the bulk of the album. Angela Perley was born to be a rock goddess, and those songs probably represent a real and important facet of her personality, but the truth is that she spends a far greater portion of her life inhabiting the pensive, sensile persona that comes through in the album's bookending songs. The latter aspect is far more compelling, and one can only hope it gets more of a chance to come through on future endeavors.
So my basic complaint is that the album contains only two really brilliant songs, and the rest are just totally fucking awesome. I guess I'm a bit of a spoiled bastard, or maybe I see a reserve of untapped talent in Perley that I would like to see brought to the fore. I'm gonna go with the latter explanation.
Just buy Hey Kid. When you're finished listening to it and the EMS techs are done shocking you back to life, you can thank me then.
---
Buy Hey Kid on Amazon!
mp3