---

---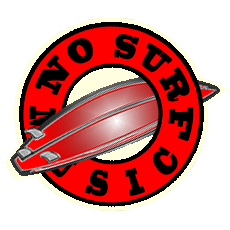 Artist:
Wagons
Members:
Richard Blaze (guitar), Mark Dawson (bass/drums/keys/guitar/vocals), Si Francis (drums/bass), Matthew Hassett (keys/vocals), Steve Hassett (vocals), Chad Mason (guitar), Henry Wagons (vocals/guitar/banjo/keys/bass)
Based In:
Melbourne, Australia
Website:
Album:
Rumble, Shake and Tumble
Release Date:
August 16, 2011
Label:
Spunk Records/Thirty Tigers
Previous Releases:
Trying To Get Home (2002), Draw Blood (2004), The Curse of Lightning (2007), The Rise and Fall of Goodtown (2009)
Genres:
Americana, alt.country, roots rock, country rock, indie rock
---
Wagons: Rumble, Shake and Tumble
by Jason D. 'Diesel' Hamad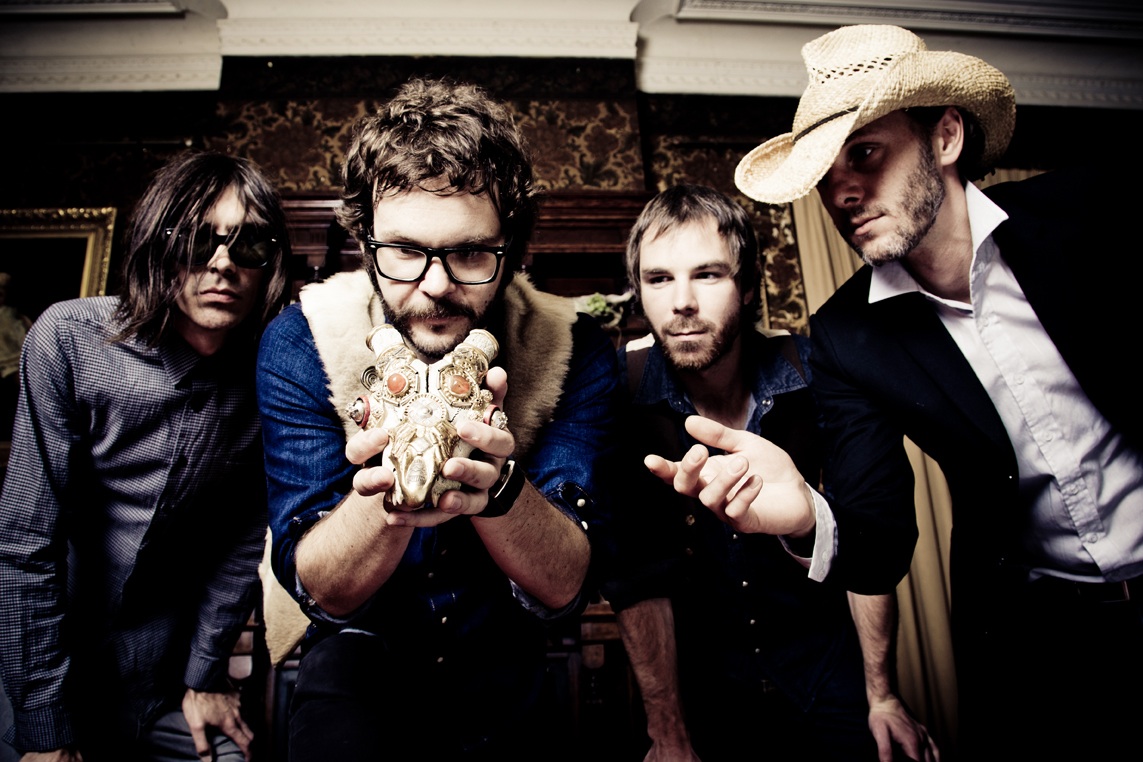 Wagons: a bunch of twisted Australian dudes with some Western American flare. That's Henry Wagons holding the demented goat skull. I have no idea who the other guys are. Their website is barren, they don't have a Wikipedia page, their label's site gives no information whatsoever about anything... it's like they don't even want to be known. Whatever. They're in the band. Guess.
What's in a name? Well, if you're Australian English-teacher-turned-songwriter Henry Wagons, maybe a lot. It's hard to hear that name and not think of images from the Wild West, of cattle drives and stagecoaches, dusty towns and square dance hoedowns. Perhaps that's what drove Henry to gravitate toward American country music as an influence. And if you're going to be an Australian English teacher with an Americana-influence rock band and your name is Wagons, well, frankly, what the hell else are you gonna call your band? It could have been worse. His daddy's name could have been Mr. Rifle.
Whatever the case, the vision Wagons got of America wasn't John Ford's, but a twisted amalgamation of Cormac McCarthy and F Troop. The music he produces is tongue-in-cheek to a degree that it almost seems to loop back around on itself and become serious again. It's not just the topics, the lyrics, or the vocal deliveries—although it's all of those things in turn—but it's the musical style. While all of Wagons music is country- and roots-rock based, it is mixed with so many different influences—everything from outlaw country to funk to soul to gospel to rockabilly to psychedelia to arena rock to pop to native chants—that almost every song seems to suffer from some sort of dissociate disease where it can't quite tell exactly what it's supposed to be. And it's full of so much melodrama that it would make Meat Loaf blush. Perhaps the greatest achievement of Wagons and his band is that they manage to pull all of their songs together from such disparate and seemingly incompatible parentage.
While Wagons has produced five albums since the group's inception in 2000, their latest, Rumble, Shake and Tumble is the first to be released in America. Without a doubt, it's an intriguing look into Henry Wagons' mind and the many different musical facets that reside there.
Now, I tend to try to shy away from comparisons of the "this song sounds like this guy" variety, if only because artists are their own creatures and they deserve to be analyzed as such. But these songs are so much an amalgamation of different styles that I warn you, you're in for a lot of such comparisons in this review. Even so, Rumble, Shake and Tumble combines all of these different styles in such unique ways that despite the evocations, there's not a single track that sounds quite like anything you've ever heard before.
The leadoff track, "Downlow," opens with a bass lick reminiscent of Queen's "Another One Bites the Dust." It then breaks into an acoustic guitar lick that's so familiar that it has to be cribbed from something, I'm just not sure what. I've ruminated over it quite extensively, but the best I can come up with is some sort of weird cross between The Clash's "Lost in a Supermarket" and the Cure's "Jumping Someone Else's Train" with a bit of Tom Petty and Journey thrown in for good measure. Still, that's not quite it. I'm serious; I'm going to figure this out if it kills me. But whatever the lineage, it serves as an announcement that this album is not going to be filled with a lot of country crooning, but something more along the line of a sonic ass kicking mixed with a bit of mindfuck, even if it's a little twangy at times. The opening lines of the song also presage this, with the bad boy image immediately apparent:
Your mama don't like me none.
She's got every reason under the sun.
Your daddy thinks I'm ok
But not for his little Pamela May.
This is really something of a twisted redemption song, with the narrator looking to turn his life around while running off with his lover. It's a strange mix of sounds all the way through, ranging from shiny 70's arena rock to sunny California country rock to dark 90's alternative rock all jumbled up together. Despite this bit of schizophrenia it works well. There's a blazing guitar solo, an interesting deep set of background vocals, and a Freddie Mercuryesqe all-out vocal explosion at the end that's anything but on the dl. Despite its name, it's a track you'll want to turn to 11.
The album's first single, "I Blew It," has more of a Johnny Cash vibe, like "Big River" on a particularly mind-bending mix of Mexican pharmaceuticals. It's a fast paced roots-rocker that maintains its cool despite opening up with a soccer reference, and upbeat breakup song that came out of a post-breakup taking-stock-of-life session on Mr. Wagons' part:
I dodged a few bullets in my time.
Narrowly escaped with a fully intact hide.
One thing I completely screwed,
Yeah, I blew it when it came to you.
The song is accompanied by an apparently "Saw"-inspired video that has the band escaping to make it onstage for a show. It has absolutely nothing to do with the song, which is unfortunate, because I think the lyrics would make good fodder for a video. The dancing puppets are a nice touch, though.
Willie Nelson is one of those guys who always seems to have songs written about him, and Wagons contributes their own with the creatively titled "Willie Nelson." The lyrics are fairly mundane (with the exception of the section where they shout "He likes some salt and pepper with his evening meal" over and over), declaring:
Sometimes I listen to Elvis,
Sometimes I listen to Cash,
Sometimes I listen to Waylon,
But it all goes back to the one and only…
Willie, Willie, Willie, Willie,
Willie Nelson
What's cool about this song though is that it's a crazy country funk. It'll take your head and bash it right in. In fact, the only person I can think of to compare the style to would be Mojo Nixon. It's a song that would fit right in with his insane catalogue, and since the band's biography doesn't include any mention of Henry Wagons spending time in an asylum, that's an achievement in and of itself. Suffice it to say, there are more cerebral songs about Willie, but few that are quite as much fun, and certainly none that don't include the phase "Don't touch my…"
"Love Is Burning" is distinctly roots-based, but with a psychedelic edge. In fact, the chanted chorus "It's sizzling crackling smoking and fizzling" sounds like it could have come right off of Pink Floyd's The Wall. Another apt comparison would be to Akron/Family. It has that same kind of trance-inducing rhythmic action and energy. Yet for all that, perhaps the best comparison would be to fellow insane Australian Nick Cave. There's something delightfully dark about the whole thing, as if the metaphorical fire of love Wagons describes is literally going to engulf him.
"Save Me" is a particularly endearing song, alt.country with a gospel-infused vibe, evocative of Buddy Miller, John Hiatt, or Joe Ely. The gospel influence is most evident towards the end as the church choir joins in on the chorus:
Save me, save me, I don't know what to do,
I'm lost in the forest, can't find my way through.
We're all lookin' for a path, some kinda clue, well my search is over, I'm following you.
[sic on the ridiculously poor punctuation... That's how it's printed in the liner notes. You'd think a former English teacher would know better.]
For all of its religious resonance, however, this seems to be a love song. I have an inkling Wagons wrote it after watching South Park a few too many times and patterned it as an Eric Cartman-like "I just want to feel you deep inside me, Jesus," self-parody. We'll just leave it at it's a pretty damn cool song.
"Follow the Leader" is another fairly schizoid song, with a keyboard part that seems like a New Orleans jubilee, background vocals from 70's Bubblegum rock, and a couple of breaks filled with pure Eastern-influenced psychedelia that sounds like the result of a jam session between Jimi Hendrix and George Harrison. Again, the most impressive part may be that the band manages to hold it all together and come out with a pretty engaging tune.
"Life's Too Short" is an alt.country number bordering on straight country. With its deep vocals, swinging beat, twangy electric guitar, and whistling break, it's just one cello solo short of fitting in perfectly as a Murder By Death song. Lyrically, it's a "don't cry now" pick-me-up song:
Out there sittin' on the lawn,
The sun givin' way to a beautiful dawn
And there you sit all tattered and torn.
I say life's too short.
One odd facet is the purposeful stuttering when Wagons sings "t-t-t too short" on the chorus, which can't help draw comparisons to Roger Daltry on "My Generation." Also of note is the rockabilly close that sounds like it's played through an old-school amp, giving it an odd Sun Records feel.
The title of the final track, "Marylou," immediately evokes a light, careless love song along the lines of Ricky Nelson's "Hello Mary Lou," but if Wagons saw that coming then it's just one final mindfuck. What actually follows is a slow, dark, dreamy and extremely engaging obsession song. Maybe it's meant as the sequel song that comes a decade after the dinomened girl dumps his ass: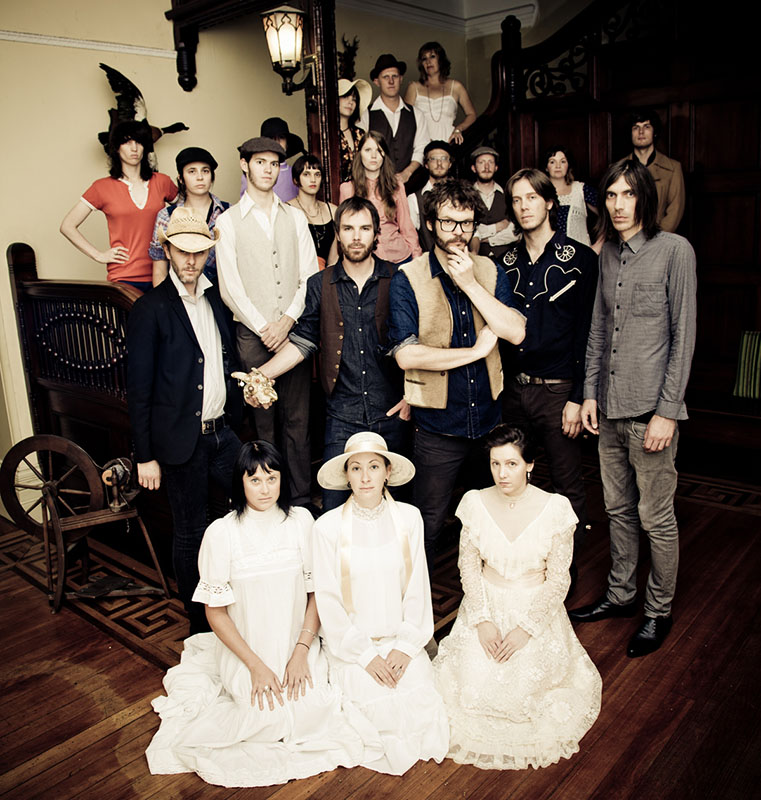 It's an even bet as to whether these people are Wagons' closest family and friends, professional models, or just random people plucked through a time-space vortex from a small frontier town and forced to pose in front of some strange, futuristic daguerreotype machine. Maybe some of each.
Marylou,
God dammit, I didn't think I'd be seeing you.
When I last saw your eyes,
I was sure I wouldn't see 'em before I die.
Marylou,
I heard you were married with a kid or two,
Tell me is it true,
Oh, you still light up the room,
Marylou.
Marylou,
Everyday for many years I would think of you.
From sunrise to sunset,
My thoughts would circle and bend,
Around you.
And now you're back,
Right in front of me.
And now you're back,
Right in front of me.
Marylou,
Marylou.
With Wagons' deep voice heavily reverbed and at one point breaking into pure emotional, atonal shouting, the obvious comparison has to be to Jim Morrison. In fact, despite the absence of an extended organ solo, the whole thing has a very Doors-inspired vibe, with a highly percussive guitar line, a wave-like ebbing and flowing sound, and chanted vocals. As the fantasy collapses into itself at the end of the song, so does the music, the psychedelic rock vibe abruptly shutting down to be replaced with a simple acoustic guitar line and a sad-sack country vocal delivering the last verse, with an audible sigh to close. It's undoubtedly the most intriguing track on the album.
Rumble, Shake and Tumble is a likable album that contains a number of highly entertaining songs—even if none are absolutely off the charts awesome. The band does an admirable job of uniting seemingly mutually exclusive influences and doing it with a bit of ironic, if not comic, flare. The only real complaint is that at times it feels like the influences are too direct. I still swear that lick from "Downlow" is stolen from somewhere and I'm going to figure it out. Regardless, the music is solid and well worth giving a spin.