---

---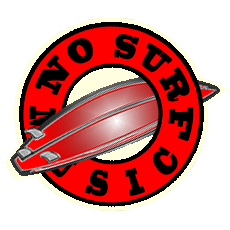 Artist:
Two Seconds to Midnight
Members:
Mike Borenstein (bass), Thomas Gallo (guitar), Hannah Hens-Piazza (violin/viola/glockenspiel/piano), Emily Snow Long (violin), Josh Moyer (drums/percussion), Zig Payton (guitar/vocals), Matt Snow (guitar, left in 2010)
Based In:
Astoria, Queens, NY
Website:
Album:
Architecture
Release Date:
May 28, 2010
Label:
Independently released
Genres:
Indie rock, alternative rock, experimental rock
---
Two Seconds to Midnight: Architecture
by Jason D. 'Diesel' Hamad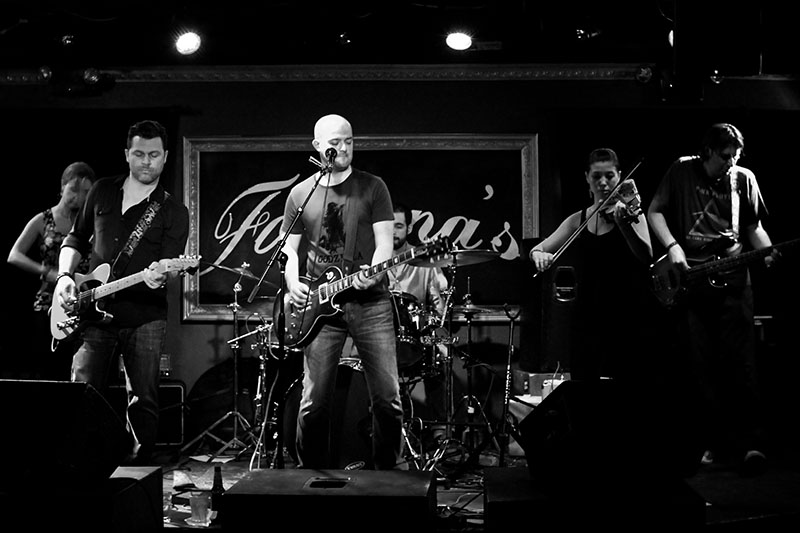 Two Seconds to Midnight performs at Fontana's--another piece of Chinatown annexed by hipsters--about fifty yards from my old apartment. (l-r) Hannah Hens-Piazza, Thomas Gallo, Zig Payton, Josh Moyer, Emily Snow Long, Michael Borenstein. Photo by Jennifer Harper.
"If I'd lived in Roman times, I'd have lived in Rome. Where else? Today America is the Roman Empire and New York is Rome itself." That's how John Lennon described what drew him to the city, and it sums up the calling that millions have felt toward this bustling nexus of civilization, before and after his time. New York is a swirling maelstrom of energy that draws all the most creative people from all over the world into its orbit. You go to New York and whether you think you know who you are or have no clue, the city kicks your ass for a while and when it gets done, you know for sure. That's the way it works.
The draw to New York is particularly strong for artists. When people from home ask me why I miss the city with all of its overcrowded mess, its noise and its expenses (not to mention the ever-present smell of garbage), there's just one answer: the people. The people in New York are unlike the people anywhere else in this country, and to a large degree anywhere else in the world. They just want more. People everywhere else are usually pretty satisfied with the same old. People in New York were driven to give up everything they'd known, leave their homes, and go search for that something.
That's one of the reasons that New York has such a vibrant music scene. More than the simple fact that it's such a big city and there's an audience for just about anything, the reason so many bands get their start there is because it's one of the only places in the world you can spit out your window and be almost certain to hit an artist of one kind or another (or at least a hipster pretending to be an artist). They may be wearing Starbucks uniforms, but they're artists at heart. That's why so many bands are born in New York, because of the close proximity of so many like-minded people and the energy that creates. Some bands live their entire lives never going beyond the borders of two, maybe three, boros, and dying among the after-hours vomit smell of the club scene. Others—I won't say the best, because that's not how the music business works, but hopefully the best—break out and gain national attention.
One that appears to have a bright future is Astoria, Queens-based Two Seconds to Midnight. The band has a lot of buzz going for it right now, in no small part because its song "Opt1m1sm" has just been exposed to over five million people via the new teaser campaign for the second season of HBO's Boardwalk Empire. "It's a massive honor to be affiliated with such a critically acclaimed and high-caliber show," says band frontman Zig Payton. "It was completely out of the blue... so much so that I didn't really believe it at first. It all just happened so fast. I got the phone call and 10 days later we were all sitting around in front of the t.v. watching it happen. It was a bit of a trip!" As to how the whole thing came about, he says it was a bit of good fortune. "One of our fans made a call to Sound Opinions on Chicago Public Radio, got "Opt1m1sm" played, and bestowed some very kind words on Architecture. The producer from HBO heard it, picked up the album, really liked it, and here we are 8 months later."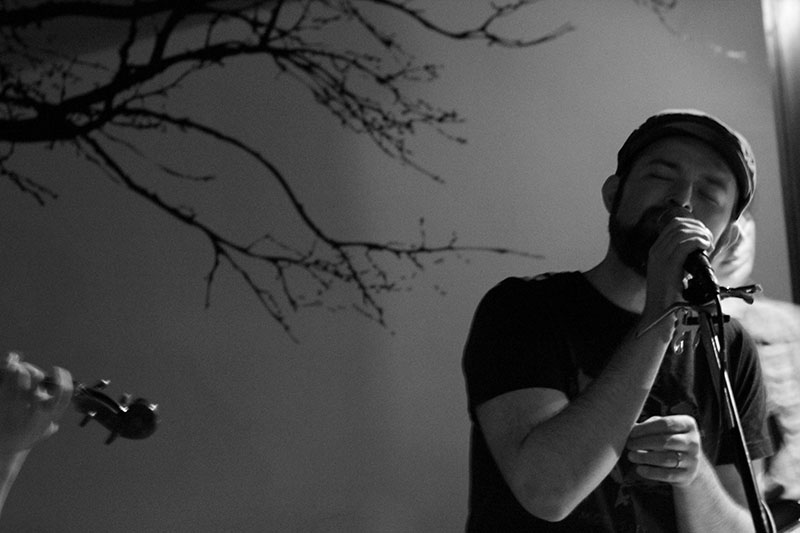 Two Seconds to Midnight frontman Zig Payton--here pictured with a more hirsute style--is a transplanted Scotsman who originally came to New York in pursuit of an acting career but intead followed a calling toward music. Photo by Jennifer Harper.
But it didn't take a tie-in with one of my favorite shows to get me hooked on Two Seconds to Midnight. As it happens, I was at one of the group's very first gigs at Coco 66 in Greenpoint, Brooklyn back in 2008. The band was just finding its footing then and its lineup was far from complete (and the bartender seemed to like me and she kept handing me Jamesons even when I didn't ask, so my memory of that night is a little fuzzy), but listening to them I distinctly remember thinking "huh, these guys have something here."
Two Seconds to Midnight has an incredibly unique sound, resulting from their birth in the demonstration of Chaos Theory that is the New York music scene. It's one of those classic stories: this guy was in a band with that girl, who knew this other chick, who knew this other chick, and this other guy was roommates with the first guy, who knew this other guy, who met this other guy at a club, and eventually Kevin Bacon comes into play and somehow you have a band. The eclectic mix sucked into this particular vortex resulted in a Celtic flair courtesy of Zig (late of Perthshire, Scotland), an operatic expansiveness via the classically trained string section (Hannah Hens-Piazza and Emily Snow Long), and a powerful alternative rock punch from all corners of the six-member lineup.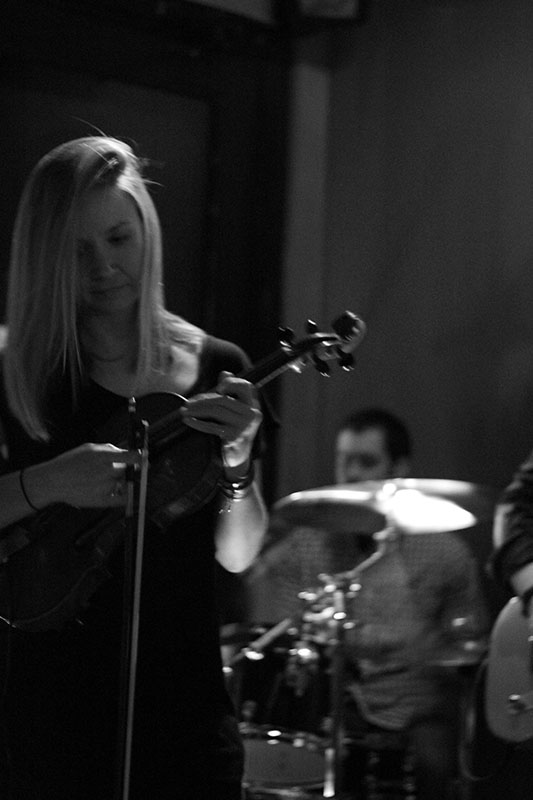 The band first formed as a duo with Zig and Hannah Hens-Piazza, pictured here. Photo by Jennifer Harper.
The group's equally unique moniker is explained by Payton thusly: "If the entire history of planet earth was to be put into a 24 hour cycle, humans beings wouldn't appear to fuck it up until two seconds to midnight." He expands, "I was in Geography class when I was 13 or so and the teacher put on an old dusty VHS documentary called 'Two Seconds To Midnight,' which I actually found very interesting. It kinda puts in perspective how insignificant we are in the grand scheme of things, but also the great capacity for both destruction and for creation in a (relatively) short space of time we as a race have. I remember thinking, 'Right, I'm having that for a band name one day.'" The unofficial slogan is a perfect analog to the band's style: dark, brooding, expansive, philosophical, biting, and full of attitude. These traits are all amply demonstrated on their 2010 debut Architecture, a complex mix ranging from light, airy, melodic anti-ballads to scopious, kinetic, hard-rocking ball bashers—sometimes all in the same track.
For instance, "The Forgotten" starts the album off with the sound of strings that move from ear to ear across the stereo spectrum, somewhere between a screeching howl and the fast flutter of hummingbirds. It's as if the band is announcing right off the bat that this isn't going to be another guitar-guitar-bass-drums rock album. When the voice jumps in, it's in a perfectly androgynous pitch, making it impossible at first to tell whether the singer is a man or a woman. This bit of neural disconnect only adds to the listener's feeling of unease as the drums and bass kick into a steady rock beat. The lyrics don't help settle him down any, either:
You told me that you were an open book.
How come I never got to see the pages?
Was I some secret chapter
Hidden away from all the other faces?
By the time the drum and string-led climactic ending comes around, you feel like your head is exploding as the ink-line skyscrapers on the album's cover collapse all around. The song is a mini-masterpiece of paranoia and despair, perfectly reflected in each and every note. It is mood music for the unself-possessed, the kind of track that if left on repeat could turn Martha Stewart into a mouth-foaming, raving madwoman. In short, it is the kind of song that can't help but affect you, and that's what good music should be.
Two Seconds to Midnight's "Opt1m1sm," as featured in a promo spot for HBO's Boardwalk Empire.
The most powerful track on the album is "Opt1m1sm," the one chosen for the HBO spot. It is here that Payton's Scottish brogue is most evident, because much of the piece is spoken, rather than sung. The main body of lyrics are delivered in spitfire fashion and centered around a scene at once distinctly New York and yet iterated every night in every city around the world: the whiskey-soaked pub crawl hopefully ending in a barely remembered and completely random hookup. Despite the fairly pedestrian topic, the lyrics are engaging because they dig deep into the psyche of the would-be Casanova, recreating every thought in his head. They are also filled with keen observation and great style, such as in the lines:
And that might be why you're feeling pretty confident
'Cause all your mates tell you you look like some suave movie star from the 1940's.
And just as you're about to say, "Frankly, my dears, I don't give a damn,"
She enters the room and the spotlight falls firmly upon her.
The time is right for an illicit daydream. You win the award for the best in show.
But in this dark, dingy dive, when the lights begin to dim
You begin to question what it is that she really knows.
Between these spoken verses is a short falsetto chorus, consisting of Payton repeating, "I hope she takes me home tonight."
What really makes the song great, though, is that this is only the first movement. Just when it seems that it might end in a hazy cloud of hipster wet-dreaming, it suddenly begins anew. Seamlessly but without warning, the tempo kicks up and the piece begins slowly building to a powerful and dramatic punch. It is this section of the song that was chosen for use in the Boardwalk Empire promo, and there's little question why. There are few songs in rock history that have managed such a powerful, dramatic and effective upwelling of sound and emotion. The building tension strains the mind and when it finally attains its climax the result is absolutely volatile. Just as the instruments reach their highest point, Zig can be heard in the background, straining and shouting "I am feeling optimistic," almost as a prayer to Venus, Cupid, Bacchus, Cernunnos, Epona or any other god or goddess who might come to his aid. As if to make his entreaty unmistakable, the spoken word returns to cap the last lingering notes, repeating the, "I hope she takes me home tonight" plea.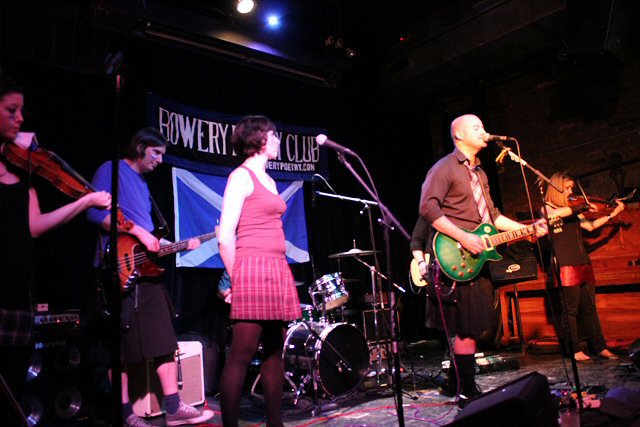 Two Seconds to Midnight performs at this year's annual Tartan Day show at the Bowery Poetry Club, featuring Jessica Flanagan on vocals for the song "We Shared a Secret." Jess undeniably has better legs, so thankfully Zig's skirt is longer than hers. (Yeah, yeah, I know it's a kilt.) Photo by George Flanagan.
Another song to which I am particularly drawn is "We Shared a Secret," which in many ways could not be further in style from "Opt1m1sm." At the same time, it could easily be a sequel or a continuation of the story, as the implored-for hookup finds its lust turning to love, and then inevitably straining under its own weight. Payton sings in an airy tone:
Well I saw the river reflect in your eyes
With a ripple and a shine under a blood red sky.
From that moment on I knew things had to change.
Between me and you things were never the same
For the most part light and melodic, it is based on a simple acoustic guitar melody with a bass counting time. Only after the first verse do the sweet strings come in to add a bit of flowing majesty. On the next come the drums, on the next the strummed thunder of an electric guitar. It doesn't hurt that the track features one of my favorite singers and songwriters, Jessica Flanagan of Astoria's own El Jezel and Nightfalls. Her light voice comes in as the last piece of the puzzle, providing vocal melody as the song inexorably builds towards its climax. The two sing: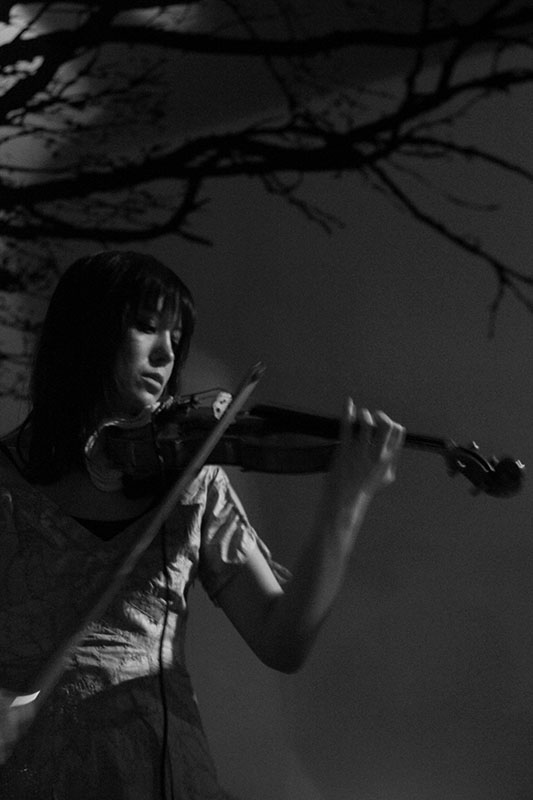 Soon after TSTM's formation, Hens-Piazza brought in fellow NYU music student Emily Snow Long to help fill out the band's unique sound. Photo by Jennifer Harper.
The rift that's between us, well it grows day by day
And there's nothin' to laugh at, and there's nothin' to say
This feels far worse than the hurt and the pain
So I said, "Well fuck it. Let's go walk in the rain."
Jess falls silent and Zig breaks both timbre and meter to intone the last line, which comes off sharp, full of bitterness and frustration. The voices of the two dance around each other as they repeat the phrase "We shared a secret," until Zig caps it with "that day in the rain." From there, the song takes a beautiful left turn, with Jess's fragile voice singing the children's favorite "Rain, rain, go away. / Come back again another day," over the lightly plucked strings of a mandolin. This is a false dénouement, however, as she is soon joined by Zig and then finally a full-bodied chorus repeating the lines as the band stretches out to its full power before settling down for a final word from the string section.
"Puzzle" starts with drumstick counts that develop into a wave of noise reined in by a highly distorted guitar line. This in turn explodes into the band's characteristically voluminous sound.
There is no drug you can take that can make this puzzle easier
But maybe I can lighten up your load.
I know you may think of me as something quite unfeasible
But how'd you know where you're going unless you pick a road?
Zig sings with a crazed inflection that makes one think of nothing so much as Malcolm McDowell's insanely serene face and shining, mascara-rimmed eyes staring unmoving as his car speeds along the highway in "A Clockwork Orange." By far the shortest song on the album, it is frantic and unsettling through and through.
At the other end of the spectrum and clocking in at nine-and-a-half minutes, "Feeding Frenzy" is the magnum opus of Architecture. A driving bass line and lighting drums provide a backing for the expansive strings and Payton's energetic, impelled vocals. By the time the electric guitar kicks in full force and the flowing strings transform into staccato jolts, the vocals are reduced to frantic shouts of "Feed me your honey. / I don't need your money, no," and the song really is a frenzy. After this delirium the piece regains its composure and finishes with a melodic swell led by Hens-Piazza and Snow Long and a walking guitar underpinned by throbbing bass and emphatic piano. Payton almost weeps the final lines in a strained falsetto full of shock and the weight of loss: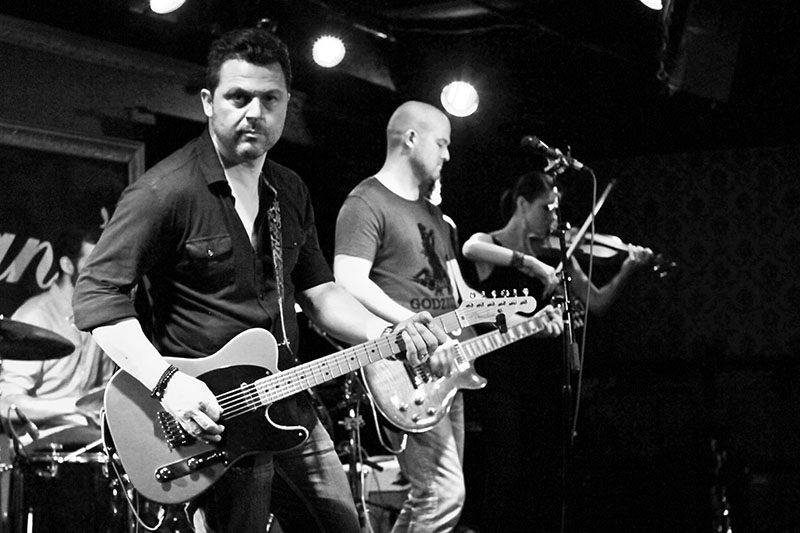 Apparently no one told guitarist Thomas Gallo there'd be a photographer all up in his business. If the band ever breaks out, paparazzi beware. Photo by Jennifer Harper.
Little Jeanie's gone away.
You went and thought you had it made.
Go to sleep. Face the facts.
She is never comin' back.
Little Jeanie broke your heart.
She ate you up, then she spat you out
Your roof is slowly cavin' in
But you can't move. She broke your limbs.
Architecture is particularly complex and vivid for a debut album, and a solid work that any rock fan should explore, especially one that enjoys sounds on the more experimental side. What's most intriguing, however, is that it's just the start. "Part of the fun of this band," Payton explains, "is that it's constantly evolving in sound and structure. Even now, the live versions of some of the Architecture tracks have taken on a new life. Who knows, maybe one day 'The Forgotten' will be an afro-beat, techno freak out with a gospel choir! We'll be evolving again once more in the near future, but before we do we're going to record a bunch of songs we've been working on." Tentatively titled With a Whisper Not a Bang, Zig believes this project "definitely takes what we did on Architecture and elevates it to the next level while also breaking some new ground. I think these new songs are more cohesive and dynamic and are going to sound great on record." The band hopes to have the new materiel completed and released by the end of the year. But don't wait. Check out Two Seconds to Midnight now.