---

---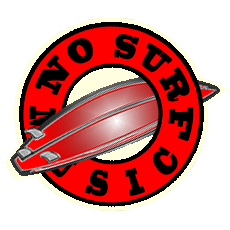 Artist:
The Womack Family Band
Members:
Haley Heyman (guitar/piano/percussion/vocals), Noah Heyman (bass/guitar/piano/cello/percussion/vocals), Tony Shaffer (guitar/bass/piano/organ/mandolin/banjo/trumpet/bass clarinet/cello/pedal steel/vocals), Cory Webb (drums/percussion/ukulele/vocals)
Based In:
Norwalk, Ohio
Website:
Album:
The Blue Room
Release Date:
September 21, 2012
Label:
Far Around Music
Previous Releases:
The Womack Family Band (2010), From Chestnut (EP, 2011)
Genres:
Americana, folk, folk rock, blues, blues rock, jazz, country
Related Articles:
---
The Womack Family Band: The Blue Room
by Jason D. 'Diesel' Hamad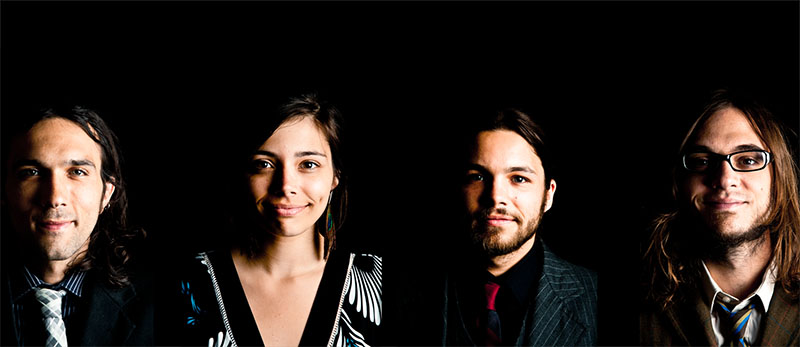 The Womack Family Band, one of the Cleveland area's most promising musical groups, looking a little more formal than usual. I'm not sure how they convinced Cory to put on a tie, but I bet it involved a lot of crying and a promise of candy later. (l-r) Tony Shaffer, Haley Heyman, Noah Heyman, Cory Webb.
If you ask the Norwalk, Ohio-based Womack Family Band to describe their musical style, they'll give you a very simple answer: "Americana." Yes, that term has become a catch-all for so many different types of music that it can be used to describe almost anything but Lady Gaga, but that's just how the Womacks like it.
"Americana's a great word," says Noah Heyman. "Since it has the word 'America' in it, you think 'melting pot.' This is the place where all the cultures and creeds have come together and kinda just blended together slowly into one thing. It's the great experiment."
In that sense, it is the perfect characterization of the band's sound. They have folk influences, they have rock influences, they have jazz influences, they have country influences, they have blues influences… pretty much everything but Tuvan throat singing with didgeridoo accompaniment, and even that wouldn't be a surprise if they could find a way to fit it into their Americana framework. Often, several of these roots can be found tied together within a single song. Their music truly is a melting pot.
They also happen to be incredibly talented. The group's live performances have the potential to become the stuff of legend, ranging freely from dreamy jazz riffs to sunny 60's pop rock hooks to Hendrix-like jamming maelstroms that transition from blues to otherworldly psychedelia and suddenly form into a thunderous and rock-solid interpretation of a Pink Floyd classic. One never knows quite what to expect, and that makes every musical turn as fresh and thrilling as the next. Their signature three-part harmonies are as tight as a nun's nether regions and their multi-instrumental prowess—especially that of Tony Schaffer—would be impressive in a group of players three times their age.
In fact, if I were a betting man (which luckily I am), I would say that there is no Greater Cleveland area band more likely to break through to the top tier of the music industry than these guys. Listening to them, it's hard not to think you're hearing the next Avett Brothers or Mumford & Sons, even with popular music's notoriously fickle nature and the difficulty of any Americana group to break into the charts, no matter their stylistic stripes.
The band, which contains no actual Womacks but plenty of family (Noah and Haley are siblings, Tony and Haley are engaged, Noah is dating Cory's sister), has only officially existed for a couple of years, but they've all known each other since Cain and Abel were in fig leaf diapers and they've been playing together in one form or another almost as long, which may explain the impressive maturity of their sound. The group's new release, The Blue Room, is named for the common area in the house they all share "Hard Days Night" style, and it takes a mellower tone than their previous releases, with fewer rock riffs and more jazzy swing.
Perhaps the best song on the album is "A Silver Line of Peace." With a distinctly Caribbean vibe courtesy some "yes, mon" calypso guitar and bongo banging, the track would fit perfectly onto one of Paul Simon's more visionary records like Graceland. The beat is truly infectious, and as always Haley Heyman's vocals are a highlight. It's an identity song about finding one's place and spiritual ipseity in a kinetic and often overwhelming world: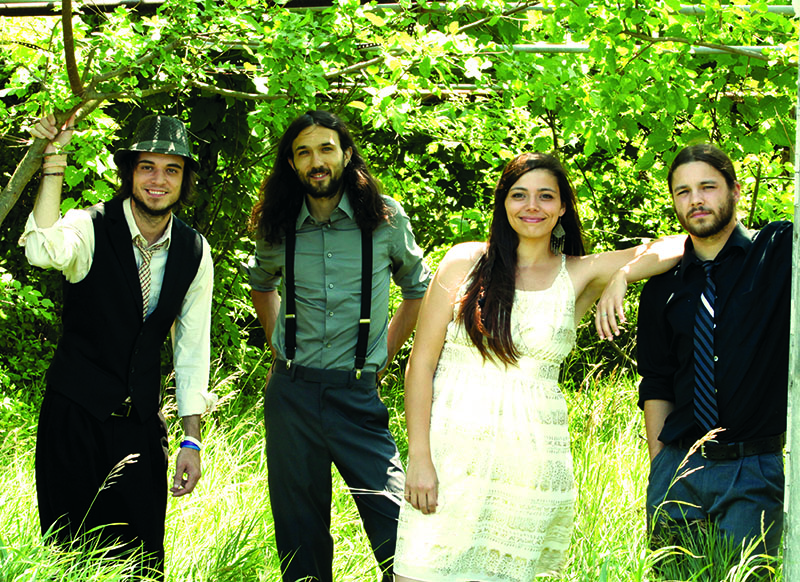 At least the outdoor setting is a little more appropriate for this eclectic but very rootsie band. Dig the suspenders, dude.
If I don't love (Who's gonna love you?),
If I can't stay calm (Best expect the storm),
If I don't say what's really on my mind,
I'd be a fool to let the world do most the talking all the time.
I know her voice was made
To help the world shine.
Those old choices were made
To keep her life in line,
But if they do no good,
How good could they really be?
I find that if I listen
All the answers come to me.
If I learn to love,
If I can stay calm,
If I can say what's really on my mind,
Don't need the world to do the talking any of the time.
I don't need the world to do the talking any of the time.
Although their hairstyles may be similar (if distinctly different in color), Tony Schaffer is definitely no Ann Margaret, and the album's leadoff track, "Goodbye Birdie," is less raucous (and more in key) than the similarly named show tune. Instead, it's a mellow, somewhat jazzy number with a high-pitched picked acoustic guitar that brings a little bit of bluegrass into the mix. The gentle three-part harmonies with their ooohh-ooohhing flourishes lull the listener into a state of relaxation that prepares him well for the remainder of the album.
Lyrically, the next track, "Far More," is one of the most interesting songs on the album. It's part rumination on the life of an economically depressed musician and part love song. The main conceit is probably the most poetic set of phrases ever written about IRS filing regulations:
And I ain't paying taxes
'Cause I don't even make enough to file,
And though I may complain from time to time, I'm feeling fine
Because you seem to think I'm worth your while.
I ain't got nothin'
But they got nothin' on me just the same
Because the empty space between your arms
Is far more than I'd ever hoped to claim.
With elements that are sometimes reminiscent of 60's rock 'n roll and sometimes a jazz quartet, it's a sweet song with particularly compelling vocals on the part of Noah.
Undoubtedly, the most powerful voice in the group belongs to Haley, and it's on full display in her song "Blue," a jazz/blues number with polychromatic lyrics, old-school electric guitar, cymbal-heavy drums and a bass part that sounds like it was born to be played on a stand-up.
"Another Shore" is a very James Tayloresque piece that explores the concepts of human relationships and personal grounding with an interesting metaphor. Yes, more than two-thirds of the earth's surface may be covered by water, and when you're in the middle of it, with the coast out of sight, that can seem like all there is. But it's what lies beneath the waves that interests Tony:
Lost in it all,
Caught among the misery
Life has to offer.
Feeling like an unknown,
Just another lonely soul
Sailing these waters.
Nobody's alone.
We're bound in a row,
All born to be sand.
There is land below the ocean
Reaching toward another shore
And the motion of the water
Will carry us there for sure.
At just over a minute in length and with just four lines of lyrics, "Siren Song" is more of a ukulele proto-song than anything else, but it's notable in that it's Corey Webb's first contribution as a writer and the band's first take on four-part harmonies. It's got an interesting dueling muted trumpet/mouth trumpet/piano coda that gives it the feel of an old minstrel piece.
Probably the most rock-influenced song on the album with its gigantic piano chord intro, poppy guitar lines, and martial snare drumming, "Can't Express" would fit in with the catalog of indie rockers like Death Cab for Cutie. It's marked by particularly sharp vocals and equally sharp lyrics, both courtesy Noah:
Built a tower for you and I loved it so well,
Hanging off of the edge 'til I finally fell.
And all I could think as my body did fly
Was about all the things that I left in the sky.
When I hit the ground it rang just like a bell.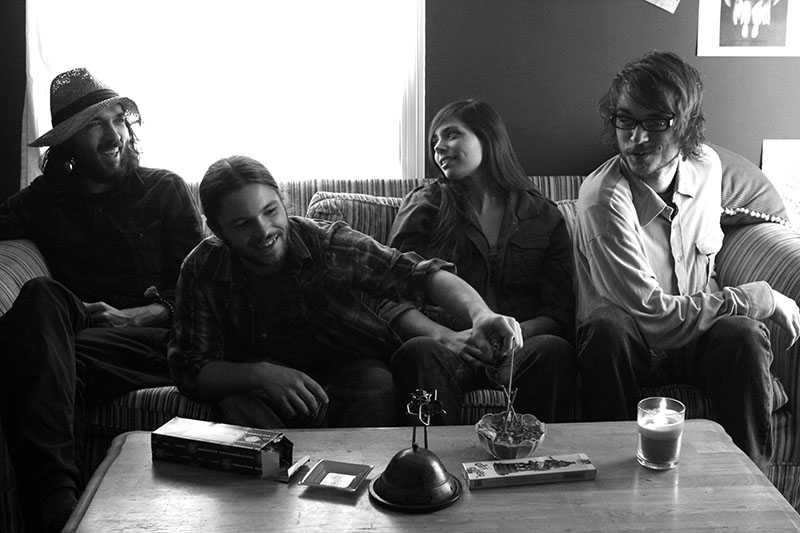 The Womacks chilling in what must be the famous "blue room." Although it's tough to tell in black and white, they claim it's the only enclave in their house with any furniture. Keep an eye on these guys; they're gonna be making a lot of great music for a long time to come.
The most countrified track on the album is "Ain't No Use," with its pedal steel action a definite point of interest.
With a bluesy edge courtesy some well-picked guitar and back alley vocals, "Sun Shine Down My Way" is also a showcase for Tony's multi-instrumental talents, featuring him not only on the acoustic guitar, but mandolin, bass clarinet and cello, as well. The mix gives the song an eclectic feel that's particularly hard to pin down, but perfectly blended and pleasant at the same time.
Ending the album on a lullaby-like tone, "For Lysie" is a song full of counsel for Noah's six-year-old daughter. It's a simple tune with simple advice, guiding her to be balanced, neither too afraid to act nor so brash that like Icarus she reaches too far:
Listen hard to the words that I say,
'Cause someday I won't be around.
Little darling, don't fly away,
But don't keep your feet on the ground.
While the Womacks' greatest strength may lie in their live performances, The Blue Room is a well-executed and compelling album. The band deftly moves among their many eclectic styles throughout, giving the collection plenty of depth to explore. It's just another sign that the Womack Family Band is a group to watch with plenty more to come on the horizon.
---
Buy The Blue Room on Amazon!
mp3