---

---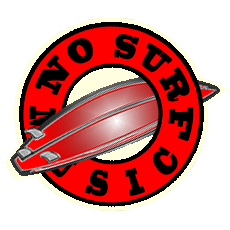 Artist:
Steve Earle & the Dukes (& Dutchesses)
Members:
Steve Earle (vocals/guitar/banjo/mandocello/mandolin/piano) with Kelley Looney (electric and upright bass), Chris Masterson (guitar/pedal steel), Allison Moorer (accordion/harmonium/organ/piano/vocals), Will Rigby (drums/percussion), and Eleanor Whitmore (fiddle/mandolin)
Based In:
New York, New York
Website:
Album:
The Low Highway
Release Date:
April 16th, 2013
Label:
New West Records
Previous Releases:
Guitar Town (1986), Exit 0 (1987), Copperhead Road (1988), The Hard Way (1990), Train a Comin' (1995), I Fell Alright (1996), El Corazón (1997), The Mountain (1999, w/ Del McCoury Band), Transcendental Blues (2000), Jerusalem (2002), The Revolution Starts Now (2004), Washington Square Seranade (2007), Townes (2009), I'll Never Get Out of This World Alive (2011)
Genres:
Americana, alt.country, bluegrass, folk rock, roots rock
Related Articles:
---
Steve Earle & The Dukes (& Duchesses): The Low Highway
by Jason D. 'Diesel' Hamad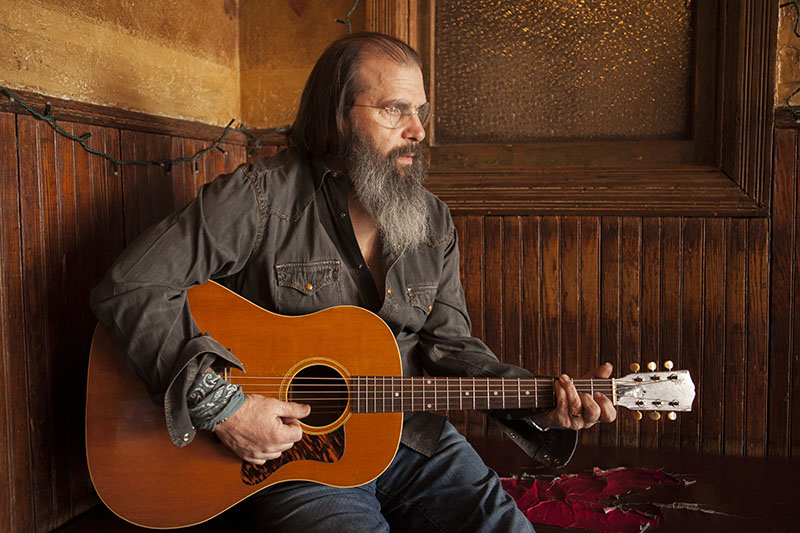 Steve Earle is a legend of the Americana world, penning songs whose moral clarity often matches the intensity portrayed on his face. Photo by Ted Barron.
Steve Earle—the rightful heir to the mantle of his mentor Townes Van Zandt and one of the most insightful lyricists and clearest voices of conscience in his entire generation—released his first album, Guitar Town, a seminal precursor to modern alt.country, in 1986. He has navigated a sometimes-rocky road to reach his present state as a revered legend, a path that has become both the metaphorical and literal underpinning of his thirteenth studio effort, The Low Highway.
The first album billed as "Steve Earle & the Dukes (& Dutchesses)," and the first to bear the Dukes' moniker since Exit 0 in 1987, it is a follow-up to 2011's loquaciously titled I'll Never Get Out of This World Alive and displays the same kind of mellow wisdom that has become a fixture of Earle's recent works. That album contained a number of Earle's all-time greatest compositions but was dragged down by several tracks that should never have seen the light of day. The Low Highway is a much more consistent effort, and although it contains few cuts that could challenge the greatest amongst Earle's discography, even a merely good Steve Earle song is better than nearly any other musician could dream of matching.
One thing Earle and I have in common is a deep reverence for Woody Guthrie. I distinctly remember driving east while listening to Earle's very first broadcast as a satellite radio dj, and just as I crossed out of California he played "Do-Re-Me," all but serendipitous as I was checking out flat broke. Much like Guthrie, Earle has led a ramblin' life, even if many of his travels have been by tour bus rather than freight car (though Woody didn't really do much of that, either). This is reflected in the album's opening and title track, "The Low Highway," which seems to be a direct channeling of Guthrie's spirit.
Musically, it's a far cry from anything Woody would have played, a lumbering piece moving at a very unhighwaylike pace as Earle's voice seeps forth from within the strums of an acoustic guitar and between the wistful howls of pedal steel and weeping of fiddle. But the lyrics are unquestionably wrought from Guthrie's mould. Consider, for instance, two sections of the song that really should be America's national anthem, Guthrie's "This Land Is Your Land":
As I was walking that ribbon of highway
I saw above me an endless skyway.
I saw above me a golden valley.
This land was made for you and me.
…
In the squares of the city, in the shadow of the steeple,
Near the relief office, I see my people
And some are grumblin', and all are wondrin'
If this land's still made for you and me.
Now compare that to the first section of "The Low Highway":
Travelin' now on the low highway,
3000 miles to the Frisco Bay,
'Cross the rivers wild,
And the lonesome plains,
Up the coast and down, back again.
Saw empty houses on the dead end streets,
People linin' up for som'in' they need,
And the ghost of America watching me
Through the broken windows of the factories,
Pickin' bones of a better day
As I roll down the low highway.
The parallels are obvious, and clearly demonstrate how Earle has inherited the mantle of lyrical activism passed down by Woody and others.
Earle has spent much of his career excoriating capitalists, but he takes a rare opportunity with "Warren Hellman's Banjo" to make one into a hero. The late Mr. Hellman—co-founder of the multi-billion dollar private equity firm Hellman & Friedman and the capital venture firm Matrix Management Company—was certainly a 1%er, but also a dedicated philanthropist, an advocate for the alternative press, and the principal force behind San Francisco's Hardly Strictly Bluegrass Festival. In the most imagerial, sonically striking, and downright best song in the collection, Earle portrays him in the best folk tradition as a Herculean musical adventurer, blithely marching into the depths of hell among the sounds of twangy banjo and sweetly sawed fiddle to do battle with Beelzebub bearing nothing but his instrument and a sense of righteousness: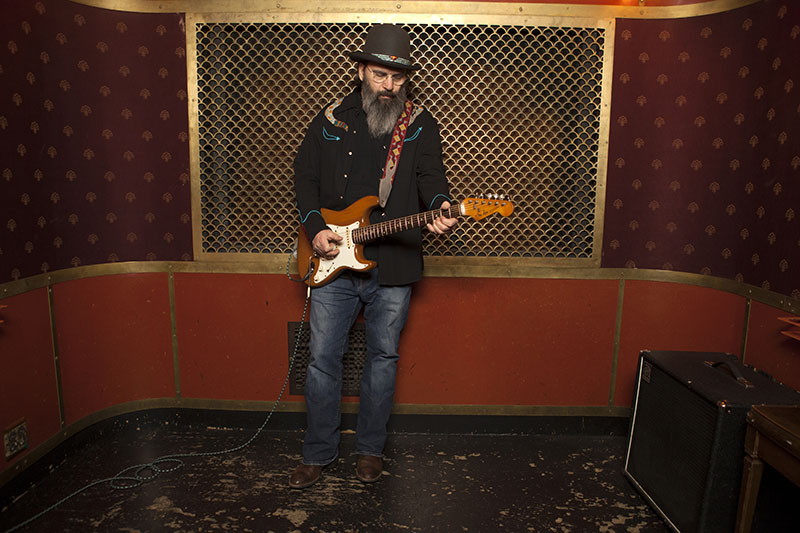 Steve Earle is not a man known for singing the praises of investment bankers, but I guess when you find one who actually does some good in this world, that really is something to sing about. He seems content with his choice. Photo by Ted Barron.
I'm standin' on Jordan's shore, standin' on Jordan's shore
And I ain't gonna worry anymore.
I'm standin' on Jordan's shore.
Gonna lay my purse aside. Lay my purse aside
'Cause my money's no good on the other side.
Gonna lay my purse aside.
Gonna carry my old banjo. Carry my old banjo,
'Cause the devil won't follow wherever I go
If I carry my old banjo.
A song issued as a Record Store Day special edition 7" single, "Burnin' It Down" is a somewhat brilliant masturbatory fantasy for anyone who enjoyed playing with matches, or more importantly for anyone with a social conscience. Because honestly, who likes Walmart and who hasn't thought of burning the local branch to the ground at least once? The company has helped ruin the American manufacturing base, depressed wages, mistreated workers, crushed all attempts at union organizing, and singlehandedly destroyed the livelihoods of millions of people by putting small, local shops out of business through unfair and monopolistic business practices, only to hire the former owners back at barely subsistence wages. And that cheer they make their employees do? That's just freaky, man. Hell, the store in my town's gotten two bomb threats in as many months… and I don't even know the phone number.
Amid a relaxed combination of acoustic guitar strums with electric highlights, seemingly held together bodily with sustained organ chords, the scene opens on a man sitting in his pickup in a hometown parking lot with ten gallons of gas, a bottle of propane and a lighter from his grill. He's despondent over the changes he's seen, the auctioning of the American dream and the loss of hope in his own life. He surveys the scene in front of him, ruminating over his personal disappointments and trying to decide on a course of action:
Always used to say I'd come back some day and settle down.
Now I'm getting old, no places to go; it's all come unwound.
So I'm watching' the faces comin' and goin',
Some of 'em strangers some that I know and
It doe'n't matter much how long I wait.
The door's always open and it's never too late.
And I'm thinkin' bout burnin' it down, boys,
Thinkin' bout burnin' it down.
Nothin's ever gonna be the same in this town.
I'm thinkin' bout burnin' it down, boys,
Thinkin' bout burnin' it down.
Nothin's ever gonna be the same in this town
I'm thinkin' 'bout burnin' the Walmart down,
Thinkin' 'bout burnin' the Walmart down,
Thinkin' bout burnin' it down.
Although the song ends without resolution and the mellow music almost completely counteracts any hint of excitement, one can't help but hope on some level that the guy gets off his drunk ass and gets some revenge in for all of us.
Years of living in New York's Greenwich Village have obviously had an effect on Earle's always-liberal worldview, as evidenced by "Invisible," a song told from the perspective of a homeless man wandering the streets. In true folk fashion, it avoids platitudes and digs right down into the man's lifestyle and psyche. Having spent more than a few nights camped out in Washington Square Park just down the street from Earle's home, I can attest to the verisimilitude of his thoughts with those of the eternal hangers-on for whom the street is a way of life—though Earle's version is admittedly far more poetic. With an ethereal vibrato emanating from deep in his throat, Earle fairly chants the internal monologue of his subject:
I'm takin' my time, but I ain't slow
'Cause it ain't like I got anyplace else to go.
But there's ghosts in these streets, calling my name
And I follow 'em down in the dark again.
An angel bending down to whisper in your ear.
You turn around but we're invisible.
A rumble underground, your deepest, darkest fear.
You hear the sound but they're invisible.
If the words themselves weren't enough, the stark, washed-out, virtually monochromatic video directed by Tim Blake Nelson certainly helps solidify Earle's message.
Earle, whose music has mellowed somewhat over the years even as his lyrics have become more pointed, shows his age as he shouts, "Where the hell is my flying car?" near the beginning of "21st Century Blues." But putting aside ruminations over the lack of cool gadgets (what, isn't the iPad enough for ya?), the song is really about the lost hopes of his generation and the disappointment that the world hasn't yet become what they dreamed it could be:
It's hard times in the new millennium,
Getting' by on just the bare minimum.
Everything to lose and nothin' to spare
Goin' to hell and nobody cares.
It ain't the future that Kennedy promised me
In the 21st century.
But after a Shakespearean litany of the world's ills, he concludes in typical Earlean fashion on a note of determined optimism:
We stand now on the verge of history
The world can be anything that we want it to be.
Where there's a will there's a way,
There's a fire, there's a spark,
Out on the streets, downtown in the park.
Maybe the future's just waitin' on you and me
In the 21st century.
Earle's most well known song described a scion of a moonshining family who returns from Vietnam and moves into the marijuana-growing racket. Today, the drug of choice in the South is crystal meth, as described in the song "Calico County." Musically it's a throwback to the more rockin' tunes of the "Copperhead Road" era (sans bagpipes), while vocally it verges on rappabilly reminiscent of Hayes Carll's "KMAG YOYO."
Smack dab in the middle of the album sits a trilogy of songs originally written for the HBO series Treme, on which Earle played the wise survivor and unofficial dean of the local buskers, Harley. "That All You Got?" is full of Cajun flair from the squeezebox beat that bursts into a lively duet with the fiddle to the matching male and female vocal leads that bear straight down and plow through the song like a tropical blow. The other two numbers, "Love's Gonna Blow My Way" and "After Mardi Gras," were both written with costar and classically trained violinist Lucia Micarelli, who previously toured with Jethro Tull and Josh Groban. The former is a light, breezy and unerringly upbeat lookin'-for-love song highlighted by a terrific fiddle break that, like most everything in Treme, is told as a storm metaphor. The latter is a somewhat darker, rockier post-breakup piece paradoxically filled with minor-key paranoia and soothing ah-ahing vocal hooks that centers around a man putting off his loneliness and depression until carnival has passed.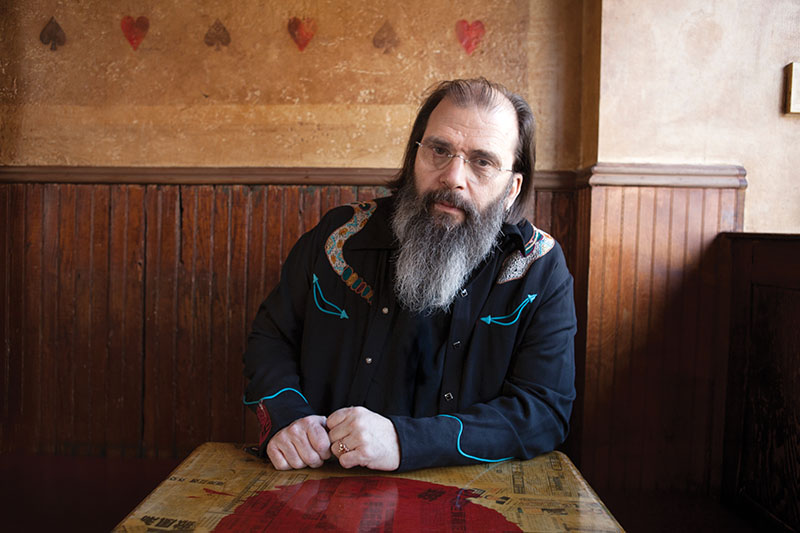 Earle is nothing if not earnest, as you can see on his face in this picture. With The Low Highway, he has delivered a consistently good effort that will find a cozy niche in the collections of his fans. Photo by Ted Barron.
The slow, poignant, and über-reflective closer "Remember Me" is a very personal hope for immortality in the heart of his young child from an aging father, in this case a man who will certainly remain immortal to hundreds of thousands long after he himself is gone.
If there's any criticism to be made of this album, it is that none of these songs—with the possible exception of the all-too-brief "Warren Hellman's Banjo"—rises to the level of quality of Earle's greatest works. Although several feature particularly interesting themes or well-written lyrics, their listenability doesn't quite match, while the catchier tunes likewise are not lyrically meaty. Still, every song can't be perfect, and many of the tracks featured here will easily make my Steve Earle "four and above" playlist. Overall, this is one of Earle's most consistent efforts, a fact that accounts for its relatively high rating, and so even if there are no waiting-in-the-wings classics, it's well worth the purchase for any fan.
---
Buy The Low Highway on Amazon!

| mp3 | cd/dvd | vinyl |
| --- | --- | --- |
| | | |