---

---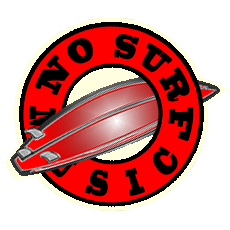 Artist:
The Hello Strangers
Members:
Brechyn Chace (vocals/accordion/harmonica), Larissa Chace Smith (vocals/guitar), Tom Hoy (bass), Spencer Pheil (electric guitar) and Trent Renshaw (drums)
Based In:
Mercersburg, Pennsylvania
Website:
Album:
The Hello Strangers
Release Date:
October 21, 2014
Label:
Producer:
Steve Ivey
Previous Releases:
Acoustic in Austin (2006), Introducing Max Schmidt (2011)
Genres:
Americana, country, folk, alt country, folk rock
Related Articles:
---
The Hello Strangers: The Hello Strangers
by Jason D. 'Diesel' Hamad
The Hello Strangers are fronted by a pair of sisters, Brechyn Chace (left) and Larissa Chace Smith (right), whose brilliant, dark lyrics and perfectly intertwined vocal harmonies mark them as some of the most talented musical artists in Americana today. Photo by Ryan Smith Photography.
I've only given three perfect "Hang 10" ratings in the history of the No Surf Review. There was Gillian Welch's 2011 The Harrow and the Harvest, an impeccable album if there ever was one and the eventual Surfy winner for Album of the Year. Then there was David Greenberg and Harpeth Rising's 2012 collection The End of the World, which contained "Truck Stop Mama," that year's Surfy winner for Song of the Year and which no one could justifiably argue isn't at the nadir of both lyrical composition and musical prowess. But first there was a little six-song EP called Introducing Max Schmidt by a virtually unknown Pennsyltucky sister act by the name of the Hello Strangers.
That's the one about which people give me grief. They point to the relatively raw recording and obvious musical deficiencies as evidence that it's not even close to perfect. I shrug. Some of the arrangements may have been loose and some of the players less than world class, but one cannot hold a homegrown recording by an indie band to the same standards of production as an established artist. What shone through far more was the raw talent of band frontwomen Larissa Chace Smith and Brechyn Chace, whose brilliantly dark and complex songwriting showed true craftsmanship only matched by harmonies perfectly intertwined in a way that can only be produced by voices that were literally born to sing together. That was 10/10 talent if ever it existed.
But several years after I first met the Strangers, something, well, strange happened. That virtually unknown Pennsyltucky sister act came out on top in Airplay Direct's "Win an Americana Record Deal" contest, giving them the opportunity to record with Grammy-award-winning producer Steve Ivey and to have their album released on his IMI label. This resulted in a 13-song self-titled collection that fused the sisters' artistic ambition with Nashville-style production values focused on style, sometimes at the expense of substance.
The Hello Strangers exist at the nexus of pure musical talent, vintage style, and cheeky ebullience that marks them as absolutely unique. I'm guessing this is a fair approximation of their faces when they found out they'd won the contest. Photo by Ryan Smith Photography.
"Recording in Nashville was a dream come true in so many ways," says Larissa. "We had recorded our previous EP in our old guitarist's basement, and while it was fun and we had complete creative control, we were thrilled to be able to record in a renowned studio, Sound Kitchen, with a renowned producer, Steve Ivey. I think it's great we had both experiences though. I wouldn't give one up for the other. Even though we shared creative control with Steve, he was able to push us in ways we'd never been challenged before. That part of the process was specifically noteworthy."
Given my prior coverage of the band—not to mention the fact that I was present for three days of recording at Ivey's Franklin, TN studio during which Larissa laid down her guitar parts and both ladies tracked their vocals—I may be in a unique position to evaluate the album not just as an end result, but also as an example of a process of what happens when a new-world self-sufficient indie band meets the old-guard Music City machine. In fact, five of Max Schmidt's six tracks were re-recorded for this album, making such comparisons relatively easy.
There is no doubt The Hello Strangers is a damn good album, surely one of the best of the year. But while the involvement of Ivey resulted in a recording quality that the Strangers could never have achieved on their own, there are quite a number of places where the Nashville sound machine threatened to overwhelm those elements that make the Hello Strangers such an impressive group, specifically the vocal and lyrical talents of the Chace sisters. In short, this is an album that is successful despite the Nashville resources incorporated into its making. Only the true brilliance of Larissa and Brechyn allowed it to rise above the depressingly bland fare so often shoved down the music listener's throat by the Music City tastemakers.
The songs that are truly great on this album are the same songs that rated as such on Introducing Max Schmidt, "tried and true favorites that we just didn't feel had come into their best form, recording-wise, or had the audience exposure they deserved," Larissa explains.
Take, for instance, the album's best track, "Oh He'll Drown." Murder balladeer extraordinaire Larissa is at the height of her powers in the delightfully dark and terrifically cheeky tale that could only have come from her pen. It recounts the story of a woman absolutely determined to slay her "white trash, lazy husband" by her own hand, not at all deterred by the fact that he is imminently to be executed on the town square:
The townsmen were a gatherin'.
The gallows all were hung.
No ropes would dare forgive him
For what my man had done.
Oh he'll drown, drown, drown in the raging seas 'til kingdom come,
But that never will be enough for me.
Oh he'll drown, drown, drown in the raging seas 'til kingdom come;
Not before this bullet sets me free, sets me free.
This is, simply put, one of my all-time favorite songs. Its boisterous tale of revenge is diminished not one iota over the many hundreds of times I've listened to it, now over the span of three versions and nearly four years. If anything, this rendition, with its tighter guitar work, added dobro, and uptempo feel, is even more rollicksome than earlier incarnations, proving one can improve even upon a nearly perfect song.
But not all of the second-bites fared as well in their new variants, such as "Conococheague," a terrific murder ballad demonstrating the full lyrical power of Brechyn's gleeful morbidity. It is told from the perspective of a woman whose beau finds himself in a bit of hot water that results in a final resting place under the cold flowing currents:
I have a lover, but I want another,
'Cause he's being chased by John Boy's Brothers.
I had a lover like no other
But he's at the bottom of the Conococheague.
This particular creek—whose beautiful moniker means "water of many turns" in the Delaware tongue—is a meandering tributary of the Potomac that can be found flowing near the Chace sisters' hometown of Mercersburg, Pennsylvania, adding an extra touch of realism to the lamenting tale.
Despite the addition of a freaky rattling vibraslap, this minute-tightened version of the song lacks the unsettling power of the original. Though by any other measure this is still a terrific track, the Max Schmidt version was sprawling and haunting, evoking a primal scream, while this rendition is simply too finely produced and intricately layered to manifest such raw emotion. Furthermore, the frightening, almost sociopathic detachment in Brechyn's voice as she calmly moves on almost before she learns of her inamorato's ignominious demise is wholly lost beneath the layers of instrumentation standing between it and the listener. This track is so well written that it would remain a great song if performed by a far inferior group, yet the true power of the Strangers lies in both their potent songwriting and perfect harmonies, both of which seem secondary to the bells and whistles produced into a track that should be far more stark and eerie.
Another album highlight, "Poor Dear," was first laid down as early as 2006, when the sisters founded the band while living in Austin. Proving you really don't wanna mess with Brechyn Chace, it is delivered from the perspective of a woman mistreated just one time too many as she collects herself and her possessions and heads out the door, demonstrating a healthy amount of resolute courage as she does so:
My poor, poor dear…
My poor, poor, poor dear,
You laid your hand me,
Why's it so hard to see?
By the time you light up that cigarette I'll be gone to Tennessee.
I see that old house getting smaller
But you'll see no tear marks down my dusty face.
You said it would come with a cost,
But like a sprout after the frost,
Well, I found something that I've lost.
An opportunity to highlight Brechyn on the band's pet accordion, Max Schmidt—which unfortunately is mostly lost beneath cacophonous maracas and cymbals—the song also features some pretty fine electric guitar work on the part of Spencer Pheil.
Among the album's other fine tracks, the mellow, folkish leadoff "Runaway" is an attempt by Larissa, a self-described "classic type-A Virgo," to encapsulate the many competing facets of her personality. This is highly appropriate, as the last few years of her life have been dominated by the struggles of balancing her musical dreams with the responsibility of running a business and the joys and trials of motherhood.
The Chace sisters are complex individuals—they'd have to be to write the way they do. More than any other, I think this photo captures the tumultuous convolution that lies just behind their eyes. Photo by Ryan Smith Photography.
"Sometimes I get frustrated when I think about how much further we could have come in the past 5 years," she explains. "But I think with this album, and our new band, we've finally developed some momentum in all the right ways, and in a way that we have deserved after so many years of hard work.
"I think we just have to trust that we are working at a level and pace that makes sense for our lives, with kids, home lives, etc. We're not 20 anymore. Some of us are downright close to 40, actually. So there are tough choices we have to make all the time. That's just how the cards have fallen, and I would like to think that's just how it was meant to be.
"Most of the time we're happy with the choices we've made and where we are right now, and where we're going. Actually, since the album was finally released and we've been focusing more on our live show, I have been pretty damn happy with where we are right now."
The song details the many often diametrically opposed forces make her feel as if she is an enigma even to those who know her best, a sometimes painful struggle that she intimates in the lines:
I'm a writer.
I'm a lover.
I procrastinate like no other.
These hats I wear could fill a motel room.
And no matter what I do
This never makes sense to you; it's true
I'll never make sense to you.
Resting on a simple series of rising and falling guitar notes picked out by Larissa like a stairwell leading nowhere and yet capturing her personal paradoxes, the piece is filled out by shaker percussion, the haunting wail of electric guitar, and the gorgeous ooh-oohing harmonies of the two sisters.
Taking a completely different tact is the barroom brawler "What It Takes to Break a Heart." The song details the story of a woman succumbing to her commitment phobias and preparing to push her lover aside, even though she fully acknowledges that he's "a good man" who's never done anything to deserve it. She struggles to find the courage to end things, resorting to the liquid variety as she finally realizes that "Whiskey, wine, and beer is what it takes to break a heart."
The piece features Brechyn at her full-throated best as well as some pretty sweet little guitar licks underpinned by shriek-evoking sustained organ chords, but it's so obviously meant as a vehicle breakout single that the result was blatantly overproduced, especially in the repetitious chanting of "whiskey, wine, and beer" at the song's close, which seems like nothing more than a pop country gimmick. It's still an enjoyable song, but nowhere near as interesting as the Chace sisters' more lyrically intricate works.
While we're on the subject of gimmicky overproduction, the next track, a cover of Jim Lauderdale's "What You Don't Know" is another example. This is the kind of song that can only come about by a producer saying, "Hey, this guy's a buddy of mine and if we cover one of his songs I bet we can get him to appear on the album and that'll be good for publicity." Well, that's all well and good as far as the money machine goes, but the problem lies in the fact that the Hello Strangers themselves are far more talented than Lauderdale ever has been, and the mismatch is obvious.
Not that the Strangers are so vain as to hold the same view, as Larissa explains: "There was quite a build up to actually getting Jim in the studio. He was literally the last finishing touch on the album. Everything else was basically done. It was hard at first to get everyone's schedules to line up. But when we were finally in the studio with him, it was well worth the wait. We basically were popping the celebratory champagne as he was singing his last lines on top of our pre-recorded vocals. He would look out of the booth after each take to seek our response and to make quips. He's such a funny, nice guy. His appearance on the album has been huge for us, not just because it was a great experience, but because it gives our album that little extra bit of moxie."
The song itself is actually rather cool and rendered well, with a paranoiac inflection, some great Motown-style choir backing vocals, the countrified tinge of picked bouzouki, some great electric guitar licks that compliment the ladies' vision of the song well. The problem comes later in the piece when Lauderdale takes over the lead vocals, seeming to brush Larissa and Brechyn away with a "Step aside, girls; this is my song" kind of abruptness that relegates two supremely talented vocalists to the background of one who seems at best out of place within the context of the whole album. It remains a very good song, but one which might well have been better had the Chace sisters been left to their own devices.
Other tracks of note include "Ruined," a standard old-school country heartbreaker about a woman whose big mouth continually gets her in trouble with her lover despite her best intentions, "Holy Unholy," a sea shanty that seems to rock with the waves and is steeped in nautical imagery despite its distinctly unthalassic theme about a person trapped in a destructive, abusive relationship, and "Caribou," a metaphoric indie-folk piece that centers on wintertime imagery of the sisters' mountain home and "the uncertainty of our sustaining life on earth due to climate change," but which also seems to touch on deeper aspects of Larissa's complex personality. The final pair of songs originally appearing on Max Schmidt includes "Chances," a hopeful beginning-of-love song that in true Strangers fashion is nevertheless riddled with paranoia and self doubt, and the depressively wallowing "The World Knows Far Better," substantially improved by its new treatment, filled out by organ while better developed bass and guitar performances allow the piece to be carried by more than just Brechyn's harmonica.
Smile indeed, ladies, and pour one for me, because there's no doubt you've got a fine album on your hands here. There's even less doubt you've got a hell of a future in the music business and I can't wait to see what you've got in store. Photo by Ryan Smith Photography.
The only track with which I take exception is the closer. The standard "Que Sera, Sera" has never really done it for me. Although the ladies' voices are beautiful enough to make this one of the few versions that I can stand, the song remains schmaltzy, and although it's certainly stood the test of time, its writing is simply not up to the caliber achieved by the Chace sisters themselves. While they chose to record it as a tribute to their grandfather, a trombonist who sang with Doris Day, it seems out of place and marks a bathetic ending to the collection.
On the whole, The Hello Strangers is a terrific album that leaves most of the year's other releases in the dust. Those unfamiliar with the Strangers will surely delight in the Chace sisters' brilliant songwriting and luminescent voices, and they are certainly worthy of a far wider audience than they had previously reached. While I feel that all of my criticism is fair, I also believe much of it can be classified as the picking of nits, and that any listener will find as much to love in this album as I have. What flaws there may be stem from a producer more concerned with creating a product than a piece of art, and so focused on making the Strangers sound like every other "successful" Nashville act that he failed to fully account for the talent in front of him and let it truly shine. Still, even buried beneath heaps of unneccesary ornamentation, the Hello Strangers are a great band and their debut album is one that should find a prominent place in any country lover's collection.
---
Buy The Hello Strangers on Amazon!
mp3