---

---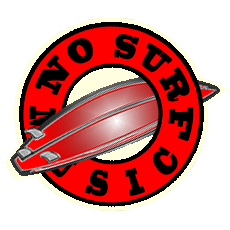 Artist:
Ray Flanagan &amp the Authorities
Members:
Ray Flanagan (vocals/guitar), Russell Flanagan (piano, Fender Rhodes, Hammond C3 organ), Matthew Kerschner (drums), Brian Poston (guitar/vocals), Garrett Tresch (bass)
Based In:
Cleveland, Ohio
Website:
Album:
A Hard Shell to Break
Release Date:
June 13, 2015
Label:
Independently released
Previous Releases:
Same Sky, Different Space (2014)
Genres:
Rock, neo-classic rock, hard rock, heartland rock, progressive rock, alt country, indie rock
Related Articles:
---
Ray Flanagan & the Authorities: A Hard Shell to Break
by Jason D. 'Diesel' Hamad
Ray Flanagan, seen here chilling out in back of the Beachland Ballroom, has impressed many on the North Coast music scene with his prowess on the guitar, but he's just begun to hit his stride with his band the Authorities. Photo by Nicholas A. Roth.
Take a look into the unblinking, bespectacled eyes of the high-contrast face on the cover of A Hard Shell to Break. That's Ray Flanagan, "Fuckin' A Ray," "Cleveland's Clapton," the future of North Coast rock.  At just 22, Ray's already made a big impact on the Cleveland music scene, quickly gaining a reputation as one of the finest guitar slingers in town, a man able to tear up a solo at the drop of the hat, one that'll leave the audience's ears bleeding even as they crave more.  The second release from his band Ray Flanagan & the Authorities proves that the future is here.
Last year over sandwiches at Melt, mutual friend and fellow North Coast guitar guru Diana Chittester asked what I thought of Flanagan, and I casually replied "Ray's a sideman." She looked at me like I'd just said Joe Stalin was a humanitarian. But I wasn't questioning Ray's talent. My thought was simply that his guitar playing was so inspired that it would be almost impossible for his songwriting to match. Turns out that once in a blue moon, even the venerable Diesel is wrong. What I underestimated was Flanagan's interest in learning and capacity to grow. A Hard Shell to Break proves that Ray certainly is a songwriter worthy of his skill as a player, and hints that he's only just started to tap into his potential. Fuckin' A Ray ain't a sideman; he's the man.
The style of the album is very much a throwback, the kind of pure rock one just doesn't hear anymore, classic rock updated for the modern age.
"I feel like an old soul in some ways," says Flanagan. "I feel out of touch with my own generation sometimes. But what I'm trying to do is navigate my way to creating something that brings those elements of those things that I don't want to get lost about the old music that I love, but also make it in a way that's understandable by somebody that's 22 years old in 2015."
The album starts off with a punch to the face in the form of "Decider," a track that shows Flanagan's metal roots in its powerful instrumentation and blazing licks without ever devolving into metallic noise. Among the thunderous bass, crashing drums, and screaming organ, Ray's voice is clear, powerful, infernal, and manic:
I have been loaded with fear of rejection
Because I can't stand the feeling that there's no connection.
And I'm just as lonely as you are a liar.
I feel like a demon. I am the resider.
And I'm watching all the time.
I'm watching all the time.
I'm watching all.
"That's one of those tunes where I couldn't really tell you specifically where it came from, " Ray explains, "but I know what it makes me feel… I don't know if it's from being raised religious and then revolting against it, but I just always had this line in my head… it makes me sound like a crazy person, but I have this line of like, 'I am a demon'… but I think that line can be interpreted in so many ways… like certain people, like relationships say you're in where the significant other makes you feel like a nuisance after a while… It's really just about chaotic relationships and how a lot of relationships end and the frustrations you get in with other people. It's really just a dumb girl song at its heart, but it sounds like Black Sabbath."
More on the side of Heartland rock but with a hard, operatic quality that eventually strays into progressive territory is "I'm Just Trying to Live," a song about going one's own way in life. For Ray, who was telling people he wanted to be Bruce Springsteen when he grew up from the age of six, that means making music:
When I was a child I always knew
What it was that I was gonna do.
Some people told me, you got to try other things.
I said, if I did that how am I supposed to sing and play this thing?
Don't want to go to school and get a job.
Man, that may work for you but that just ain't my style.
I just want to sing it loud for you and sing something that's true,
So stop asking me questions about what it is I'm gonna do.
I'm just tryin' to live.
"What I think about when I think of that song is being at my graduation party… also known as an awkward party.  'What are you doing? Where are you going to school…' They'll just come up to you and, 'Where are you going to school?'  That always just fucked with me… I was always like wh… like how dare you?... like why? 'Where are you going to school?' Not even 'Are you going to school? What are you thinking about doing? ' "
The first few times that it happens when you're like sayin', "Oh, I want to be a musician. I'm gonna play music,' they just give you this… they immediately become condescending… most people.  And so that's where that song comes from, is just having a feeling that you have a calling and everybody wanting to question it. It's like, 'No more questions.'"
The best song in the collection is the hard-hitting alt country number "It's Just Rain," a deeply resonant and compelling song that, like the previous track, examines some of the misconceptions common in modern life and challenges those who never bother to think about them:
Well I left my job at that old dreary warehouse. Needed to get outside and walk around.
When you're cooped up inside you get to missing all them different sights and sounds.
And as I walked the sky was pryin' open. Before I knew it, it had washed me clean.
The girl behind the counter said, "You poor thing, you're soaked."
And I said, "Honey, that ain't the worst thing that I been."
Well, it's just rain. It's just rain. It ain't gonna hurt you none.
It's just rain. It's just rain. Little water'll do you some good.
It'll do you some good.
"I think it's about really how people worry too much," says Ray. "It's about a simple thing, but I think it speaks for a lot… The first verse is about… a child that's scared of a thunderstorm, and then it goes into talking about how his dad told him not to be scared of the thunderstorm, but it also goes into how his dad was maybe one of those people who just accepted… like it says, 'My father wasn't one to talk semantics.' For me that's like he doesn't want to talk about what things mean, just accept what you've been told and then that's your life."
The hard rocking continues throughout the rest of the album, from the Cream-like cymbal-slammer "Waiting for the Door" with its raging power chords, through the breakneck paroxysm of exasperation "Waiting for the Door," and onto the Journey-if-Journey-were-edgy stadium filler "Can't Get Out."
Ray and his band have the potential to reach well beyond the cozy confines of Cleveland, but one gets the idea that when they do, they won't be walking away, but bringing their hometown (and its vibrant music scene) with them. A Hard Shell to Break is a big step near the start of that journey. Photo by Nicholas A. Roth.
It continues, that is until the final track, "Year After Year," which was recorded on a single microphone with Ray singing over his acoustic guitar:
Started snowing mid-November. Kinda snuck up on me this year.
There's been nothin' in recent memory that I been waiting for 'round here.
I give what I can; can't afford to understand what it is you say that you want
So I'm only askin' once.
"I wrote that song on my birthday last year," says Flanagan, "and that's just a song about growing up, and I think there's a cool line in there about still waiting for real life to kick in year after year. It starts when you want it to start… I put it at the end because it marks sort of a transition to me…. The whole album kinda is relentless, punch you in the face, but it makes you think there's gonna be a sequel."
And a sequel there shall surely be. If you like your rock hard, blistering, bold, and uncompromising, A Hard Shell to Break is perfect for you. And if you don't, then what's wrong with you? That's the way rock is supposed to be. Discover Ray Flanagan & the Authorities now, because in a couple of years, he's going to make the Black Keys look like a blip on the radar. This kid is here to stay, and A Hard Shell to Break is the proof.
---
Buy A Hard Shell to Break on Amazon!
mp3