---

---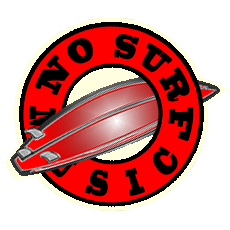 Artist:
Old Man Markley
Members:
Johnny Carey (vocals, guitar), Annie DeTemple (autoharp, vocals), Joey Garibaldi (bass, vocals), Jeff Fuller (drums), Ryan Markley (washboard), John Rosen (banjo, vocals) and Katie Weed (fiddle, vocals)
Based In:
Los Angeles, California
Website:
Album:
Down Side Up
Release Date:
March 5th, 2013
Label:
Fat Wreck Chords
Previous Releases:
Guts n' Teeth (2011)
Genres:
Americana, bluegrass, newgrass, banjo punk
---
Old Man Markley: Down Side Up
by Jason D. 'Diesel' Hamad
Sometime in 1981 Jason Ringenberg stepped onto a seedy dive bar stage somewhere in Music City—fronting a band then known as the Nashville Scorchers—and invented country punk, or as it later came to be known, cowpunk. This sound built on the earlier country rock genre by incorporating the anti-establishment, angst-filled ethos of punk rock for the first time. With a certain small but committed segment of the concert-going population it was a revelation, Sid Vicious in cowboy boots. In 1982 The Pogues stepped onto what was likely a similarly seedy pub stage somewhere in London Town and introduced the world to Celtic punk, blending that same seething ethos and those same hard rock influences with the music endemic to their Irish roots. In 1999, Gogol Bordello stepped onto an even seedier stage on the Lower East Side of Manhattan—Eugene Hütz's sweaty armpits and all—blended those same influences with traditional Roma music and introduced a gaggle of drunken hipsters to gypsy punk. Then, in 2008 Old Man Markley stepped onto a just-as-divey stage in the much sunnier climes of Pasadena seeking to infuse similar punk stylings into that most American of genres, bluegrass, creating an amalgamation they refer to as banjo punk or simply "newgrass."
Following up on their 2011 debut, the band has just released an impressive sophomore effort, Down Side Up. Now, for those of you who aren't giant fans of punk, don't worry. The band's blending of the genres is much more about attitude than it is about sound. In fact, one of the band's strengths is their ability to package insightful and often dark lyrics in a bright, airy musical package. It's not as in-your-face as Jason and the Scorchers, nor as hard-hitting as, say, Dropkick Murpheys. Still, there is undeniable evidence of that punk swagger and an effort to recreate the ambiance of that genre's sound, if not always its intensity. Instead, that intensity comes from the quick fiddlin' and lightning banjo pickin' for which bluegrass has always been known. Even though Old Man Markley's music clearly breaks from traditional bluegrass—for instance by including non-standard instruments such as a drum kit—it is still more than palatable, even for Kentucky purists. For alt.country fans, it's a slightly twangier version of the type of music they've already come to love. For that reason, I actually dispute the descriptor "newgrass"—especially since it has also been used in the past to describe progressive bluegrass acts—and instead suggest alt.grass, which comes much closer to describing what a listener can expect. Don't so much picture Joey Ramone fronting Old Crow Medicine show, but if Rhett Miller fronted a bluegrass band, this is what they'd sound like. And surprisingly or not, it turns out to be a great mix.
Take the album's first single and leadoff track, "Blood on My Hands." The first second is filled by a quick succession of banjo notes that could easily have come from the pickin' fingers of Earl Scruggs. It is then that the standup bass kicks in, with a persistent line that almost feels like it was blown out on a ceramic jug labeled "xxx." A second later the cymbal-snare combination and washboard pile on, giving the jug band feel even more credence. At the same time the autoharp and a short-bowed violin enter the fray, paradoxically pulling in the direction of the Carter Family and Bill Monroe, respectively. That's a pretty big identity crisis for just 10 seconds of music, but it works.
It's then that the tune settles down into its true groove, that bass line puffing along as the banjo carries the forward motion, occasionally jumping up to the fore to add accents along with the fiddle and mandolin. It's one hell of a hoedown, and then a gong strikes and you have no idea what the hell is going on, but you like it. At least I did.
The title "Blood on My Hands" implies a much more macabre storyline than the song actually contains, although in contrast to the extremely upbeat music the lyrics are a bit of a downer. It's either an extended life metaphor or a relationship one, but either way what's most interesting is that it takes the old axiom, "When it rains it pours," to an extreme, the rain becoming the death bringer ending the peace of a drought. It's an odd way to look at things, but appropriate enough in context:
Underneath, the ground that once was dry
Now chokes and cries and dies right where it lies.
Wishin' on a star to dry up all the rain,
Another dollar short, another day too late.
Stuck in the mud. Here comes a rushing flood.
When it rains it pours.
We don't know what lays in store.
Too much weight's gonna bring her down.
We got blood on our hands.
For my part, however, the best song on the album may well be the deceptively comical and sing-songy "Beyond the Moon." With a delicate guitar line drowned in strummed banjo and accented by a toy xylophone, it is the sparsest song on the album, only briefly adding harmonica and a lumbering tuba to aid in the comic effect. With vocals that sound frighteningly like Michael Stipe and harmonies that only add to the effect, the hilarious conceit based on the mental breakdown of a bucktoothed American treasure disguises—as even the author notes—what is actually a rather sweet notion. I mean, how can you lose with a chorus like this:
Don't wanna lose my mind like Gary Busey did.
Once upon a time he was the same as you and me.
And if I lose my mind like Gary Busey did,
Promise me you'll be around to keep me company.
You can't. You can't possibly lose with a chorus like that. It's inconceivable. If you don't laugh at this song even after you've heard it three or four dozen times, it's possible you're a sociopath… either that or a citizen of the 9th Division.
The topics the group chooses to tackle are rarely so light, however, as exemplified by the other heavyweight contender for the title of album's best, "America's Dreaming," an upbeat-sounding piece that opens with a brightly strummed guitar. After a half-minute banjo accents enter the mix. After another half-minute it expands into a full-band sound driven by bass and drums with the fiddle filling the gaps and a chorus of voices adding depth with their ah-ahing harmonies when they're not shouting out the lines in unison. But beneath this blithe exterior the song is packed with biting social and political commentary that turns the concept of the American dream on its head in a way that would make any 99%er—and even a great balladeer like Todd Snider—proud:
If crooks are in charge should we let them pick our pockets?
If we don't want trouble should we not try to stop it?
We could just sink into the quicksand. Slavery we're born in.
But fighting endless wars for greedy liars is getting pretty boring.
They think they got us trained so we'll think we're living free
If we've got time and money for junk food and t.v.
But it's plain, honest people never stand a chance of winning elections.
They just let us pick which liars take our rights away for our own protection.
The corporate propaganda paralyzes us with fear, destroying our ability to trust.
Fear keeps us fighting with each other over scraps, starving to death in the dust.
Organized religion really helps you submit,
But the meek are inheriting the short end of the stick.
Think twice. (Think twice.)
We're awakened from a dream.
Think twice. (Think twice.)
We don't like what we see.
"Rehearsal" is the story of a touring band that from the beginning has a slightly unsettled, almost eerie feel. There's also something in the music that implies age, which is appropriate given the lyrics. It's a not untypical story of a couple of guys with straight jobs who found an afterhours band, but the twist is that unlike, say, "Sultans of Swing," these musicians are immigrants coming to Boston at the turn of the last century. Also, they're undertakers, which isn't your typical day job and so gives them a particularly clear understanding of their place in the world:
There's always curfew at the bars,
A time to lay down that guitar,
And every show's gotta end.
Every night, every life, it's always last call.
You can't always spare time to rehearse.
Sometimes all you get is time for one verse.
Rehearse if you can. Keep an eye on the time.
Remember what's comin' at the end of a line.
Soak in the cold. Breathe in the air.
Slam a stiff one back 'cause there's one curfew we all share.
The album's dyslexic title track, "Up Side Down" is a down-and-out breakup anthem masked by blazing, full instrumentation. It manages to be both manic and depressive at the same time, the jet-fueled musical punch balanced by lines like:
And if there is an upside to getting this let down,
You can't get any lower when you're already on the ground.
Crying in the gutter is a good way to drown.
No one wants to fall and not make a sound.
Crying to yourself makes you look like a clown.
"Come Around Here" is a great little brush off song with slightly insane but just as insanely fun music and lyrics that are a little reminiscent of the female part in Robbie Fulks' "I'm Gonna Take You Home (And Make You Like Me)," at least in tenor. After a slow, gypsy-styled opening, "Blindfold" explodes into a nonconformists' anthem embedded within a galloping orgy of flying notes. "Hand Me Down" is like a meth-smoking version of the Hollies' "He Ain't Heavy… He's My Brother" or Billy Bragg's "Milkman of Human Kindness." "Train of Thought" is an ironically lightning-picked call to just slow the fuck down and smell the roses, with a Buddhist-inspired admonition that "pretty soon the path you choose starts choosing you," while the closer "Too Soon for Goodnight" expresses an ironically lullaby-like longing to stay for just one more round.
Down Side Up is a perfect name for this album, where everything is a through-the-looking-glass version of what it is not, and which seeks to combine the brash, anti-establishment themes of punk with the bright, danceable joy of bluegrass. What's most impressive is how well it works. There's not a loser on the whole album, and only a few tracks that miss the cut for inclusion in high-rotation bluegrass and alt.country playlists. It's certainly one of the best albums released so far this year, and marks Old Man Markley as a group to watch as they blaze a trail through their own genre-bending, intelligent, and exciting brand of music.
Buy Down Side Up on Amazon!

| mp3 | cd | vinyl |
| --- | --- | --- |
| | | |