---

---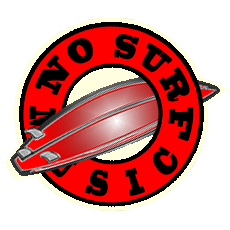 Artist:
El Jezel
Members:
George Flanagan (vocals/guitar/keyboard/sythesizer), Jessica Flanagan (vocals/bass), Dan Killoren (drums/percussion)
Based In:
Astoria, Queens, NY
Website:
Album:
The Warm Frequency
Release Date:
August 4, 2008
Label:
Echo Dust Records
Previous Releases:
Elements of Being Put Together (2006)
Genres:
Rock, alternative rock, experimental rock, indie rock, shoegaze
---
El Jezel: The Warm Frequency
by Jason D. 'Diesel' Hamad
El Jezel is fronted by husband and wife team George (left) and Jessica (right) Flanagan, while Dan Killoren (center) plays the part of the mysterious (and hirsute) drummer. They combine a unique, entrancing sound with onstage passion that makes their live performances particularly enthralling. Photo by Ricardo Oliveira.
One might wonder just how an "Indie Pulse" review could cover a several-year-old album from a semi-defunct band and still feel a heartbeat, but awesome music is awesome music, and for No Surf's last article of 2011 I wanted to highlight an album from my all-time favorite indie rockers, El Jezel. Their second and most recent LP, The Warm Frequency, is a great example of what makes the New York indie scene the vibrant center of sonic experimentation that it is.
When I was living in New York, I got hooked up with a room in a laughably small apartment in Chinatown via a Craigslist ad. At the time, my roommate—the now-West-Coast-relocated actress/singer/model/(and sometime nonprofit manager) Nadine Nicole Heimann—was just starting her stint with a band called June Fool. In the incestuous everyone-supports-everyone world of New York indie rock the two of us spent most of our time hopping from one bar to another catching whichever friends' bands happened to be playing on any given night. The first weekend after I moved in, we found ourselves making the trek out to Trash in Williamsburg to guzzle Jameson and take in an El Jezel show. Granted, my mind was a bit beclouded by the time they took the stage, but I remember thinking even then that it was an awesome set. If my Irish-addled memory serves me, it also happened to be the night that guitarist George and bassist Jessica formally announced their engagement onstage, with a cute little "look at the rock" pose on Jess' part.
Rock band marriages tend to bring to mind car wreck images of Fleetwood Mac, but for George and Jess it's seemed to work. Perhaps this is because they are two of the most low-key cats you'll ever meet. Just as importantly (and certainly causally related) they've never been too concerned with "success" in the business side of music. For these guys, having a night out playing with a bunch of friends seems to be the payoff, which gives their live performances an extra helping of heart when compared to many of their counterparts, who sometimes seem to be going though the motions until they can get a contract and blow off the bar scene for good. Ironically, that's one of the reasons most of those bands die on the club vine.
Have you ever wondered what a subway platform infested by ravenous, blood-sucking, hairless dog-monsters would look like? Probably not like this. Still, El Jezel derives its name from a regional Mexican variant on legendary goat nemesis El Chupacabra. Photo by Ricardo Oliveira.
While George and Jessica split the songwriting and vocal duties in El Jezel, no less important to the band's unique style is drummer Dan Killoren, who adeptly ranges from a lightly brushed touch to arm-shattering rushes, oftentimes within the same song. Along with George's surreal, empathic guitar work and Jess's alternately understated and driving bass lines, this allows the band to create mood-altering soundscapes that drag the listener into the performers' world and keep them entranced within its ever-fluctuating boundaries. This was especially evident on their first album, 2006's experimental/shoegaze triumph Elements of Being Put Together. I don't usually go in for shoegaze—no matter how stoned I am—but even so I contend to this day that Elements is one of the best indie rock records ever produced.
With 2008's The Warm Frequency the band took a bit of a different tact, eschewing some of their experimental leanings in favor of a slightly poppier, more traditionally alternative sound. At the same time, it maintains the dreamlike qualities that have kept the band's fans mesmerized for years. While this makes the album a little less stylistically unique than Elements, it also makes it somewhat more accessible.
Jessica especially seemed to make a quantum leap forward with her songwriting on The Warm Frequency, fine-tuning the storytelling aspect of her writing and turning out several of the album's best tracks. Chief among these is "Champaign and Cold Coffee," a damn fine song by any standards. With an opening based around George's ringing guitar and Dan's wooden and metallic beats, it is underpinned by the electronic hum of a synthesizer, giving it an especially otherworldly feel. As the music builds, the guitar turns into a driving force of nature, while accents from the keyboard add a percussive, staccato kick.
The lyrics focus both on feelings of isolation and the relief of finding a fellow traveler, all told through movie metaphors:
"Lili, Lili, Lili, legs, Lili, Lili..." I love that this is the frame YouTube chooses to freeze on. Sorry, George.
You comprehend my words, when no one understands.
We speak the same language,
And you're my Bob Harris.
I'm the girl in the pink wig.
We can watch old movies in your hotel room
Or steal into the Tokyo moonlight.
The second verse alludes to what I am convinced is one of the chief reasons Jess and I get along (aside from my roguish charm and her affable sweetness)—a shared fetish for Audrey Hepburn:
You comprehend my words, when no one understands me.
We speak the same language,
'Cause you're my Joe Bradley.
I'm the girl with the new haircut.
You can drink cold coffee in the street café.
I'll have champagne...
Another great track is the album's leadoff, "Glow." Opening with what sounds like an orchestral string section tuning up, it soon explodes into a giant, fuzzy wall of guitar and bass. Calming down into a lackadaisical guitar line accented by percussive strikes, it makes a perfect backdrop for Jessica's particularly nimble voice as she paints a picture of the band's Williamsburg practice space that would make Nikola Tesla blush:
Forty million watts of electricity course through these walls,
Setting fire to our instruments, bringing life to our songs.
Strings of lights, in blue and white,
Set aglow our hair and eyes,
Reflecting off the rims of the drums,
Reflecting off my glitter and your whammy bar.
As in many El Jezel songs, the music fluctuates periodically between opposing poles of energy and placidity until one final burst of power brings it to a close.
Immediately following "Champaigne and Cold Coffee," George's "Monument Valley" is a song that would appeal to either movie buffs or environmental preservationists. It appears to have had its inception in a documentary on Western filmmakers, but expands into a contemplation of the nature of art, artists, and artistic immortality:
Occasionally the members of El Jezel like to climb onto a random rooftop and meditate while pensively humming a down-tempo version of "While My Guitar Gently Weeps." This has led to persistent rumors that Dan was recently killed by a wayward gust of wind and replaced by a South Korean robot. The band has denied these reports, but confirmed that George is, in fact, the platypus. Photo by Ricardo Oliveira.
Lots of things will come and go
But they'll always leave this place alone
So if you see them coming up behind
Pay no mind, pay no mind.
You painted outside the lines again,
The same exact memory
And just like your characters
You'll never ever sell your dream.
You just wanted to capture
The open expanse of a clear blue sky.
You never knew you were after
The loneliness of his clear blue eyes.
In addition to ringing cymbals and throbbing guitar and bass, the most emotional lyrical deliveries are highlighted by a particularly enthralling, if understated, ahhh-ing vocal flourish from Jess.
"Water Main" reveals Jessica's devilish side. While her bass walks its way through a particularly impish line, she fantasizes about turning her apartment into a localized version of Noah's flood:
Look at the water main; its valve is in our room.
From its pipe a sign hangs, it warns of flood and doom.
It would be too easy, to just give it a
Turn, water's rushin' quickly,
Turn, I can't catch my breath,
Turn, the amps are underwater,
Turn, I could not help myself.
It's not hard to picture a Loki-like smirk on her face as she envisions the destruction she has wrought, and it's just as evident in her voice as she recounts the imagined deluge.
El Jezel only seems at home on a bustling New York street or crowded club. While the latter is the setting for "Siberia," the former is the backdrop for this picture. Hey, Jess, run over and grab me a coffee and a cruller, would ya? Come on, make it snappy, girl. Photo by Ricardo Oliveira.
"Siberia" is another particularly entertaining track, and a contender for my all-time favorite New York love song. Telling the twin tales of the couple's nascent romantic relationship and the band's founding, genesis ab ibidem, the song is set against the backdrop of a midtown dive bar:
You met me, when I shopped at your HMV.
I couldn't help but go back, again and again and again.
It wasn't long before you hired me, and then Kelly.
She said, "We all should go out after work at
Siberia, just behind the black door."
Siberia, Siberia
It wasn't long before I moved in, and our songs began to swim.
We put together our band, and recruited Dan.
Perhaps the poppiest song on the album, it clips along at a hot pace until the close of the last chorus, where it transitions into a slow slipstream of guitar and sliding bass accented by cymbals and keyboard notes. It's as if the Jezel kids just couldn't let a track go by without at least a little of their trademark phantasmagoric sound.
The most unconventional piece on the album is the one track co-written by both George and Jessica. While for the most part the music is straightforward rock (except for a distinctly Eastern-influenced bridge), the interesting aspect is that the two deliver dueling vocals, one right on top of the other. The beauty is that the contrast of the male and female voices combined with their perfect timing ensures that both lines of thought are nevertheless perfectly discernable. Another departure is that while El Jezel songs are usually deeply personal in that manner that makes the ultra-specific universal, this song takes a directly philosophical bent. The competing vocals also compliment each other, espousing essentially the same ethos from two separate—but conjoined—points of view. For instance, as George intones:
I keep my pockets thin while everyone was stuffing them.
They're empty; they've always been, except a little lint.
What you flaunt is all you're not.
All you got is all you want.
Jessica is simultaneously chanting the sly incantation:
You don't need them, the objects you desire.
Let's enjoy what we have, not wish for what we don't.
I raise my glass to you, my friends, with gratitude.
We live and love today; do things the right way.
Finally, as if adding a last bit of punctuation to the thought, George ties it together with a shouted and emotional couplet:
This is not a perfect spot, but goddamn it's all we got.
We could ask for more… How could we ask for more?
And how could a noted vagabond philosopher like myself not love these guys?
As for the songs penned solely by George, "Balconies," the album's longest track at just under seven minutes, is probably the most compelling. Proceeding at a lethargic pace, it seems custom designed to induce a trance in its listeners. The sleigh bells that chime rhythmically throughout the first segment of the piece contrast greatly with the powerful guitar evident in the middle section and the ringing keyboards and cosmical synthesizers in the final movement, yet they all fuse together perfectly. Throughout, Jess ambles through her bass line barely touching the strings, as if she is afraid she might wake her husband from his daydreaming ruminations on the balconies he passes by each day and their owners, seen or unseen. The song also demonstrates one of the qualities that allows El Jezel songs to so easily vacillate from one mood to another, George's distinctive ability to transition from sotto voce recitations to fervid, shouted deliveries, seemingly without ever changing gears.
This is why New York apartment buildings are so dangerous: indie rock bands lurk in every corner waiting to pounce and assail you with their musical wonder weapons. Although sightings of El Jezel have been rare in recent months, they're still on the prowl, so beware. Photo by Ricardo Oliveira.
While El Jezel is one of the most unique bands in New York indie rock, their future is not entirely certain (although whose is?). One of the drawbacks of their play for the music philosophy is that all three members have had to support themselves with straight jobs throughout their career, and this has led Dan into an economically imposed exile in his hometown of Boston, which makes the commute to practice in Williamsburg particularly grueling. While the band is still extant, this means that they haven't produced many new recordings of late and are only able to perform when Dan can make it back to town. In the meantime, George and Jessica have reconstituted themselves as a duo called Nightfalls that focuses more on George's propensity to fiddle with gadgetry and puts an electronic spin on their sound. But the core of El Jezel is found in the interrelated talents of all three members, and much of the appeal of their live shows is dependent on Dan's entranced, hair-flailing drumming. Still, while they may not be in the perfect spot, the band continues to play together as often as they can. Any opportunity to see them perform is well worthwhile, as is the chance to revisit recordings such as The Warm Frequency.
Download The Warm Frequency from Bandcamp or eMusic!
Download free tracks from Bandcamp
Purchase full album from eMusic

Click cover above to view
The Warm Frequency
on eMusic.