---

---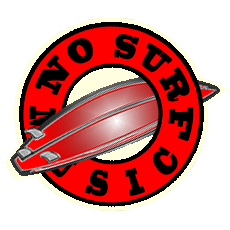 Artist:
JKR70 presents Clay Hughes
Based In:
Kansas City, MO
Website:
Album:
The Whether Machine
Release Date:
June 7, 2011
Label:
Sharp County Records
Previous Releases:
Burn (2009, with Clay Hughes & The What?)
Genres:
Hip-hop, indie rock
---
JKR70 presents Clay Hughes: The Whether Machine
by Jason D. 'Diesel' Hamad
The key reason No Surf Music was founded was to connect music lovers with music they'll love. In some ways it has become easier than ever to discover new sounds. As terrestrial radio and the big labels have become ever more pointless, emerging technology like satellite radio, internet radio, and social media have opened new outlets for fans to find something they couldn't hear through normal commercial means. But with this huge volume of media it can be hard to sort out the gems from the slag. That's where we hope to be helpful, giving a little bit of perspective on the music, whether it's from a well-known band or an independent, local act.
With all of the clatter in music today it can be harder than ever for local talents to break out, but in many ways the local scenes are more vibrant than ever. Adding to this vibrancy is Sharp County Records. Founded by No Surf friend (and Ha Ha Tonka drummer) Lennon Bone, Sharp County is dedicated not just to producing quality recordings, but to bringing the local Kansas City music community together as a whole.
"Take a look at some of the great scenes around the country," says Bone. "New York? In all the great parts of their scene, everybody is involved in everybody else's art.
"Sharp County Records wants to be and build a community, and hopefully inspire and promote others in the community, whether they're on the label or not. Let's say a great local band blew up and had a bunch of their buddies from other bands in the area playing on their album. How many more people would discover those other bands? How many more people would realize there is a scene in Kansas City, and that they should start looking for new music here? Community breeds creativity."
Clay Hughes--who really likes either old industrial buildings or fish tacos--blends hip-hop and rock influences into a totally new flavor with his new album.
At No Surf we can't agree more, and that's one of the reasons we'll be digging deep into the local scenes to help bring some of it out into the national light. That's why we wanted to introduce you to Sharp County's newest release, JKR70 presents Clay Hughes The Whether Machine.
This album is an interesting marriage. Clay Hughes, through his main project Clay Hughes & The What?, already has found a way to combine acoustic, guitar-driven indie rock with hip-hop influences. But in the hands of JKR70, one of Kansas City's premier hip-hop producers, this equation is taken several steps further down the line. In the producer's words, the album "bridges that gap between hip-hop and contemporary, as well as styles bordering on emo or adult alternative. It gives the listener the opportunity to openly claim whatever genre they choose to hear while still presenting a cohesive whole."
In addition to this pair, the album taps into a well of local talent. Bone himself plays keyboards and synthesizers, while Thom Hoglen (The Carter Hulsey Band) handles the bass and Matt Long picks up the guitar action. The album also features a slew of Midwestern MC's to add segments of rap to Hughes' vocals.
Now, I'll admit right off the bat that hip-hop has never been my bag. Maybe it's just my genesis as a white boy from the 'burbs, but it's a musical style that's beyond me. There's a few hip-hop and rap artists that cross over based on lyrical appeal or other factors—OutKast, Snoop Dogg, Tupac—but for the most part, it's just not something I'm going to seek out. Still, JKR70 put it well… There's pretty much something in here for everyone. I wasn't exactly doing cartwheels the first time I listened to The Whether Machine, but I was surprised by how much appeal it has even to someone who doesn't normally favor hip-hop music.
What sets this album apart is that so many varying influences are mixed together, yet it still sounds coherent. In some ways it reminds me of one of my all-time favorite bands, Sublime, although the hip-hop quotient is much higher. Some tracks are more traditionally hip-hop, others rely more on Hughes' soulful vocal style. The synth part in "Walking, Understood" reminds me of nothing so much as Death Cab For Cutie's "You Are a Tourist," while "The Replacement" opens with a lick reminiscent of Led Zeppelin but quickly skips its way into a hip-hop rhythm, complete with scratches. Whatever your favorite style of music, you can at least find an entrance point somewhere here.
The highlights include the leadoff, "Plaster." It features an opening sample of the communications from a rocket launch, providing the theme for the album's cover by K.C. graffiti artist Scribe. Hughes' vocals are relatively mellow, especially when compared to the lightning-quick delivery provided by The Phantom* later in the track. This is a recurring meme throughout the album as Hughes plays off of the MCs who are featured on various tracks. The music features a repeating guitar riff that ads a bit of a disconcerting vibe, especially as Hughes repeats lines like "Who are you to judge me now? Who are you to judge at all? Who are you to judge me now? Who are you at all?"
As a follow up, "The Love I Gave Ya" slides right in from the previous track and features piano-heavy, minor key action and a cymbal-ringing drumbeat. Imagine if Ben Folds went through a hip-hop phase (besides his hilarious version of "Bitches Ain't Shit") and you should be able to picture this track. It features some of the most compelling lyrics on the album, including the chorus:
Make me young. Make me old.
Make me fire. Make me cold.
I'm your loser. I'm your savior,
Hollowed out from the love I gave ya."
"Bitter Pills" starts out with a brooding coffee shop singer-songwriter feel, with Hughes singing over a strummed acoustic guitar. It soon breaks into a hip-hop beat under Bone's synth and intermittent guitar chords that add a slightly ominous edge as Hughes sings:
Such a bitter pill to swallow,
Make me what I'm not.
Such a bitter pill to swallow,
I can't make it stop.
JKR70 sounds like a license plate, not a name (see, I told you I don't get hip-hop), but as producer he pulls this album's many musical styles together.
By the time Mac Lethal breaks in, Bone's keyboards have turned towards a bluesy vibe and Thom Hoglan's bass adds a little bit of electric jazz.
The artists make liberal use of samples throughout the album. For instance, "Confessin'" starts off with a clip from a "Dear John" voicemail message buried within a multitextured, almost ambient collection of sounds. "Hippy Chic" features a brief sample of John Lennon signing "Girl" from Rubber Soul, which is perhaps a sweeter, less pot-inspired cousin of this song.
With what makes for the most entertaining use of sampling on the release, "Gotta Soul" is interlaced with clips from what sounds like a corny 50's religious informational film. The song contrasts Hughes' bluesy vocals against rap verses from Lucid and Irv Da Phenom, even as it counterpoints the concept of redemption against the realities of life:
Gotta soul but where will it go
When I serve my time and I pay my toll?
I got appeal with the powers that be
For the rebel in me, yeah the devil in me."
It's only fair to evaluate a truly independent, regional artist's work differently than that of a national act. After all, not only does a major label have more resources to expend, but the artists are still on their way up, as well. If they were already at the peak of their performance, hopefully enough people would have noticed to push them to the next level. But that doesn't mean that a regional act can't have national resonance. Good music in Kansas City is good music to someone in L.A., too.
The question for a work like this really is not whether every track is perfectly executed, but does it show potential. With The Whether Machine, I would say yes. Clay Hughes may well be someone to keep an eye on to discover what he does next, where he can take this style and whether he can take his work to the next level.
The Whether Machine is a high-concept album, and it's a concept I like. Any music that bends the rules of genre is bound to at least be interesting. I can't say any of the lyrics grabbed me by the lapels, gave me a good shake, and demanded to be heard, but the music throughout the album was consistently intriguing and often entertaining. Even if hip-hop isn't normally your style, it's an album worth giving a spin. Who knows, maybe you'll be the first to discover something you'll really love.
Download The Whether Machine from Bandcamp!
---