---

---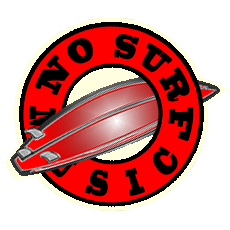 Artist:
Jolie Holland & The Grand Chandeliers
Members:
Grey Gersten (guitar/bass), Jolie Holland (vocals/piano/guitar), Shahzad Ismaily (percussion/bass/synthesizer/guitar/vocals)
Based In:
New York, NY
Website:
Album:
Pint of Blood
Release Date:
June 28, 2011
Label:
ANTI-Records
Previous Releases:
Catalpa (2003), Escondida (2004),Springtime Can Kill You (2006), The Living and the Dead (2008)
Genres:
Indie Rock, Folk Rock, Blues Rock
---
Jolie Holland & the Grand Chandeliers: Pint of Blood
by Jason D. 'Diesel' Hamad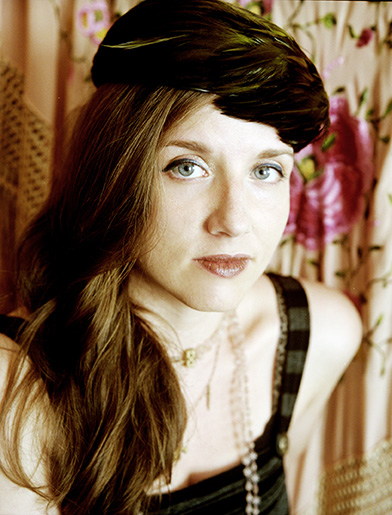 Jolie Holland gives off a bit of a retro vibe in this picture but her music is truly forward-looking. Photo by Scott Irvine.
Jolie Holland rejects the "folk" label that has often been ascribed to her. In fact, "reject" is probably too weak a word. She violently opposes it. Recently, she shot off the following to her Facebook fans, apropos of nothing:
The influences for this record I just made are: 1970s Neil Young, the Velvet Underground, David Bowie, 1960s era SE Rogie (Palm Wine Guitar from Sierra Leone) with a little production inspiration from Exile on Mainstreet, and Revolver. ie, no 'folk' unless you mean 'human.' To quote the great writer and musician, Vanessa Veselka, "TAKE OFF THE GENRE CONDOM." just take it off.
If we're talking instrumentation, folk would indeed be a poor descriptor, especially as Holland's new album Pint of Blood takes a significant turn towards a blusier, more rock-worn sound than her previous work. There are no banjos or mandolins or dulcimers or harmonicas, just powerful, guitar-led songs with a touch of the dark to them.
But if we're talking lyrical content, it's another story. Take Pete Seeger's old explanation of folk music, which is simply that it's music about real people and how they live their lives. "Whole Lotta Shakin' Goin' On" is not folk music. Fanciful declarations that "I am the Walrus" are not folk music. Stories of werewolves looking for Chinese takeout are not folk music. Whatever the fuck "Poker Face" is supposed to be about, it's not folk music (it's debatable whether it's music at all). By this definition a lot of folk music isn't even folk music (Puff the Magic Dragon? Not unless it really is a pot metaphor). But as an alternative metric it remains a workable means to differentiate at lease folk-influenced music from dance music, cheesy love songs, and bubblegum singles. It is about the written content, irrespective of the instruments employed in making a backdrop for those words. This is why Mr. Seeger (despite ax-wielding rumors to the contrary) never had a problem when artists such as Bob Dylan went electric.
Ms. Holland had it right at the closing of her statement: "no 'folk' unless you mean 'human.'" Her music is undeniably human, forcefully—and often painfully—so. She channels her feelings as completely as Lucinda Williams, who, although unmentioned in the list above, is undeniably a key influence—especially as Pint of Blood takes its darker turns. Two other artists are evoked throughout the work, whether or not they were in Holland's mind during its conception. The angst and rebellion of Patti Griffin is instantly evident and weaves its way from the first note to the last. By the same token, the almost mystical lyrical power and musical stylings of one of Jolie's biggest fans, Tom Waits, are also omnipresent. This album is so dark and bluesy that if Holland's voice were but a few octaves deeper, Anti-Records could have released the album under her labelmate's name and no one would have batted an eye. What ties all these artists together is their impressive ability to capture and convey the full range of human emotion (although specifically the dark side), and with this connotation, Jolie Holland's creations are undoubtedly folk.
Pint of Blood may best be described as experimental. Like any good experiment there are moments where the attempt is less than perfectly successful, but there are others where it works out splendidly. The tone of the album is often disconcerting, with guitar riffs that are haunting and beats that appears to synch with the listener's heartbeat. Many of the tracks are almost countermusical, with instrumentation that seems purposely mismatched. Many of the vocals seem almost separate from the music, as if they're going in their own direction and not paying attention to the rest of the song. At other times they become so intertwined that they are barely discernable. Most of the tracks are marked by extremely engaging lyrics, proving once again (if it needed to be) that Holland is one of the most underrated lyricists of our time. There are several standouts that would fit in on any number of playlists, but the full album will likely best be enjoyed when one is in a brooding, pensive mood.
Perhaps the most engrossing song on Pint of Blood is the opening number. "All Those Girls" is highly evocative of Lucinda Williams, both in the bluesy music and the deep, powerful, growling vocal delivery. As the drums kick in and the guitar rhythm is strummed, Holland chants:
Can't believe you're treating me like all those girls.
All those sweet girls, go home to cry
and wonder why.
Moments later, she parallels this line with:
I can't believe you're treating me like all these men.
All those fine men that took you in,
Into their hearts with open arms.
It is a song about flaws, but it is very hard to detect any within the work itself. It is full of powerful declarations, any of which could easily stand up to "You've got no right to take my joy. I want it back." As the song progresses, a haunting guitar screams overtop the vocal break, then dives back under, subservient to Holland's words. The piece is a potent, terse smack in the face.
The next track is also a strong work. Starting out with a light delivery, "Remember" opens with a paradoxically powerful lyrical punch as Jolie sings: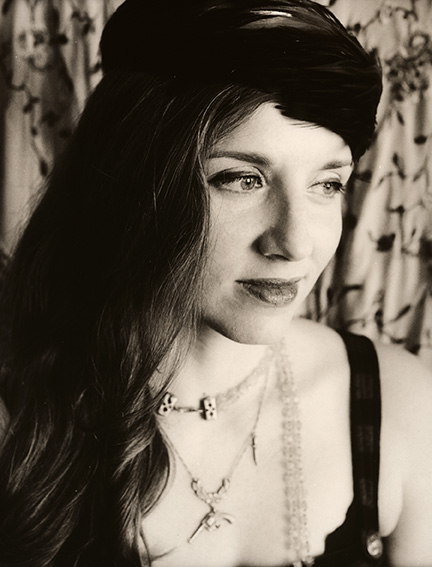 Holland channels the great Lucinda Williams on the first track of her new album, "All Those Girls." Photo by Scott Irvine.
It brings a smile to my lips
When I think of your fist
Narrowing in on and cracking his ribs.
As the music deepens, it only hits harder. It becomes a powerful, twisted independence song as she declares:
If you don't catch me when
I fall for you
I'm gonna have to remember how to fly.
The song is a terrific a showcase for Holland's voice, which soars its way above the music. Still, the lyrics are undoubtedly the shining star here.
Another particularly engaging song, "Littlest Birds," is given its second treatment on this album. Now with what Holland describes as its originally intended "West African highlife feel," it has gone through quite a transformation since its previous incarnation appeared on her first album, Catalpa. That album was recorded in a living room, but now she's got the band to make her vision complete. Bouncy, airy, swinging, and at times moving in counterpoint to itself, the song is about life's journey, metaphorically described through lines such as:
But I left my baby on a pretty blue train
And I sang my songs to the cold and the rain
And I had the wandering blues.
I sang those wandering blues
And I'm gonna quit these hard rambling ways
One of these days.
And I sing
The littlest birds sing the prettiest songs.
I have to give Holland credit on the album's closing track. If you're going to cover a song, it might as well be one by a master. "Rex's Blues" was written by outlaw country legend Townes Van Zandt and appeared on his 1978 album Flyin' Shoes. Holland's version is slower, dreamier, piano-based, and oddly has the feel of a Celtic ballad, with her voice almost affecting a hint of a lilt as she sings it.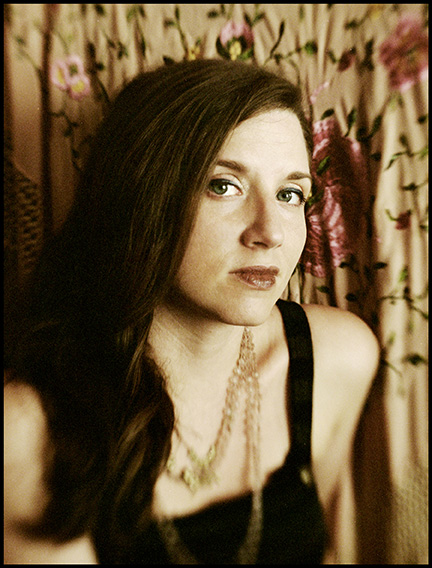 Singer, songwriter, multi-instrumentalist, and—apparently—painter. Yeah, this girl is artsy. Photo by Scott Irvine.
Other tracks of note include "The Devil's Sake." A pleasantly ponderous, surreal mood sketch, it is yet another lyrical standout. It continues the animal metaphor motif of "Remember" and "Littlest Birds" through the lines:
I'm tryin' to be innocent as the dove
But I'm smarter than a nest full of snakes.
O heaven help me if only for the devil's sake.
With an airier feel than other songs on the album, "Wreckage" is dominated by quick-beat percussion that gives it an almost Caribbean vibe.
"Gold and Yellow" also has strong lyrics, opening with the lines:
Gold and yellow mermaid of the southern sea,
Open up your honeyed lips and speak Spanish to me.
This provides the inspiration for the album's cover, a Picassoesque ocean landscape painted by Holland herself in which the main feature appears at once to be both a sun-swept island and a gilded mermaid.
Pint of Blood is an intriguing album marked by Holland's strong lyrics and an engaging, bluesy blend of sounds. While its guitar work is generally in the vein of classic rock, the background on which it is set is a swell of sound unlike the typically simple base of most such music. While at the best of times this makes the music extremely absorbing, at other times it may be aurally inaccessible. Several of the songs, particularly "All Those Girls," "Remember," and "Littlest Birds," are absolutely terrific. Others seem to wander a bit too much or are stylized to such an extent that their neo-bluesy feel overtakes their musical aspirations. It is a cerebral work, completely anti-pop in every possible way, and there's little doubt that it is one of the most creative albums of the year. It may not be for everyone, but Pint of Blood is definitely worth exploring.
Buy Pint of Blood on Amazon!

| mp3 | cd | vinyl |
| --- | --- | --- |
| | | |