---

---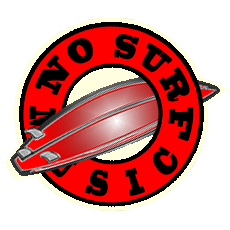 Artist:
Jason Isbell and The 400 Unit
Members:
Derry deBorja (keyboard), Chad Gamble (drums), Jimbo Hart (bass/vocals), Jason Isbell (vocals/guitar/keyboard), Browan Lollar (guitar/vocals)
Based In:
Muscle Shoals, AL
Website:
Album:
Here We Rest
Release Date:
April 12, 2011
Label:
Lightning Rod Records
Previous Releases:
Sirens of the Ditch (2007, solo), Jason Isbell and The 400 Unit (2009)
Genres:
Americana, alt.country, Southern rock, blues rock, folk rock
---
Jason Isbell and The 400 Unit: Here We Rest
by Jason D. 'Diesel' Hamad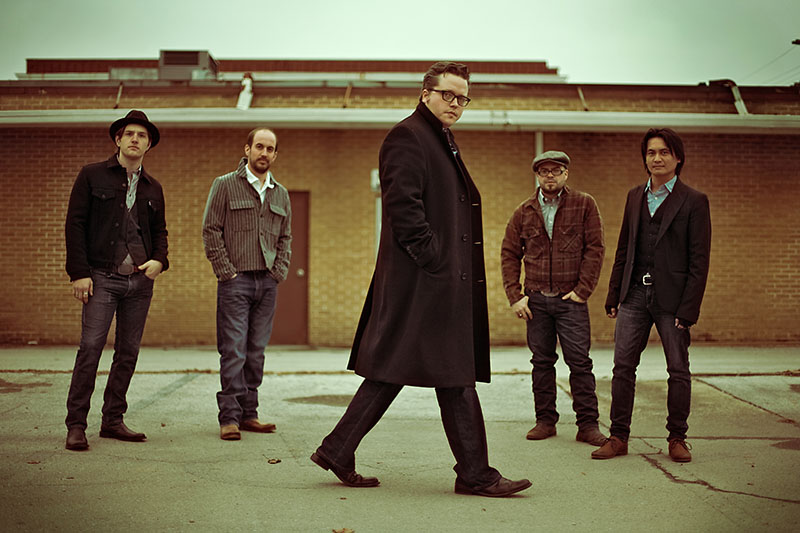 Jason Isbell chills with The 400 Unit. (l-r) Browan Lollar, Chad Gamble, Jason Isbell, Jimbo Hart, Derry deBorja. Photo by Joshua Black Wilkins.
I was first introduced to Jason Isbell (and his former band Drive-By Truckers) through a New York friend who grew up with him in the small North Alabama town of Greenhill (also spelled Green Hill), and who claimed to own him at the pool table. During his time with the Truckers, Isbell proved he was every bit the songwriter as his esteemed bandmates, contributing to a number of their best songs. He left the band in 2007 to record under his own name and with his new band, The 400 Unit, named after the psychiatric ward of the local hospital. Recorded just a stone's throw from Green Hill in the musical Mecca of Muscle Shoals, the group's second album, Here We Rest, was released early in 2011 and goes a long way to proving that Isbell is here to stay.
The name of the album is somewhat ironic. It was the first motto of the state of Alabama, and he wrote most of the songs during a long stretch at home preceded by a year of constant touring. Both the feel and the lexicon of the South are ever-present, but there's little rest to be found here. Many of the songs deal with loss, especially by those who have left home in search of something bigger and better, only to find disappointment. One can see a lot of Isbell in them, and whether or not he shares the exact feelings and experiences of his characters, its obvious that the stories are analogies to his own life. The personal touch adds a lot of flavor to the album and makes it all the more compelling.
The best song in the collection is "Codeine," which features a strong acoustic sound. Now, codeine is one drug I can't say I've ever tried, but I've got to guess that the song does a fair job of approximating its opiate vibe with mellow but undeniably catchy music. The strummed guitar, harmonica, fiddle and light, walking bass line blend perfectly to create a simple and highly engaging piece of music. The lyrics are just as engaging, almost a drug-induced series of dream snippets instead of a narrative. They're also full of odd little quirks, like when Isbell says, "If there's one thing I can't stand / It's this bar and this cover band," (I'm pretty sure that's two things), or when he uses the strange-even-by-Southern-standards nonword "cain't." Part of the appeal is that the words aren't grounded in a simple storyline and it takes a bit of effort to extract a full picture from the fragments. But even if you don't try too hard, the individual parts themselves are exceptionally well painted.
It sounds funny when you say my name.
It's like you're chewing on a foreign thing
And you won't get to sleep 'till dawn if it don't rain.
It sounds so funny when you say my name.
You oughta come home tonight but you won't.
I wish we knew how to fight but we don't.
One of your friends has taken you in and given you Codeine.
The dark lyrics mix surprisingly well with the light music, creating a sickening-sweet mixture that's impossible to resist.
The leadoff track, "Alabama Pines," is folky with a country edge, and another bittersweet song. Actually, the lyrics are entirely bitter and the music is entirely sweet, which is again something that helps make this one so appealing. It's a hard combination to master while maintaining authenticity (think of how Old 97's make depression sound like so much fun), but Isbell is showing that it's a skill that he's got down pat. Built overtop a quick, light-handed acoustic guitar with accents from fiddle, electric guitar and barely brushed percussion, it tells a tale of isolation and longing for home:
I moved into this room, if you could call it that, a week ago.
I never do what I'm supposed to do.
I hardly even know my name anymore.
When no one calls it out, it kinda vanishes away.
I can't get to sleep at night. The parking lot's so loud and bright.
The a/c hasn't worked in twenty years.
Probably never made a single person cold, but I can't say the same for me.
I've done it many times.
Somebody take me home through those Alabama pines.
That penultimate line suggests something important in this kind of song, which is that no matter how much you may reminisce, there's always a reason you left home in the first place. Isbell elaborates on that point later in the song, and the weight of loss and loneliness is heavy on each and every word he sings. This is especially apparent at the end of the piece, where the instruments drop back, leaving only Isbell and his guitar to sing a slightly modified—yet even lonelier—version of the first verse. Whether you love your hometown or hate it, there's no way you can listen to this song without identifying completely with the narrator in his (at least partially) self-imposed prison.
Following this track, "Go It Alone" turns the rock factor up several notches with hard-hitting rhythm guitar and a powerful lead. Again, the theme is past mistakes and loss, but this time there's less fond remembrance and more just plain cantankerous bitterness.
Find me a place
With salt on the roads
I'll do what I'm told, and buy what I'm sold again.
She was enough but that was never enough.
The wound that won't heal
Is pain I can't feel again.
There's more than a passing resemblance between the themes of this song and the previous one, but it's hard to tell which is the chicken and which might be the egg. From the lines above, it's clear that the character is still in running mode (somewhere up North where the salt trucks roll), and his pain seems fresher. At the same time, he's in a more reconstructive mood, longing less for what's lost and more for what may be on the horizon.
"Never Could Believe" is an energetic, funky blues rock piece. With prancing piano, a fuzzy guitar and a jiving beat, it tells the story of an on-again-off-again relationship with a woman who doesn't exactly have a reputation for consistency. Equifax would probably rate her as a high credit risk, as Isbell certainly does.
I knew this lady from Tennessee,
Moved to California, didn't stay with me.
Just packed a bag and left with me passed out.
Never could believe a word that come from her mouth.
She told me once, drunk on wine.
She'd be beside me 'till the end of time.
But the end of time came early at my house.
Never could believe a word that come from her mouth.
The music is paradoxically fun, especially the lighthearted piano chords, and the rollicking blues treatment gives the twists of the story just the right edge to make the narrator's predicament ironically entertaining whether or not he finally gives his fickle-hearted flame the boot.
Overtop a dancing mandolin and a lightly rocking backdrop, "Tour of Duty" tells the story of a soldier returning from war and trying to find his place now that he's back home.
I taught myself to tolerate the pain,
All the loneliness and boredom and the work I did in vain.
All the work we did in vain. Now I'm not the same as I was.
I've done my tour of duty now I'll try to do what a civilian does.
It's a hard adjustment to make, and the song hints at that, but it really only covers the first moments of exhilaration, with the soldier eating bucketsful of oysters to make up for lost time. Still, the soldier has hope that he'll be able to pick up where he left off, and he resolves, "I've done my tour of duty; now I'm home and I ain't leaving here again."
Other tracks of note include "We've Met," which continues the gone-from-home theme with the singer returning to face someone who was once important. With lines like, "We've met, / I can tell you don't remember. I can see it in your face. / Should've never left this place," it's clear that their lives have diverged so much that there's no chance of rekindling whatever spark there once was. "Stopping By" is the story of a girl—the product of a teenage liaison in Chattanooga—headed down to Atlanta to see a Braves game and drop in unannounced on her absentee father, while "Daisy Mae" is a torn love song marked by lightly picked acoustic guitar. A lively rhythm and blues number, "Heart on a String" is a plea to an already-left lover for release, even though, as the supplicant puts it, "I know, I know if you untied me baby, / I'd be bound to you just the same."
All of the rest of the album cuts are just fine, with the possible exception of "Save it For Sunday," which may be just a little too slow and never quite seems to gel.
Here We Rest is a very solid album. It doesn't have any songs that are absolute greats (although "Codeine" comes pretty close), but it has a number of distinct highlight tracks. It is an album marked throughout by strong lyrics and well-crafted music, and well worth a look for any alt.country fan. If you've missed it up until now, don't let it slip by any longer.
Buy Here We Rest on Amazon!

| mp3 | cd | vinyl |
| --- | --- | --- |
| | | |