---

---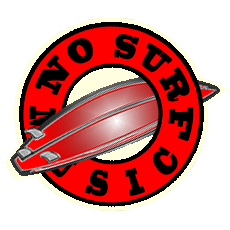 Artist:
Hard Working Americans
Members:
Neal Casal (guitar/vocals), Dave Schools (bass), Todd Snider (vocals), Chad Staehly (keys), and Duane Trucks (drums)
Based In:
Nashville, Tennessee
Website:
Album:
Hard Working Americans
Release Date:
January 21, 2014
Label:
Melvin Records/Thirty Tigers
Producer:
Dave Schools and Todd Snider
Genres:
Americana, alt.country, rock, blues rock, funk
Related Articles:
The No Surf Review: Todd Snider - Live: The Storyteller and
The No Surf Review: Todd Snider - Agnostic Hymns & Stoner Fables
---
January 2014 Featured Review
Hard Working Americans: Hard Working Americans
by Jason D. 'Diesel' Hamad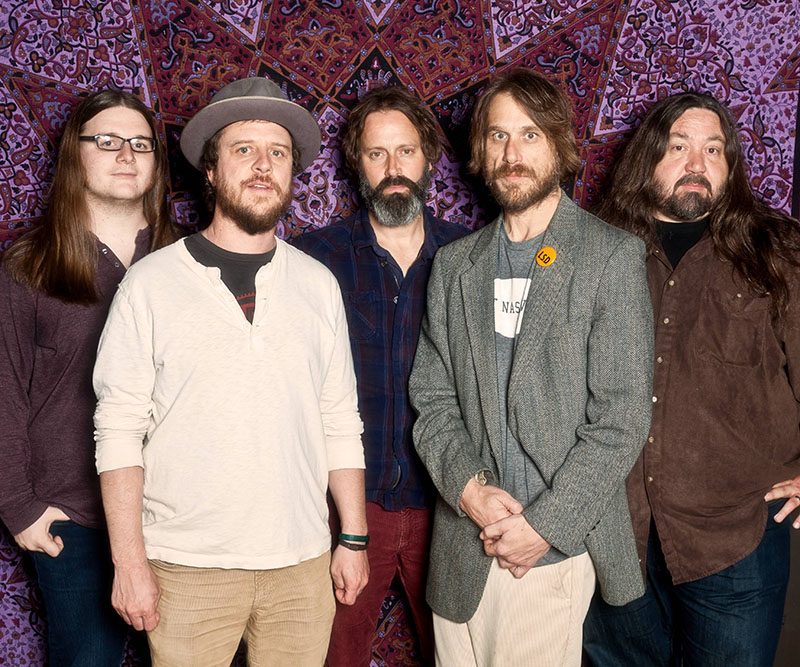 The hirsute assemblage that makes up Hard Working Americans does its best to look all dignified and shit for the camera. (l-r) Duane Trucks, Chad Staehly, Neal Casal, Todd Snider, and Dave Schools. Photo by James Martin.
If you got together with a bunch of your friends and made an album full of songs by a bunch of your other friends, chances are that album would suck. This is because chances are, your friends are neither badass musicians nor are they world-class songwriters. Chances are, you're not Todd Snider.
If you are Todd Snider, then you just happen to be a badass musician and a world-class songwriter yourself. Therefore, it's no surprise that some of your friends include guys like Dave Schools of Widespread Panic, Neal Casal of The Chris Robinson Brotherhood, Chad Staehly of Great American Taxi, or Duane Trucks, scion of rock royalty. Neither is it a surprise that when you explained—a cloud of smoke likely escaping your mouth as you suppressed a cough—that you wanted to form a cover band, they all jumped in with you. Nor is it a surprise that you've spent the last twenty years stuffing a mental filing cabinet with songs by some of the greatest songwriters in the Americana world, people who also just happen to be your friends like Will Kimbrough, Tommy Womack, Brian Henneman, David Rawlings, Gillian Welch, Kevin Gordon, Lucinda Williams, and Hayes Carll. And given that you've made a career standing up for the little guy, it's no surprise that you'd choose to name this band of yours Hard Working Americans or that you'd fashion the otherwise disparate collection you produced into one (semi-)coherent narrative of a particular down-and-outer. And finally, it's no surprise that you're the perfect person to bring the union of Americana songwriting and jam band musicianship you envisioned to fruition, since you've been straddling the worlds of twangy guitars and magic mushrooms your entire career. Yeah, if you're Todd Snider, none of that is surprising at all.
What is a bit of a surprise is just how good this concept is. Snider has hit on something universally harmonic in this particular blend. It's just right. To borrow from my friend Tony Schaffer of The Womacks (no musical slouch himself and a member of a group with very similar sensibilities), people too often forget that funk is American. It's as much Americana as is bluegrass. There's a place for traditionalism, for gut strings, for a stool under a dusty spotlight; it's just not here. Hard Working Americans is for when you want to have your head torn simultaneously asunder by both pen and guitar.
The most rollicking track on the album is a take on Texas alt.country slinger Hayes Carll's "Stomp and Holler." Carll is noted for his punchy, memorable lyrics, and they don't get much more memorable (or punchier) than:
I'm like James Brown, only white and taller.
All I wanna do is stomp and holler.
This is exactly the type of song at which Snider himself excels, wherein the raucousness and slightly off-kilter worldview belie the serious social commentary found in the story of a man taking his shot and trying to pull himself up from the street. With honky tonk piano and a terrifically blown harmonica dancing around the dual guitar attack, this version might even be more country than the original. That's right; country'll kick your ass.
The next track takes the opposite tack, chiseling the Drivin' n' Cryin' power ballad "Straight to Hell" into an even more potent and balladic form. It's mellow, relaxed, and in no great hurry to get from one beat to the next, but Snider's voice carries an extra weight that really keys into the resigned mood of the piece. It's got a gingerly, almost crooning quality quite unlike his usual style. It ambles back and forth between the gently keyed and strummed chords of hushed verses and climactic choruses complete with expansive organ and kinetic yet muted guitar. The original was iconic but this version blows it away.
Attention then turns to one of the greatest songs ever written in the English language, "Welfare Music," from alt.country pioneers The Bottle Rockets' newly reissued 1995 release The Brooklyn Side. I've discussed at length how Todd Snider is the contemporary musician closest to capturing the spirit of Woody Guthrie, and while Billy Bragg may well be second, Bottle Rockets' frontman Brian Henneman completes the trifecta. Henneman has an impressive talent for capturing the real life travails of the average person in his lyrics, and the similarly talented Snider is completely at home with this piece. The stringy strummed acoustic that dominates the original is replaced by electric tones and more pronounced bass and lead guitar parts. The finest addition is an absolutely heavenly series of organ chords that gives the song a supreme sense of sonic saturation. While I find Snider's vocal phrasing a little odd in places, he sings it with the same hint of rebellion that often makes his own 99%er anthems so compelling.
The final selection, "Wrecking Ball," was drawn from Gillian Welch's album Soul Journey and was written with her musical partner David Rawlings. Stripped of its bayou fiddle and given an appropriately disperse fullness, this version is substantially better than the original. Snider's vocals are perfectly earnest, compelling, and evoke an emotional response that even the preeminently talented Welch did not produce. In many ways, that feat makes this the album's most impressive track.
It's the leadoff "Blackland Farmer," however, which wins the "most improved" award. Though penned by Frankie Miller and first released in 1959, the album notes make it clear that Snider plucked it from Elizabeth Cook's 2010 album Welder. This was a case of seeing the prince in the frog since Cook completely misfired on the song, singing it with the trademark sauciness requisite for "Sometimes it Takes Balls to be a Woman" but which set the exact opposite tone to the plain, grizzled nature of the character this song portrays, a man ironically much closer in background to Cook than Snider. Yet his scratchy voice captures the grit of the man in whose stead he sings, while still matching the shuffling strut of the bass and drums, the light-fingered funk of the organ and the wild momentum of the guitar. The percussive chant in the heart of the piece seems more likely to emanate from a chain gang than a sharecropper, but that's just fine.
Blasting open like a 70's stadium rock piece, Will Kimbrough's "Another Train" hews fairly close to the original and doesn't relent with its wall-of-sound power, throttling up right until it runs out of track.
Kimbrough also gets the album's only double billing, co-writing "I Don't Have a Gun" with Nashville underground songwriting legend Tommy Womack. Snider is no stranger to this duo, having covered Bis-Quits song "Betty Was Black (Willie Was White)" on his album Happy To Be Here. This piece—while appearing on Kimbrough's Godsend—drips with Womack's trademark combination of (tongue-in-)cheekiness and misanthropic spirit. Imbued with a spooky resonance that makes the threat of violence seem a little more serious, this versions relaxed earthiness nevertheless suggests Snider and crew would be far more likely to spark up another joint than to go on a rampage.
Although initially evoking the sound of an alien abduction, "Down to the Well" quickly settles down to the somber sepia tones of the original Kevin Gordon & Lucinda Williams duet. Ok, nobody can sing quite as bleakly as Lu,but Snider & Co. do well, pulling off a true-to-form take just a little more rock than country.
Oft-forgotten alt.country pioneers BR5-49 are given their due with a fine rendition of the fugitive song "Run a Mile." Stripped of its prominent vocal harmonies, supplied with several layers of skunk-smellin' blues, and injected with a super-tempoed cacophonic centerpiece, this version sweats icy cool.
The most sedate and twang-filled track on the album (Look, mom, a banjo!) is a rendition of Kieran Kane's "Mountain Song," which comes off as a cross between The Allman Brothers and The Avett Brothers. There's a little free-flowing guitar action, but nothing to harsh the listener's mellow. The poppy ooohhh-ooohhh-ing might be a bit much, but otherwise it's all good.
The only song not plucked from the "Americana" milieu, Randy Newman's "Mr. President (Have Pity on the Working Man)" certainly fits the thematic backdrop of the project, but is rendered about as far from its aboriginal piano and brass roots as one could imagine, with twangy acoustic and sliding guitars placing it squarely in the realm of country blues. The purposefully aharmonic choruses at the end are priceless.
Americana music is well known as one of the last bastions of great songwriting, while the jam band world focuses far more on musicianship. Bringing these two forms together and highlighting the strengths of each was pure genius, and Todd Snider—a barefooted hippie equally comfortable playing a dive like the Devil's Backbone Tavern or preaching to the unwashed masses at Bonnaroo—is the perfect man to unite them.
My only real complaint may be the odd lack of demographic diversity the album displays, particularly given Snider's well-known politics. It's hard to find many minority country singers (although the group did include an amazing cover of Gil Scott-Heron's "Work For Peace" that somehow got relegated to bonus track purgatory), but the same can't be said for female talent. The band itself may be all male by coincidence, but if Elizabeth Cook's "contribution" is discounted, only two half-credits are given to women. While Lucinda Williams and Gillian Welch both rank among the best songwriters of all time—female or not—there are plenty of other deserving candidates who could easily have been included. Hell, even within the narrative of this collection, Kasey Chambers' "Last Hard Bible" would have fit perfectly. If Liz Cook and Amanda Shires are the only talented ladies on Todd Snider's speed dial, I'd be happy to introduce him to a few more. Maybe that's a theme for your next project, hey, gents?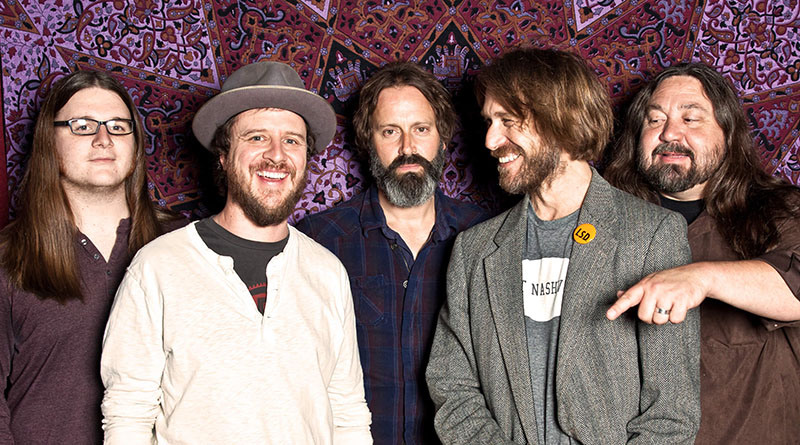 A little less on the serious side this time. None of these guys is likely to disappear anytime soon, but based on the merits of their debut collaboration we can only hope this isn't the last hard work they put in together. Photo by James Martin.
While no single song stands out as truly spectacular, Hard Working Americans is a damn awesome collection that introduces a unique blend of Americana and doesn't let up on the throttle from first note to last. Snider has of late incorporated more blues into his solo music, but the hitherto unseen levels of both funk and frolic demonstrated here are welcome and refreshing. It's not loud for loudness' sake, but it does seek to breathe new layers of life into these songs, some of which may have fallen by the wayside without the attention of songwriting connoisseurs like Snider. And while the supergroup status of the line-up never left musicianship in question, Snider's vocal performances are among the best of his career—in several cases even better than the famous friends to whom he pays tribute. With this debut, Hard Working Americans prove they're the type of band that deserves more than side-project status and one can only hope this isn't the last we'll hear from this quirky collaboration.
---
Buy Hard Working Americans on Amazon!

| mp3 | cd | vinyl |
| --- | --- | --- |
| | | |