---

---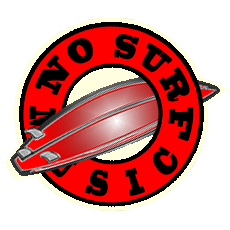 Artist:
The Greencards
Members:
Tyler Andal (fiddle), Carl Miner (guitar), Kym Warner (vocals/mandolin/octave mandolin/percussion), Carol Young (vocals/bass)
Based In:
Nashville, TN
Website:
Album:
The Brick Album
Release Date:
June 21, 2011
Label:
Darling Street Records
Previous Releases:
Movin' On (2003), Weather and Water (2005), Viridian (2007), Fascination (2009)
Genres:
Americana, country, bluegrass, progressive bluegrass, newgrass, folk
---
The Greencards: The Brick Album
by Jason D. 'Diesel' Hamad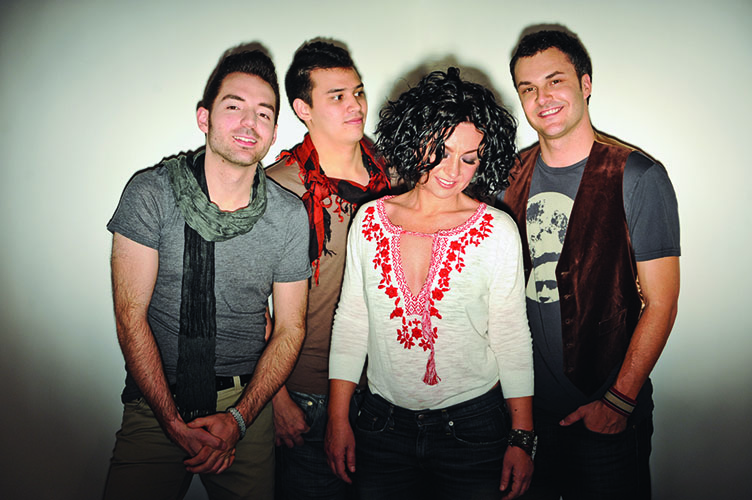 The Greencards, proving neither scarves nor vests ever go out of style. Kind of. (l-r) Carl Miner, Tyler Andal, Carol Young, Kym Warner. Photo by David McClister.
The Greencards have been at the forefront of progressive bluegrass for most of the last decade, issuing a string of albums that expand beyond the genre's folksier roots and push the music in a dreamy, free-flowing direction. They have long been favorites of No Surf, primarily on the strength of Carol Young's absolutely gorgeous voice and the technical mastery displayed by all the players in their instrumental work. Their live shows are sonic showcases helped along by the band members' jocular and ebullient personalities and the jovial streak of fancy that is infused throughout their music.
The group has a particularly interesting genesis story in, which is also the source of its name. Formed in Austin in 2003, the original members where all foreigners drawn to Austin, Texas, by a love of American country music, especially bluegrass. Bassist and lead vocalist Carol Young and mandolin player Kym Warner both hailed from Australia, where she had already charted several number 1 singles and he had won the Australian National Bluegrass Mandolin Championship four years in a row (I have been assured that there were other competitors). Fiddle player Eamon McLoughlin crossed the pond from England. They started off as something of a jam band, gaining notability on the local bar scene and through their self-released album Movin' On. After their early success, the group decided to relocate to Nashville. McLoughlin went his own way in 2009 and recently two Americans joined the mix, Tennessee fiddler Tyler Andal and guitar player (and former National Flatpicking Champion) Carl Miner, late of Oregon.
The Greencards' fifth offering, The Brick Album, is both a departure and a milestone in that it is the group's first self-released title since their debut. It was funded through an innovative entrepreneurial campaign where fans contributed seed money in exchange for having their name placed on one of the eponymous bricks pictured on the cover.
While there are no songs here that match the sheer power of Fascination's "The Avenue" or the lyrical grasp of the title track from Weather and Water, quite a few are strong pieces and the album as a whole is highly enjoyable. Almost every song is a surrealistic dreamscape, even the fast-paced numbers. The band's music pulls the listener in and forces him into the world painted by the intricate instrumentation and Carol's lovely, flowing voice. It is a laid-back sound, yet paradoxically full of vigor, a style that the band has practically trademarked.
The flagship track is almost certainly the leadoff, "Make it Out West." Its rhythms are entrancing, as are the chanted vocal harmonies that along with dancing, twangy instrumentation help to create the almost spooky sound the Greencards have so often produced in the past. The tune may be driven by Sam Bush's performance on the slide resonator mandolin, but it is a multi-layered sound with every instrument playing its roll to create the transfixing musical patterns. Each in turn also has its moment in the spotlight, breaking out for mini-solos that add to the complexity of the piece. The lyrics, penned by Kym, are also chimerical, straddling that elusive line between utterly nonsensical and intuitively comprehensible, a path that few but masters like Bob Dylan and Leonard Cohen have consistently walked without stumbling. You feel them in your gut more than follow them in your head. Carol and Kym's voices intertwine perfectly as they sing in tandem. You just get it when they chant: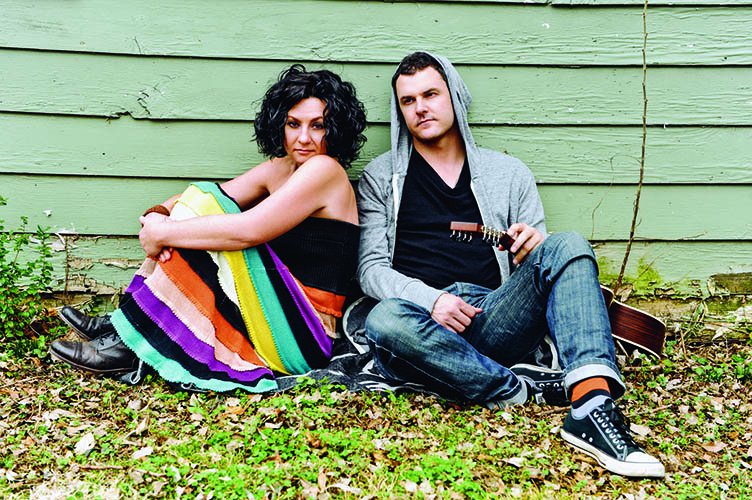 Australians Carol Young and Kym Warner have long been the core of the Greencards, drawn together by a love of bluegrass and graced with voices that just happen to intertwine perfectly. Kym, by the way, hails from the Banana Capital of Australia. He's very proud of that fact. Photo by David McClister.
Rocks of clay twenty miles wide,
The edge of the earth on the other side.
Thin white line in front of my eyes,
Ridin' like the river as the day goes by.
If I make it out West with the band
We'll open a bikini shop in La La Land.
"Heart Fixer" is another up-tempo tandem vocal pairing, this time featuring Carol and guest artist Vince Gill. The singing is much more along the line of straight country than the band's usual delivery, and if not for the fast-picked strings and staccato fiddle accents in the background, this could almost be a duet for, say, Kenny Rogers and Dolly Parton. The words, at least in the chorus, are also somewhat simpler than the band's often-cloudy lyrical style. The verses are filled with some pretty interesting imagery, however, as in:
The ghosts of my past live it up and they laugh like they know me.
The luck of the draw just to hear them applaud in my mediocrity.
The way of a child lost in the wild.
Night lights of town lead me home.
As usual I'm drawn to a standout lyrical composition that few others will probably notice, in this case "Naked on the River" written by John O'Brien. It's hard to think of a better hook than the mental picture of Carol Young leafless… on a river, dry land, or wherever you please. In fact, it's hard to think of anything at all with that particular image in mind. (What can I say? Women bass players just do it for me.) This isn't a pop song, however, so mindless sex is not on the menu, and you're not likely to see Carol appearing in a video wearing a nude body stocking and surrounded by a team of overly buff dancers anytime soon. Despite the scintillating title, the song quickly begins to follow a melancholic Virginia Woolfish direction, with lines like:
Now I'm naked on a river.
Flaming sun, it burns my hide,
And as you sink into your armchair
Don't forget the way I died.
It's a relaxed and beautifully surreal song, with well-crafted lyrics the focal point for the smoothly flowing musical phrases, even if they are occasionally completely incomprehensible (maybe they're clear down under, but there are two lines I can't pick out even after four-dozen iterations).
"Mrs. Madness" is another gorgeous, surreal highlight, strangely reminiscent of April Smith's operatic whimsy. Written by Kym but honored by Carol's dark, slinking vocals, it is one part seduction and one part horror film, with lines like:
Mrs. Madness, I'll give you a flower
For this is the hour to turn back the time
and Mrs. Madness, I like your rag dress."
The Greencards have earned Grammy nominations on two successive albums for Best Country Instrumental, and it wouldn't be surprising to see them garner another here. There are two such songs on The Brick Album (well, two and a half, really). The first is "Adelaide," which I seem to remember being titled "Fly in the Hummus" in early live renditions (I could be wrong, but I guess they chose to honor their Australian heritage rather than their favorite condiment). This is a lightning-quick bluegrass number with plenty of key changes and thunderous solos that rotate between the players. The second, "Tale of KangaRio," is, despite its schizophrenic title, a perfectly matched piece where the guitar and mandolin whirl around each other like lovers on the dance floor. The aforementioned half portion comes in a short reprise of this song in the last track. With its slower tempo and strange, noise-infused recording, it is oddly evocative of the "Godfather" theme, perhaps as heard by a De Niro-era Vito Corleone in a moving picture.
This reprise rolls into a hidden track, "Bury Me Beneath the Willow." I have never understood hidden tracks, especially in the digital music age, and especially when what is hidden is one of the best songs on the album, which is the case here. Carol's emotional voice does great justice to this Carter Family classic, and both the vocal harmonies and the light musical accompaniment are spot-on. Of particular note is Tyler's fiddle work, which itself virtually weeps its way to the end of the song. It is a performance worthy of more than a mere uncredited role.
Another track of note is "Faded," which felt oddly and inexplicably disconcerting until my tapping foot informed me that it was written in 5/4 time. It features a particularly beautiful light mandolin part and Carol's always-gorgeous voice. Staccato guitar strumming and hand-clapping percussion highlight the rest of the music's smooth flow.
Even the choosiest of connoisseurs would be hard-pressed to find a group with more musical talent than the Greencards, a fact that is strikingly evident in both their live shows and studio recordings. Apart from the technical mastery each member demonstrates on his or her chosen instrument, the pure beauty of Carol's voice cannot be overstated. The woman could sing the alphabet and bring the beasts of the wild to their knees. The group's first album as a foursome has proven that Tyler Andal is an ample replacement for founding member Eamon McLoughlin and a fine fiddler in his own right, that the addition of Carl Miner's fast-picked guitar helps to round out their sound, and that the magical musical chemistry between Kym Warner and Carol Young is as strong as ever.
The Brick Album is perhaps not the Greencards' best release, that title remaining with 2009's Fascination chiefly for the fact that this work does not have an absolute standout such as "The Avenue." Still, it is a very good offering and there is not a bad song on it. If you already know and like the Greencards and their dreamy progressive bluegrass sound, you'll be happy with The Brick Album. If you haven't had the chance to discover them, there's no time like the present.
Buy The Brick Album on Amazon!

| mp3 | cd |
| --- | --- |
| | |