---

---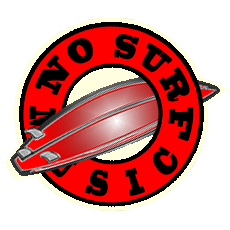 Artist:
Gary Nicholson
Based In:
Nashville, TN
Website:
Album:
Texas Songbook
Release Date:
June 21, 2011
Label:
Bismeux Records
Previous Releases:
The Sky Is Not the Limit (2000), Whitey Johnson (2004), Nashville Songbook, Volume One (2010)
Genres:
Americana, country, Western, Western swing
---
Gary Nicholson: Texas Songbook
by Jason D. 'Diesel' Hamad
You may not know Gary Nicholson by sight or name, but you almost certainly know his music. Nicholson has penned a slew of terrific tunes, not just in the country genre but crossing over into rock, blues, folk and bluegrass, as well. He's had over 350 of his songs recorded, including hits such as "That's the Thing About Love" by Don Williams, "One More Last Chance" by Vince Gill, "The Trouble With the Truth" by Patty Loveless, "She Couldn't Change Me" by Montgomery Gentry, and "When Love Gets a Hold of You," by Reba McEntire. He's written with and for a parade of others, and no less than forty of his songs have been recorded by Delbert McClinton alone.
He's also spent more than his share of time on the road and the recording studio, backing up such notables as McClinton, Guy Clark, Billy Joe Shaver, Tracy Nelson, and Bobby Bare, who was the man who convinced Nicholson to quit life on the road and become a full-time songwriter after "That's the Thing About Love" hit number one on the charts. Oh, and he's a Grammy-winning producer, too.
After being inducted into the Texas Songwriters Hall of Fame, Nicholson decided he wanted to create an album that paid musical tribute to his home state. Following up on his 2010 release Nashville Songbook, the result is his new Texas Songbook. To make the project happen he escaped Music City and enlisted the help of Ray Benson, who provides the musical backdrop along with most of the rest of his legendary band Asleep at the Wheel. The collection is a mix of Nicholson-penned songs already recorded by others and those that are just now seeing the light of day and runs the gamut of Texas styles, from Western swing to two-step, to dancehall and honky-tonk. There may not be any songs here that will absolutely knock your socks straight through your cowboy boots, but there are a ton of really good licks and the album as a whole is just a bunch of fun.
The first highlight is "Fallin' and Flyin'," which—as recorded by Jeff Bridges—was easily the best song on the "Crazy Heart" soundtrack, and should have been nominated in place of Ryan Bingham's contribution for every award (no offense to Mr. Bingham). Nicholson's own version differs little from the movie's take, although it's perhaps just a little mellower. Strangely, Bridges' Texas twang is stronger, while this version has a little more accordion-induced whimsy. No matter who sings it, it's a great song. Even Colin Farrell couldn't screw it up too badly.
"Messin' with My Woman" has a bit of a swing, which is always great in Texas music. In addition to Nicholson's lead vocals, each line is punctuated by a hilarious staccato chorus part provided by Ray Benson and Jason Roberts of Asleep at the Wheel. Just as the name suggests, the song comes in the form of a warning to an unnamed rival that just because a guy's on tour, that don't mean his girl is fair game. Especially if he's got friends. "That man behind the bar got his eye on you," Nicholson warns, "And the man who fix my car, he'll be checkin' too. / My plumber and my drummer and my best friend Jake… / Foolin' 'round with her could be your last mistake." Midway through, the song breaks for a series of solos, first the fiddle, then a terrific turn on the piano, which then doubles with the steel and trades off with guitar. When it comes back around, Nicholson makes his threat explicit with terrific flair when he says:
Gonna take a whole lot of doctors to put you back the way you were.
(They never get it right.)
Yeah I'm gonna make a mess of you, boy, if you mess with her.
(Don't mess around with her).
Like the folk classic "Zack the Mormon Engineer," "A Woman in Texas, A Woman in Tennessee" is a good ol' fashioned song about polygamy. A simple tune with fiddle and piano accents, it tells the story of a hapless unnamed philanderer who can't keep all his lies straight and just figures it's easier to franchise his familial enterprises. It only gets worse for him, however, when:
They all met up accidently outside Texarkana.
That's when his two families found out about another one in South Louisiana.
The song is certainly no philosophical masterpiece, but it sure is a hell of a lot of fun.
The story of a Bluebonnet stripper living (and, ah hem, loving) in New Orleans, "Texas Ruby" is a romp with a jazzy groove, complete with tickled piano and wailin' sax. The story starts with a chance encounter on a St. Charles streetcar one hot August day. Later, sings Nicholson:
Down on Bourbon Street
You'll never guess who I chanced to meet.
It's not so much that I recall the face,
But all the other parts were right in place.
All things considered, it makes for a not-half-bad Crescent City debut for the seventeen-year old narrator.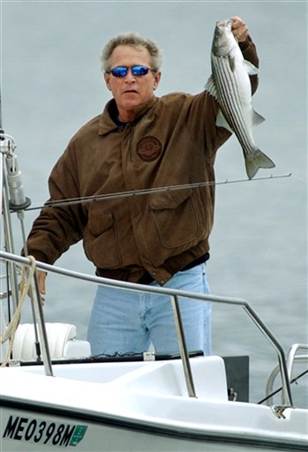 Former Fabulist in Chief George W. Bush announces "Look, I just caught Osama Bin Laden!" Photo by Steven Senne / AP.
There are three classes of people whose stories are sure to be complete fabrications: fishermen, politicians, and Texans. There's something in the constitution of each that simply makes them into a fabulist of the first degree. This, of course, makes George W. Bush the least trustworthy human being on Earth, as if we didn't know that already. Far from an apologia for the war in Iraq, "Talkin' Texan" takes a light-hearted look at this propensity for… exaggeration. If Nicholson introduces you to one of his Lonestar kin:
Well he'll tell you 'bout that ranch he owns, just outside of San Antone.
It's nothing but a mobile home parked out on the range.
And the only oil he ever struck cost him fifteen hundred bucks
When he blew up his pickup truck just outside LaGrange.
He ain't lyin'. He's just talkin' Texan.
He's got a wild imagination under that old Stetson.
Aside from the fanciful lyrics, the song has a pleasant swing with a great boogie bass line and two-stepping piano and is undeniably fun.
A mock gospel song (complete with backing vocals from the McCrary Sisters), "Bless 'Em All" is a call for understanding and cooperation, regardless of religion. Far from a sappy "love your brother"-type song, however, it makes its plea with pointed and entertaining lines like:
Sweet Jesus was talkin' with Krishna
And they were workin' on a master plan
To get all the saints together
And have 'em all join hands
To show the world there ain't no difference,
No reason to fuss and fight.
It's time to turn away from the darkness
And move on into the light."
First recorded by Clay Walker and reminiscent of the sound of Doug Sahm, "Live, Laugh, Love" is a danceable tribute to the spirit of life and living in the moment:
I know a man with a mansion and a Harley and a big bass boat in the yard,
But he never enjoys all them toys because he's workin' so hard.
I'm out here floatin' on my little houseboat with a fish on the line.
Now who's to say who's got it made and who's wastin' time?
As a confirmed vagabond philosopher and slacker king, I think it's a prescription of which more people should take a dose. The music is fun with pedal steel and accordion providing sweetness to the sound and a stand-up bass and light drum line forcing the beat into the listener's feet.
On a just slightly lower level is "Listen to Willie." There have to be at least a million songs about Willie Nelson (half of them by Willie himself (and most of the rest by David Allan Coe)), and so if another one's going to get added to the pile it at least oughta be creative (think Kevin Fowler's "Don't Touch My Willie"). "Listen to Willie" isn't quite that off the wall, but at least it has a concept. It takes snippets from a plethora of different Nelson songs and splices them together like Girl Talk after a few too many puffs. Together, the lyrics tell the story of a man frustrated with his woman and just wanting to get his Willie fix (yes, I know, Billy Joe, that's what she said last night).
We've been going through some phases and stages, baby.
You know it's not supposed to be that way.
You've always been a good-hearted woman.
And I hate to see your blue eyes cryin' in the rain.
Perhaps the most entertaining snippet comes when Ray Benson jumps in with an original line:
While the oil spills in the sea, he's runnin' on French fry grease.
...and Nicholson kicks in:
Let's just listen to Willie for a while.
We all need to listen to Willie for a while.
Bio-diesel has a new theme song.
Other songs of note include "She Feels Like Texas," which is about a girl who is so steeped in her down-home stylings that she sees longhorns in her dreams. Some might call her a rube, but in this song it comes across as endearing:
I took her on a trip across the Ocean
To show her all the sights of gay Paris.
She smiled when she saw the Eifel Tower.
She said, &dquo;That's the biggest oilrig I believe I've ever seen!"
It's not the greatest song ever written, but it's a fun little tune.
The final track, "Somedays You Write the Song" (sic) is slower than the other selections, a borderland ballad co-written by Guy Clark and John Randall Stewart that was originally performed by Clark on his album of the same name. Aside from the strong, philosophical lyrics, the predominant feature is a slow, sweet harmonica underpinning the rest of the music and contributed by Mickey Raphael.
There's no threat of this album propelling you to a higher state of mental consciousness, but it is one hell of a lot of fun, and at the end of the day that's something we all need more of. Gary Nicholson is undoubtedly a great songwriter and hearing his tunes from his own voice is a treat, especially when accompanied by such a talented collection of musicians. If you like Texas music this album will be perfect for you, and if you don't like Texas music… what the hell is wrong with you? Pick up Texas Songbook and you'll learn to love it quicker than a greenhorn hits the dirt at a bull ride.
Buy Texas Songbook on Amazon!

| mp3 | cd |
| --- | --- |
| | |