---

---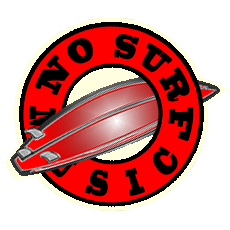 Artist:
Deadstring Brothers
Members:
Kim Collins (vocals) Pete Finney (steel guitar/dobro) J.D. Mack, Kurt Marschke (vocals/guitar), Brad Pemberton (drums), Mickey Raphael (mouth harp), and Mike Webb (organ/piano/mandolin)
Based In:
Detroit, Michigan/Nashville, Tennesee
Website:
Album:
Cannery Row
Release Date:
April 9, 2013
Label:
Bloodshot Records
Previous Releases:
Self-titled (2003), Starving Winter Report (2005) Silver Mountain (2007), and São Paulo (2010)
Genres:
Americana, rock, roots rock, country rock, alt.country
---
Deadstring Brothers: Cannery Row
by Jason D. 'Diesel' Hamad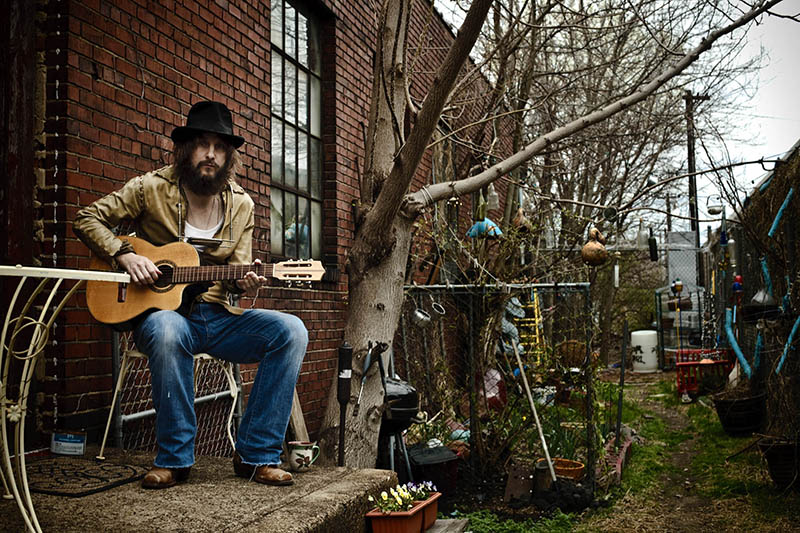 With all the talent that surrounds him on this album, the Deadstring Brothers' Kurt Marschke is far from a one-man band. But he's a frontman's frontman and it's clear that the band forms around him and his music. This picture demonstrates the Southern turn he and his band have taken since their earlier Detroit rocker days. What could be more Southern than sittin' out on the porch pickin'?
Perhaps my favorite place on earth is Joshua Tree National Park in Southern California. Straddling the low Colorado Desert and high Mojave, it's simply an amazing place. The geology is fascinating, the springtime cactus blooms are gorgeous, and the often intensely harsh but vastly ranging habitats are a wonder. There's even a microclimate built around an old dam lake where you can find mallard ducks… mallard frikkin' ducks in the middle of one of the hottest, driest deserts in the world. It's also an amazing place to find some solitude. On weekdays, when the L.A. crowd is office-bound and there are only a few campers, it's easy to just disappear into yourself. You can find places where you're the only human being in a hundred square miles or more.
There's only one soundtrack that's perfect for the Joshua Tree, and that's old-school country rock. I'm not quite sure what it is… maybe it's the association with Gram Parsons. He loved it there, spent as much time in the little towns around the park as he could, and died in a hotel room just outside the boundaries. Afterwards his friend and road manager Phil Kaufman stole his body and cremated him there. Considering Parson's instrumental role in the formation of the country rock genre and the park's association not only with him but also through him with Keith Richards and the Eagles, that's a pretty strong connection. But there's something about that country rock sound and the freedom of both body and soul that it seems to represent that just fits with a place like that.
It's hard to say exactly where the difference between country rock and today's alt.country actually resides, but there is a qualitative difference between the styles. You can hear it. The country rock bands of the late 1960's and early 70's and the alt.country bands that have existed since the 90's simply have a different feel about them. Maybe it's more about where we are as a people. Maybe for those who weren't part of the countercultural shift of that era, the particular mix of freedom and exhilaration is just too alien.
View Larger Map
Cannery Row in the Gulch area of Nashville, from whence comes the title of this album.
But then how do you explain the Deadstring Brothers? These Detroit rockers have added a whole heap of country to their sound—with frontman Kurt Marschke going so far as to move from Rock City to Music City in the process—and the result is spectacular. Play the band's new album Cannery Row and you're instantly transported. The album is such a perfect encapsulation of that unique country rock feel that it's hard to believe that it came out in 2013 and not 1974. But then these modern musicians have always had a classic rock feel, so perhaps it's natural that their more countrified take fits right in with the giants of that earlier era, the Byrds, the Band, the Eagles, the Flying Burrito Brothers... At times, it feels like it might even be a recently unearthed lost recording from Gram Parsons himself, a much-delayed follow up to the posthumous Grievous Angel. For anyone who's spent a lifetime spinning the dusty LPs of these legends, Cannery Row is a perfect way to recapture that glorious transitional time in music history. It could have come out of a backyard in Laurel Canyon, a basement in Woodstock, maybe even a peyote button out in the dry, clean air of the Mojave. There are a few moments where it does seem a bit too derivative, yet despite the vintage feel the album as a whole is fresh and perfectly attuned for the modern listener. However you want to label it, it's one of the best pure fusions of country and rock in a long time.
The bodily transformation effected by Cannery Row is immediate, right from the first notes of the leadoff track and first single, "California Wildfire." There's just something in the slow, sweet electric twang of the steel that instantly connects in the brain with those earlier country rock masterpieces. What ever happened to slide guitar in rock music, anyway, and could we please bring it back in force? Where have you gone Joe Walsh? A nation turns its lonely eyes to you.
One could easily see this piece fitting snugly within a Flying Burrito Brothers or Parsons solo album—especially the stuff he did with Emmylou Harris—and it makes perfect sense because the song itself is both the lyrical and musical embodiment of the Deadstring Brothers' musical transition:
And if you wanted we could leave right now
And start that long, long drive.
Or in the mornin' we could leave at dawn
And ride right through the night.
In the night…
California wildfire ragin' down on me
From the worn-out Motor City life
To the West Coast, wild and free
Like a California wildfire ragin' down on me.
The SoCal-meets-East Texas sliding steel comes together with Garth Hudson-like organ, swelling, almost melodramatic piano and vocal harmonies with a distinct hint of gospel that all combine to form a well-bodied sound.
This is followed by a sort of relationship trilogy. With its harmonica accents and knee-slapping beat, "It's Morning Irene" has a hoedown feel that turns the Leadbelly classic of a similar name on its head, painting a rosy-fingered picture worthy of its hallelujah chorus. Ah, new love is always good for a song and ain't it sweet? The musical break near the end is a classic call and response from Dobro to mouth harp and back again, adding to the distinctly Southern feel already present thanks to the just-slightly-off-axis vocal harmonies.
Irene's back for "Oh Me Oh My," which features vocals that at moments seem a dead ringer for Mick Jagger and music reminiscent of the Nitty Gritty Dirt Band version of Dylan's "You Ain't Goin' Nowhere." Yeah, that's right. Google that why doncha? I can do obscure with the best of 'em.
Keeping with the course of the relationship, the obligatory breakup song follows. If there were hints of Jagger in the previous song, "Long Lonely Ride" is just pure Stones. Damn, remember when the Stones were, like, awesome? You know, before they were mummified, stuffed with animatronics, and paraded onstage like Lenin's corpse on Mayday? It wouldn't be the first time the comparison between the bands has been made—and in fact much of the Deadstring Brothers' earlier repertoire sounds like lost 70's Stones tracks—but now the more countrified sound mirrors perfectly Keith Richards' country turn after he befriended Parsons. If it weren't for Kim Collins' distinctly feminine (but still ballin') vocal harmonies, this track would fit in perfectly slipped into the "Dead Flowers" spot on Sticky Fingers. And Marschke knows it, as evidenced by the song's final lines:
They say I sound just like the Stones
So I'm givin' 'em this song.
Let it ride, let it ride, let it ride.
Taking a turn toward the Tom Waits side of life, the plodding, piano dominated title track "Cannery Row" is a portrait of the short street in Nashville that Marschke now calls home. But it's people that make a place, and the song—filled with the kind of metaphor-dripping imagery that has kept Waits in business all these years—ends up being a study of the emotional down-and-outers who populate that one particular corner of the world: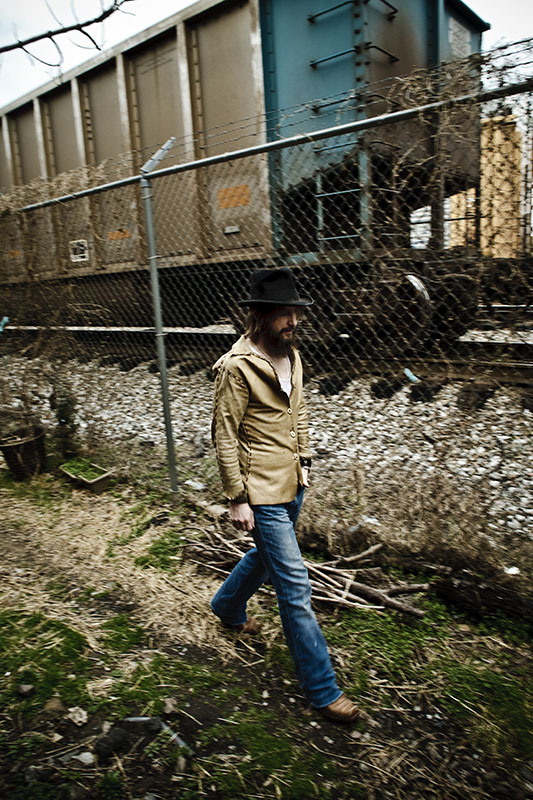 This is the view from Cannery Row near Marschke's loft. And yeah, those would be the tracks in question.
I see the lights flicker on the loft across the way.
It makes me think of Louise and the words that she might say
To her man as he sets out for his working day.
"I love you, my dear, in each and every way."
As he kisses her he picks up his lunch box and he turns to go
He walks out on Cannery Row.
There was a plantation house, stood in this place before.
I read that it got torn down after the Civil War.
You can still hear ghosts cry out from the centuries old now.
You can still see 'em walkin' down the railroad tracks in the broad daylight.
Now this here life can be a very cruel show.
I see 'em hangin' out down on Cannery Row.
In great songwriting the specific becomes universal. Ask Tom Waits. He'll tell you. If his estimation is anything like mine, he'll also tell you that this song represents some pretty great songwriting, as well.
To offset all that psychic weight, the album pauses for a short, twangy instrumental called "Lucille's Intro," then kicks it into gear with the party piece "Lucille's Honky Tonk." The title is enough to tell you what this one is about. Hell, you don't even need the title once the exuberant piano kicks in, but in case you're a little slow, the first verse will catch you up:
Button up your coat now, honey, '
Cause we're gonna swing tonight
Over at Lucille's place
Where everything's all right.
Whiskey and kerosene
Gonna burn down everything.
The most pure rock song on the album is probably "The Mansion." There's a wall-of-sound effect throughout the track, that rock-style slide is back—as opposed to the country pedal that peppers most of the rest of the album—and the multi-tiered backing vocals are at times pure Motown. But there's a strange moment of cognitive dissonance in the chorus when Marschke sings, "Oh, I wander, I wa-ander, I wander…" and you're positive you misheard the leading vowel and he's about to say, "why she went away, / And I wonder where she will stay," Del Shannon style. It's too distracting, especially for a song that isn't exactly a standout.
"Talkin' With a Man in Montana," opens with an acoustic string intro before expanding into a rock opera piece thanks to gigantic piano and vocals and before some blazing guitar work to takes it home.
The closer "Song for Bobbie Jo" has the same sort of relatively low-key opening, but then expands until it straddles the line between the stadium and hippie extremes of the country rock style as Marschke repeats, "You know there's times when I might need a friend," while Collins shout harmonizes, trying her best to overtop the full instrumentation.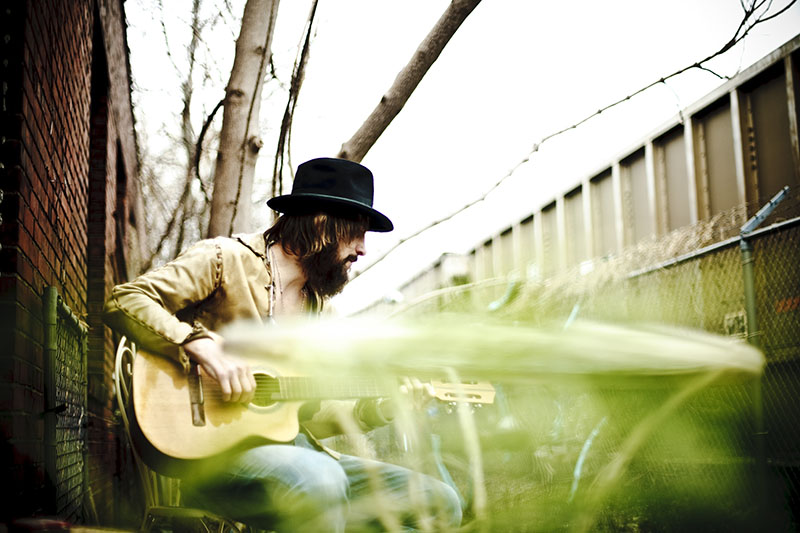 Watch out, Kurt! The aliens are attacking! I'm not entirely sure who thought this bit of celluloid trippiness made for a good publicity shot, but the album it represents is a good example of what made that old-school country rock sound so great.
It's rare that music from one era can so perfectly capture the spirit of another, but at its best Cannery Row reflects the golden age of country rock in a way that few other modern albums have. At the same time, there are moments when that is a weakness, making a few of the songs seem like derivative copies of a given style, showing that perhaps this country infusion thing is still a little new to the Deadstring Brothers and they haven't quite fleshed out a unique path within the genre. But this is only in a few instances and for the most part songs such as "Long Lonely Ride," "Cannery Row," "Lucille's Honky Tonk," and especially "Like a California Wildfire" hit the mark perfectly. What's more, the musicianship is superb throughout, especially in the piano, organ, steel and dobro departments. If, like me, you miss the old country rock style that dominated the late 60's and early 70's, then this is an album you won't want to miss. As an ambassador of alt.country my message to the Deadstring Brothers is this: Welcome home.
---
Buy Cannery Row on Amazon!

| mp3 | cd | vinyl |
| --- | --- | --- |
| | | |