---

---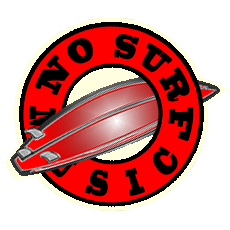 Artist:
David Greenberg and Harpeth Rising
Members:
David Greenberg (vocals/guitar), Chris Burgess (percussion/vocals), Maria Di Meglio (cello/vocals), Jordana Greenberg (vocals/violin), and Rebecca Reed-Lunn (banjo/vocals)
Based In:
Nashville, Tennessee
Website:
Album:
The End of the World
Release Date:
July 27, 2012
Label:
Independently released
Previous Releases:
Harpeth Rising (2010), Dead Man's Hand (2011)
Genres:
Americana, folk, string folk, progressive folk, bluegrass, progressive bluegrass, newgrass
Related Articles:
---
David Greenberg and Harpeth Rising: The End of the World
by Jason D. 'Diesel' Hamad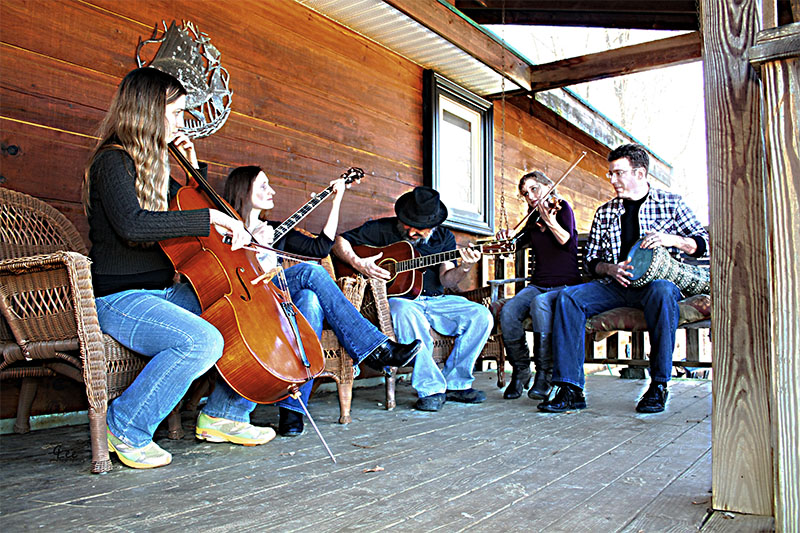 A back porch session with the five talents who came together to create The End of the World. (l-r) Maria Di Meglio, Rebecca Reed-Lunn, David Greenberg, Jordana Greenburg, Chris Burgess.
There are both good and bad points to this whole music reviewing gig, especially when, like No Surf, you focus on independent and lesser-known artists. It's great to have the opportunity to check out so many promising newcomers and masters who have slogged it out for decades never getting the recognition they deserve. But with technology making it much easier to produce an album and even eliminating much of the cost for all-digital releases, that often means we have to slog through piles of don't-quit-your-day-job players to find the few gems buried within. And with outlets for quality reviews so hard to come by, we get far more requests than you'd imagine. But when one of those diamonds does make its way to the top, it makes it all more than worthwhile.
That was definitely the case with the album The End of the World by David Greenberg and Harpeth Rising. After the first track, I was impressed. After the second track I was sure there was something special here. By the end of the first listen through the whole album, I was absolutely blown away. Quite simply, The End of the World is one of the best albums you or I will ever hear.
When analyzing music, there are two main spheres into which one can divide any piece: music and lyrics. Many groups have strength in one area or the other, but rarely both equally. More rare still is an album where both are at the absolute pinnacle of achievement. Most rare of all is a blending of the two so complete and insightful that they seem to fuse into one. Yet that's the case with this album. The music and lyrics complement each other so perfectly that it's hard to imagine them existing separate from one another.
As suggested by the double billing, the workload on this album is roughly split between David Greenberg—described in the album notes as "a crazed doomer, a radical farmer, and an occasional optimist" who provides guitar, vocals and all the lyrics—and Harpeth Rising—a classically trained string quartet that eschews Beethoven in favor of their own brand of not-quite-bluegrass, not-quite-folk, not-quite-like-anything-you've-ever-heard roots music, who were responsible for the arrangements. They are related by blood—David is the father of violinist Jordana Greenberg—but the decision to meld the two forces into one was pure genius.
Anyone who regularly reads this website knows that as a writer myself, I am far more interested in lyrical quality than many reviewers, and that made this album a particular delight. I'm not going to pull my punches: as evidenced by these songs, David Greenberg is one of the greatest lyricists alive on the planet today. His writing is alternately reminiscent of Leonard Cohen, Bob Dylan, Kris Kristofferson, James McMurtry, Steve Earle and Townes Van Zandt. Yeah, this guy is that good.
Just as impressive is the accompaniment by Harpeth Rising. It's unlike anything else out there. There are touches of bluegrass in the fiddle and banjo, but the cello adds whole new layers and a slightly mournful quality unexpected in the genre. There are also touches of folk in both the instrumentation and lyrics, but the musical talent and precision of the players is so great that they far surpass anything in the folk tradition. Ok, maybe music school is worth something.
Take, for instance, "Truck Stop Mama," not only the most impressive song on the album, but the winner of the No Surf Music Shiny Silver Surfboard Award for 2012's Song of the Year. At its heart it's a blue-collar trucker song following the thoughts of a man driving his rig on to the next destination, but its spirit is purely political as those thoughts turn to the sights he sees along the road, the people he's known, and how the little guys like himself always seem to get screwed. Yet it's done with such grace and candor that one almost doesn't notice just how poignant the societal critique is as it slowly pours out among the beautiful, expressive bowing and plucking of the music. It's easily the best political song since James McMurtry's "God Bless America," so sharp that it's almost impossible to pick out just one segment of lyrics to highlight. But as an example, take this particularly pointed stab at warmongers:
The cars were lined up two miles back
With the headlights blazin' and the flags half-mast.
It's another young boy home at last,
That's not the way they wanted him back.
And the big man shoutin' 'Bring it on!'
From a bomb shelter underneath the White House lawn
They're having a laugh. They're all drinkin' champagne.
They're all getting paid. Guess who pays.
Why, oh why? It makes you sick inside.
I just keep rollin' to that big Montana sky.
As that final couplet suggests, the song's narrator feels that even though he sees injustice after injustice in his travels, he's too small to do anything about it. This is expressed perfectly in David's vocals as he almost blithely recounts each offense. Only at the most intense moments does his voice crack just slightly with rage. The music, too, seems to perfectly mirror the teamster's state of mind, with cello and banjo signifying the rolling roar of a truck burning miles and a thump-thump-thumping drum that seems to mirror an anxious heartbeat. But it's Jordana's violin that's the true musical star here, rising and falling with forlorn grace along with the ebb and flow of the man's thoughts. Only when the trucker thinks of those few memories that give him the strength to keep moving down the road does the music pick up its pace in time with his mood.
Another highlight is "Evil Eye." The pulse-pounding romp through a dystopian wonderland is brought to life by the distinctive vocal growl of Jordana, whose wailing violin somehow simultaneously manifests the inherent beauty of pain as each successive dark metaphor spills forth from her lips. The elder Greenberg's use of both consonance and assonance is so prevalent in this song that it would seem heavy handed if it not so perfectly crafted:
The priest from pulpit hatred strikes the broken bells of sin.
There's one who knows it's been foretold but you don't speak for him.
And Noah takes the slaughter knife and Lot just slams the door.
And Goliath in Golgotha feasts; King Judas shouts for more.
And down along the roadside the fool tries to divine
If the world has turned invisible or if he's just gone blind.
The Spanish-inflected "Señorita," is reminiscent of Jimmy Buffet's "Margaritaville," but… well, you know… good and stuff. The lyrics have a hint of Townes Van Zandt to them and recount the story of a spiritually—if not geographically—adrift man drinking away his time and trying to lose himself completely in bottles of cheap tequila and the welcoming arms of chicas bonitas:
I left my rig in the pilot last night;
Drove the grey ghost across to the other side.
Here in the Casa Felicidad everyone smiles.
The girls are sweet and you feel so sad
When they take all your money and you know you've been had.
The dust of the Mexican twilight shines in their eyes.
Señorita, every lie holds a promise,
It's on the edge of your eyes and your black hair, too.
Señorita, you know I come by it honest.
There are men like me because there are women like you.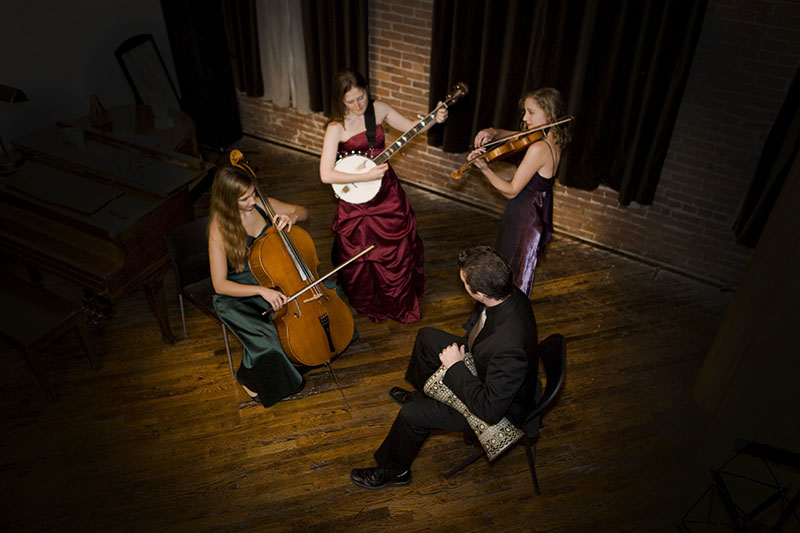 See, they're even dressed for a ball. It's obvious these guys know their way around high-class music halls just as well as the seedy honky tonks No Surf favors.
The final and title track, "The End of the World," also has to be counted among the album's greats. A discordant waltz for the still-living-and-always-soon-to-be-dead, it would make a perfect closing number for Lucifer's Annual Masked Cotillion. David's voice sounds particularly devilish as he relishes each dripping syllable of the verses, then picks up to match the plucked strings of the chorus:
The planets are circling, slave to the sun god
Whose voice is a breath of atomic red wind.
And the poor constellations claim your expectations,
Imprisoned us all in this fight to the end.
You try to return then and looking behind
You can see what you came to believe is the reason.
All you can do now is drink and be merry
And know that your prayers are not lost to the winds.
Drink and be merry; tomorrow's your birthday.
You have to keep going though you know how it ends.
No matter how holy or artful the reasons, around and around you must do it again.
The Mayans would appreciate Greenberg's cyclical notion of time, if not his predictions of ever-impending apocalypse. Particularly engaging from a musical standpoints are the positively desolate cello part and the feisty handclap percussion that seems to stand at odds with the other more operatic aspects of the arrangement.
Even though these songs are particular standouts, many of the other tracks would easily be the best on nearly any other release. "Goin' Goin' Gone," for instance, a lively, foot stomping father-daughter duet and the closest thing to a true bluegrass-style hoedown on this album, is absolutely infectious and peppered with great zinger lines like:
Preacher tells me Satan's got my number.
Can't get to heaven that way, doncha know?
I say preacher put your money where your mouth is.
One man's beef is another man's rodeo.
"Outlaw" is an uptempo ballad for a nonconformist, shunned by society for his refusal to accept its rules. Again, the lyrics are strong, but never more so than when Jordana's voice strains to hit the heights of the lines:
It's all right; you may never dig it.
He comes from a time now far away.
Didn't get those badges in some dime store.
He earned them in a valley with no name.
He's not bound for gold or glory
And he worries some about gettin' old.
Just runs free like God intended him to be
And I know that's what they hate the most.
"Goin' My Way," the sprightly opener, is a particularly good showcase of all the players' talents as it trades back and forth between featuring the banjo, violin and cello with the acoustic guitar and drums providing substance. "Nowhereland" is a complex allegory filled with allusions to key points in Judeo-Christian mythology made especially empathetic by Jordana's clarion voice accompanied by a comfortless cello opening that gradually builds into a many-layered climax, only to collapse again into a disconsolate denouement. "You Can Only Follow" is another trucker-inspired song that's about far more than just hauling loads, while "Out of Sight" is a particularly Cohenesque piece filled with vivid imagery and sweeping string parts.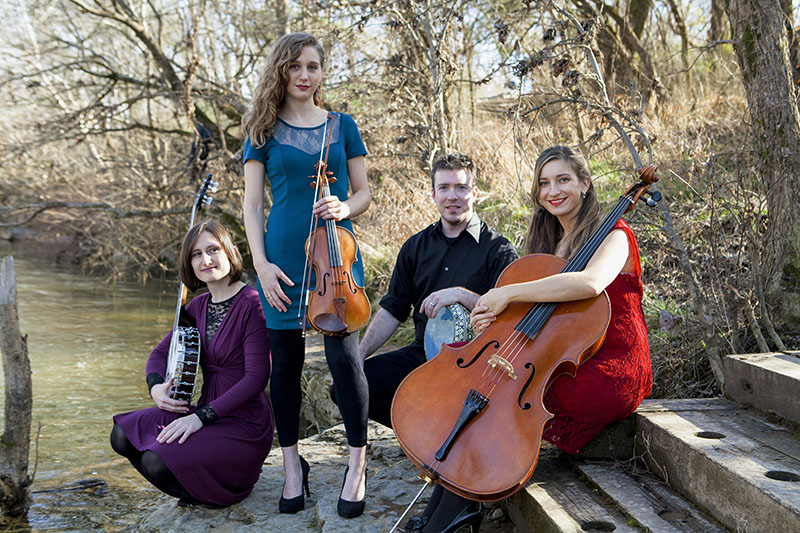 I'm guessing that's the Harpeth River in the background, but either way, that waterway's namesake band is going to be making memorable music for a long time to come.
The End of the World could easily be considered a concept album tied together by the truck-driving character most prevalent in "Truck Stop Mama" and his observations as he moves through a solitary life with plenty of time to analyze the world around him. It is not necessary to know whether this was intentional in order to appreciate the inherent quality of both the individual tracks and this album as a whole, and so I simply didn't ask. What's clear is that David Greenberg himself has a particularly sharp eye for observation and an impressive ability to express himself poetically. Amazingly enough, these talents are matched by the musical ability of Harpeth Rising. Combined, they have produced what is easily one of the most impressive albums of this or any year, and one that deserves to be remembered for years to come. There's no doubt that it merits only the second-ever perfect "Hang Ten" rating for an LP from the No Surf Review, and my only regret is that it's taken so long to get this article completed. If you're looking for a powerful, poetic and musically striking album (and really, who's not?), then look no further than David Greenberg and Harpeth Rising's The End of the World.
Buy The End of the World on Amazon!

| mp3 | cd |
| --- | --- |
| | |