---

---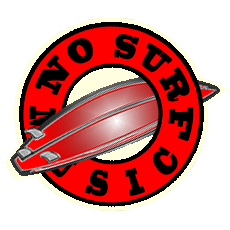 Artist:
Dire Straits
Members:
John Illsley (bass/vocals), Mark Knopfler (vocals/guitar), Pick Withers (drums/vocals)
Based In:
London, England<
Website:
Album:
Making Movies
Release Date:
October 17, 1980
Label:
Vertigo (U.K.), Warner Brothers (U.S.)
Additional Releases:
Dire Straits (1978), Communiqué (1979), Love Over Gold (1982), Brothers in Arms (1985), On Every Street (1991)
Genres:
Rock, blues rock, roots rock, progressive rock
---
Dire Straits: Making Movies
by Jason D. 'Diesel' Hamad
Everyone knows Dire Straits. Everyone. Why? "Money For Nothing," that futuristically animated, perfectly zeitgeist, absolutely iconic hit from 1985's Brothers in Arms, the video for which was (not surprisingly) the first ever played on MTV Europe. If you dig a little deeper, people might remember the other big hit from that album, "Walk of Life," or their first success, "Sultans of Swing." But these days, it's that "I want my MTV" tagline that's managed to stick in everyone's head.
What's wrong with that? Well several things.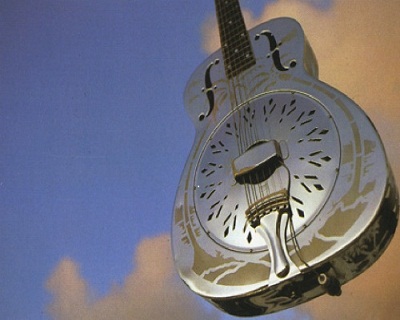 Quite possibly the most famous resonating guitar in history, from the cover of Brothers in Arms. The album featured no dobros; they just thought it looked cool.
First off, Dire Straits was one of the most creative bands that ever existed (not to mention the biggest band in the world after the release of Brothers in Arms… at one point, 1/10th of all households in Britain owned the album, including the Queen's). With influences ranging from rock to jazz to blues to folk to beatnik poetry, they had a sound that was absolutely unique. Frontman Mark Knopfler was (and is) a master lyricist, not to mention a pretty damn fine guitar player. In fact, he may be one of the most underrated guitarists in history. Guys like Clapton and Hendrix get all the glory—and rightly so considering their innovation—but Knopfler had a way of transferring emotion from head to fingers to strings to sound unmatched in the history of rock n' roll. The group also pushed the envelope on digital recording and the CD format. Ok, CDs are an abomination, but they were the new thing back then, and a major technological leap. "Bothers in Arms" was the first CD single ever and the album was the first to include CD-only extras like extended song versions not available on the LP… it can be fairly said that Brothers in Arms made the CD popular. At the same time, they were pushing the envelope musically, their early roots-based rock standing in stark contrast to the predominance of punk and their later, more complex recordings finding a happy medium between progressive rock and regular good ol' rock n' roll. It's often said that R.E.M. was the grandfather of alternative rock, but that's bunk. It was Dire Straits all the way. They were the alternative before people knew an alternative was needed.
Given all of that, the fact that the band is reduced in the modern consciousness to just one (maybe three) songs is an absolute lowdown shame.
The other problem is that "Money For Nothing" was not the band's best song. Not even close. It's decent enough if you can get over the cliché that it quickly became, but it's not in their top ten, maybe even twenty. For that matter, Brothers in Arms, as good as it is, is not their best album. In fact, every LP that preceded it was nearly as good, if not better.
Without a doubt, Dire Straits' masterpiece is their third album, 1980's Making Movies. Few people remember it today, but it was a powerhouse through and through. It was the debut of their more complex sound, the first to include long-form tracks (they eventually topped out at over fourteen minutes with Love Over Gold's "Telegraph Road," which would make any progressive rock band proud), and includes some of Mark Knopfler's best compositions, both musically and lyrically. It even features keyboards from the E Street Band's own Roy Bittan, who plays to great effect on almost every song.
The cover of the album is very plain, solid red front and back with just a small blue line running along the edge that announces the band name and album title in white, capital, sans serif letters. A semicircular notch is cut out in the center of this line, making the whole thing resemble an oddly colored floppy disk in its sleeve (remember when floppy disks were actually floppy… for that matter, remember floppy disks at all?). The inner liner is almost as barren, the same blue with lyrics running in tiny print (and all in lower case) along the edge on either side. On the front side are pictures of the three band members, starting with a dreamy-looking Knopfler (his brother, David, having left the band in the middle of recording over creative differences, was replaced by session guitarist Sid McGinnis, and both went uncredited).
The needle drops onto the spinning black surface, hitting a band that takes up over a third of the space, and you are met with the opening notes of "Tunnel of Love." Clocking in at over eight minutes, the song signals that this is not going to be a pop rock fest based on four-minute singles, but instead a conceptual album meant to be listened to from first note to last. It opens with an odd little organ and piano interlude that seems like it belongs on a vaudeville stage more than a rock album, which makes sense since it is actually "The Carousel Waltz" by Rogers and Hammerstein. This is entirely appropriate because the song's love story is set on an amusement park backdrop, with several referenced throughout. After the intro, the song quickly fills out into a powerful drumbeat with blazing guitar. Typical of Dire Straits' long-form songs, it features several changes of pace, but remains compelling throughout—whether the music is heavy and vocals shouted, or mellow and light, with words delivered in highly resonant emotion at almost a whisper. It is a song about a fast life lived on the edge, and the lost love that accompany such choices. This song includes some of the most haunting lines ever written, including those that document the narrator's loss:
She took off a silver locket. She said remember me by this.
She put her hand in my pocket. I got a keepsake and a kiss.
And in the roar of dust and diesel I stood and watched her walk away.
I could have caught up with her easy enough, but something must have made me stay.
The best lines, however, are delivered most beautifully in a slow section at the end, and come as if out of a dreamed memory:
And girl it looks so pretty to me, like it always did,
Like the Spanish City to me when we were kids.
(The Spanish City is one of the amusement park references, being a fairground in Whitley Bay, U.K.)
The emotion drips from Mark Knopler's voice in a way that makes one think that the lines must be deeply personal to him, no surprise as his songs often are. His guitar comes in to complete the lines, weeping in a way neither George Harrison nor Eric Clapton ever imagined. The guitar gradually picks up and is joined by the full instrumental power of the band, making for a tremendous full sound highlighted by Roy Bittan's fingers moving nimbly up and down the keys. In the end, the narrator is left to wander through amusement parks the world over searching for his lost love.
Next comes "Romeo and Juliet." A modern day version of the star-crossed lovers' story, this song is told from the would-be Romeo's perspective as he tries to win back his Juliet, who it seems has moved on to bigger things without him. Musically, it is light and delicate, with Spanish guitar interludes that build to an emotional climax featuring thundering drums and pounding piano on the choruses. Again, Knopler's vocals are true and emotional, making the listener really feel for the lovesick boy to whom he gives voice, a pseudonymed proxy for himself. It is a beautifully written masterpiece, with great lines that reference the Bard's great play and pop culture equally well, such as:
You promised me everything. You promised me thick and thin.
Now you just say 'Oh Romeo, yeah, you know I used to have a scene with him.
and
I can' do the talk like they talk on the tv
And I can't do a love song like the way it's meant to be.
I can't do everything, but I'd do anything for you.
I can't do anything except be in love with you.
At the end, Knopler's sad electric guitar springs to life, highlighting the character's yearning and dejection. While it may not be as well known as some of their later hits, it just might be Dire Strait's best song.
"Skateaway" is an epic romp about a beautiful girl on roller skates, listening to her Walkman (how 80's zeitgeist can you get?) as she zips by. It opens with a strange, thundering percussive beat, aided by the sound of spinning wheels. To this is added first organ, then guitar, and then finally bass and vocals. Knopler's delivery is almost spoken word as he tells the story. What from another writer could be nothing more than a bubblegum portrait of a pretty girl is in Knopler's hands a brilliantly written tribute to dreams and dreamers with a slightly feminist edge. Skating through the city with no fear, the "urban toreador" challenges taxis to games of chicken and escapes into her own world via the rock n' roll coursing through her ears. The piece has a beautiful operatic sound, due in no small part to Bittan's keyboards and the song's structure, which repeatedly builds to a climax only to pull back again and reset for another charge. Like the girl it portrays, the listener is forced to get lost in the music with lines like:
No fears alone at night. She's sailing through the crowd.
In her ears the phones are tight and the music's playing loud.
She gets rock n' roll, a rock n' roll station
And a rock n' roll dream.
She's making movies on location.
She don't know what it means.
But the music make her want to be the story
And the story was whatever was the song, what it was.
Rollergirl, don't worry.
DJ play the music all night long.
It's a powerful song throughout, not to mention a hell of a lot of fun, and if "Romeo and Juliet" is the band's best, this one is not far behind.
And that's it. An entire side taken up by just three epic, truly amazing tracks. It's hard to believe twenty-two minutes have gone by as the needle pops up and returns to its cradle. Still, it's time to flip the record and see what else is in store.
With driving guitar, thundering drums, and rollicking keyboards, "Expresso Love" opens the second side with a harder rock edge and a classic "1, 2, 1, 2, 3, 4" countdown. The song begins with a series of powerful guitar licks and Knopler's at first hesitant voice, but soon opens up into a powerful crazy love song. First comes a metatextual reference to one of the band's early hits with the lines:
She call me just to talk.
She's my lover. She's a friend of mine.
She says "Hey, mister, you wanna take a walk
In the Wild West End sometime?"
This is soon followed by:
I was made to go with my girl
Just like a saxophone was made to go with the night
This ingenious line is the cue to open up into a powerful musical break, featuring not a sax (as would have been the case on previous albums) but Knopler's nimble blues guitar. It ends with him spitting out lines almost independent of the music, staccato little punctuations on top of the notes, some of which are actually about the coffee backhandedly referenced in the song's title. As the song fades out there is only one conclusion to make: this is almost certainly the best four-song sequence in the history of rock 'n roll. It is truly amazing.
"Hand in Hand" transitions back to a mellow sound, with light keyboards in the forefront as the song begins, and Knopler's voice again almost at a whisper. It is an end-of-relationship apology song, with the narrator acknowledging his flaws through his depression and hoping for redemption. The pace picks up in the chorus as the keyboards get heavier, the drums kick in, the guitar springs to life and Knopler sings:
If I been hard on you I never chose to be.
I never wanted no one else.
I tried my best to be somebody you'd be close to,
Hand in hand like lovers are supposed to.
Unlike the other songs on the album, where the vocals are often either shouted or delivered in a beat poetry pace, many of the vocals here are somewhat sing-songy, with a melody of their own. It works well, however, because of the overall tone of the song, which is itself much more traditionally melodic than many of the others. Only at the end does Knopfler return to the spoken word delivery, with the languishing lines:
Sky is crying, streets are full of tears,
Rain coming down to wash away my fears.
And all this writing on the wall,
Oh I can read between the lines.
"Solid Rock" opens with trademark power guitar and a honky-tonk piano part, indicating that this one is going to be a barnburner. Knopler's voice pours forth frenetically, making one wonder how he can manage to keep the syllables straight in his mouth. Oddly, given the musical context, the song is not about life on the edge, but a call for the exact opposite, a life lived on solid ground after so many disasters:
Because the heart that you break,
That's the one that you rely on.
The bed that you make,
That's the one you gotta lie on.
When you point your finger cos your plan fell through
You got three more fingers pointing back at you.
Here, Knopler demonstrates the lessons learned from a long stretch of experience.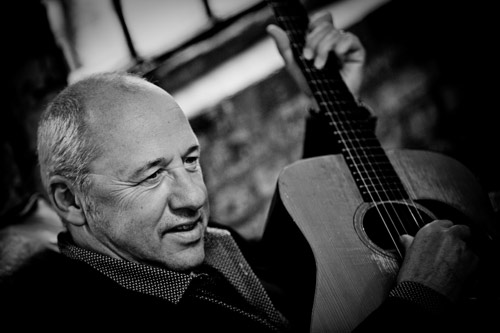 Mark Knopfler, the frontman for Dire Straits and its driving creative force, in a recent publicity photo. As a lyricist and musician he's as good today as he was at the band's height.
Finally, "Les Boys" is a strange little coda, almost in the vein of the Beatles' "Her Majesty." It doesn't fit in with the rest of the album in many respects, and almost feels like a joke to close the show. The dancing piano and light guitar licks make it a tune built for the German cabaret performers about whom it is written, while Knopfler's Lou Reed evoking voice is perfect for the subject matter. With lines like, "Les boys do caberet./ Les boys are glad to be gay," along with the general celebration of the namesakes' lifestyles, it can be seen as a relatively early gay rights song, although this is tempered by the 70's stereotypical portrayal of bizarro Nazi S&M masters. Regardless, it remains strange and little in the face of the power that preceded it, a throwaway song on an otherwise incredible feat of musical mastery.
And that's Making Movies, one of the great albums in rock history and one that should get far more recognition that it has received in recent years. With lyrical power and musicianship almost unmatched in its time, it truly belongs on any list of the great ones. Mark Knopfler, the driving force behind the band, was an absolute genius, and remains so throughout decades of solo work. The contribution of Roy Bittan also cannot be understated: it's hard to imagine these songs being anywhere near as striking with any less of a talent on the keyboards. The fact that this album is forgotten by all but a few diehards and little more than a footnote even to many of them is a sad, sad state of affairs. These feeble words do little to express just how powerful a work it is, truly a vinyl essential.
Buy Making Movies on Amazon!

| mp3 | cd |
| --- | --- |
| | |