---

---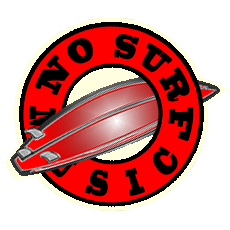 Artist:
Those Darlins
Based In:
Nashville, Tennesee
Website:
Interview Subjects:
Adrian Barrera (bass/vocals), Nikki Kvarnes (vocals/guitar), Linwood Regensburg (drums/vocals), and Jessi Zazu (vocals/guitar)
Interview Date:
October 22, 2013
Interview Location:
Albums:
Those Darlins (2009), Screws Get Loose (2011), Blur the Line (2013)
Genres:
Americana, alt.country, cowpunk, rock, indie rock, garage rock, punk rock
Related Articles:
---
Those Darlins: Adrian Barrera, Nikki Kvarnes, Linwood Regensburg, and Jessi Zazu
by Jason D. 'Diesel' Hamad
A spectral Nikki lays down some guitar riffs over Jessi's shoulder during their performance at The Beachland Tavern. Photo by Jason D. 'Diesel' Hamad, No Surf Music.
A year is way too long to go without seeing No Surf Friends Those Darlins, not just because they always put on a hell of a show, but because they're just a fun bunch of people. So it was especially nice after such a long absence—and with their new album Blur the Line just released—to sit down and talk with the band before their recent show at the Beachland Tavern in Cleveland.
This is the second time the group has joined us for a Burning River Fireside Chat, but the first since bringing on bassist Adrian Barrera. Throughout the interview, we discussed how Adrian's addition and other changes within the group have affected the new album and the band's operation. But we also delved deep into a number of the album's awesome tracks, allowing me to pick the brain of Jessi Zazu, who I have no qualms in saying is one of my favorite songwriters on the scene today. It's a mind full of twists, turns, switchbacks, blind curves and the occasional bridge out without warning, but that just makes the ride all the more interesting—which may explain why even though I always seem to find myself mysteriously unable to form coherent sentences, I always love conversing with her. And even though this fascination with Jessi's work often leads me to unfairly ignore Nikki (which in turn (and perhaps only in my head) makes me feel like she often wants to stab me with a fork), I did manage to get some great insight from her into both her own contributions and Jessi's, an important facet considering this album is more intertwined than any of the band's previous work. Oh, yeah, and that dude Linwood was there, too, mostly just to discuss the mystery of Jessi's dinner and look up painters on the internet.
There's something about Those Darlins that's always about exploring neuroses, and maybe that description of our interview reveals more of mine than theirs, but if we get along, it may have to do with the fact that we've all got more than a few screws loose, which mayhaps in turn is why I enjoy their music so much. There's no doubt in my mind, however, that Those Darlins are one of the most unique, intriguing, and just plain entertaining bands on the indie rock scene today, and one with which you'll never regret becoming more familiar, even at the cost your own imagined sanity. So put another log on the fire, open up some of that Halloween candy you stole from the local trick-or-treaters, and let's get diggin'.
---
For a taste of Those Darlins, buy Blur the Line on Amazon!

| mp3 | cd |
| --- | --- |
| | |