---

---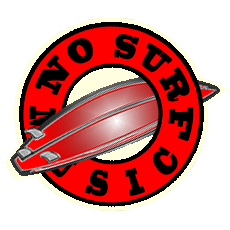 Artist:
Those Darlins
Based In:
Nashville, Tennessee
Website:
Interview Subjects:
Jessi Darlin (guitar/vocals), Nikki Darlin (bass/vocals), Linwood Regensburg (drums/vocals)
Interview Date:
July 24, 2012
Interview Location:
The Beachland Tavern, Cleveland, Ohio
Albums:
Those Darlins (2009), Screws Get Loose (2011)
Genres:
Americana, alt.country, cowpunk, indie rock
Related Articles:
---
Those Darlins: Jessi Darlin, Nikki Darlin, Linwood Regensburg
by Jason D. 'Diesel' Hamad
Those Darlins at their slinky, sassy best. (l-r) The recently departed Kelley Darlin, Nikki Darlin, Jessi Darlin and Linwood Regensburg. Photo by Veta & Theo.
Summer, of course, is a time for strawberry festivals. Strawberry festivals are what made America great, and it's important to honor that sacred tradition. But here at No Surf, summer is also a time to catch up with a lot of great bands who make their way to the North Coast to play in the few days a year when Cleveland is not a frozen wasteland. That also means that it's a great opportunity to get in some quality time with a few Burning River Fireside Chats, and we've had plenty of them in recent weeks. Yes, the flames may make the summer heat extra toasty, but that just makes it all the more fun.
For the final of three interviews in four days, we were very happy to get the chance to sit down with No Surf Friends and multiple Surfy Award winners Those Darlins. We've wanted to get these guys recorded since we started this site, because with the conglomeration of rather unique personalities in the band, I knew it would be fascinating. And of course, they didn't disappoint. I'm pretty sure it's Those Darlins band policy never to disappoint.
If you don't know Those Darlins, as I say at the start of the interview, what the fuck is wrong with you? These guys are awesome. Not only do they combine quality songwriting and catchy music with a twisted punk attitude, but they do it all with a sarcastic smile and a devilish gleam in their eyes. They combine a rock sound with a country heart in a way that is sonically unique, completely relatable and eminently endearing. And they rock live, giving some of the most explosive, energetic shows you're bound to see in a lifetime. As Jessi puts it, they've been "kicking ass and taking names," but the truth is these guys don't give a shit what your name is. If you're within earshot of their stage, they're gonna kick your ass regardless.
Add to that the fact that each member of the band has their own particular quirky personality, and you've got a recipe for some fascinating conversation. Along the way, we discussed everything from racist Rottweilers to eclectic would-be mystic gurus to the band's future after the departure of one of their founding members. Also, apparently, we decided that Lin isn't Ringo, but he does want to be Mick Fleetwood when he grows up. So, as always, pull up a chair, get those marshmallows roasting, and get ready to dive into the depths of Those Darlins.
For a taste of Those Darlins, buy Screws Get Loose on Amazon!

| mp3 | cd | vinyl |
| --- | --- | --- |
| | | |