---

---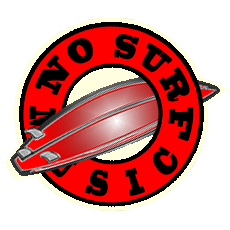 Artist:
Murder By Death
Based In:
Bloomington, Indiana
Website:
Interview Subjects:
Matt Armstrong (bass)
Interview Date:
July 21st, 2012
Interview Location:
The Grog Shop, Cleveland Heights, Ohio
Albums:
Like The Exorcist, But More Breakdancing (2002), Who Will Survive, and What Will Be Left of Them? (2003), In Bocca Al Lupo (2006), Red of Tooth and Claw (2008), Good Morning, Magpie (2010), Bitter Drink, Bitter Moon (2012)
Genres:
Americana, Americana-noir, alt.country, gothic rock, indie rock, alternative rock
Related Articles:
---
Murder By Death: Matt Armstrong
by Jason D. 'Diesel' Hamad
Murder By Death chills in the woods, in living color (l-r Matt Armstrong, Scott Brackett, Adam Turla, Sarah Balliet, Dagan Thogerson). Photo by Greg Whitaker.
With a dozen years as a band behind them and the tenth anniversary of their first album, Like the Exorcist, But More Breakdancing, on the horizon, cult favorite Murder By Death is showing no signs of slowing down. The group has just signed to Bloodshot Records and is set to release their sixth studio album on September 25th, entitled Bitter Drink, Bitter Moon. They're also keeping up their relentless touring schedule, which has brought them to Northeast Ohio no less than three times since No Surf was founded. Their most recent appearance was a packed Grog Shop show as part of a tour supported by Cory Chisel and the Wandering Sons and new labelmates Ha Ha Tonka.
Since the new album is ready to go but not yet released, the band is currently showcasing an assortment of both new and old music, including several selections from Exorcist that they haven't played live in years. Before they took the stage, I sat down at the bar to catch up with bassist and founding member Matt Armstrong and discuss everything Murder By Death, from what sets Bitter Drink, Bitter Moon apart from their earlier work to the possibility that lead singer/lyricist/guitarist Adam Turla is a closet psychopath. Since we had the opportunity to interview Adam at the band's Rock & Roll Hall of Fame performance last summer, it seems I'm going through the whole band one member at a time. Cellist Sara Balliet has promised she's next (and you'd better believe I'm going to hold her to it), so while you can look forward to that, in the meantime Matt has the scoop on all the happenings with this extremely unique and always entertaining band.
Buy Bitter Drink, Bitter Moon on Amazon!

| mp3 | cd | vinyl |
| --- | --- | --- |
| | | |