---

---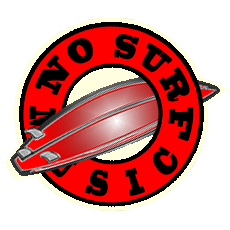 Artist:
Murder By Death
Based In:
Bloomington, Indiana
Website:
Interview Subject:
Adam Turla (vocals/guitar)
Interview Date:
August 17, 2011
Interview Location:
Rock and Roll Hall of Fame and Museum, Cleveland, OH
Albums:
Like The Exorcist, But More Breakdancing (2002), Who Will Survive, and What Will Be Left of Them? (2003), In Bocca Al Lupo (2006), Red of Tooth and Claw (2008), Good Morning, Magpie (2010)
Genres:
Americana, Americana-noir, alt.country, gothic rock, indie rock, alternative rock
Related Articles:
---
Murder By Death: Adam Turla
by Jason D. 'Diesel' Hamad
I guarantee life on the road for a bunch of working musicians isn't usually this glamorous, but damn, Murder By Death makes it look good. (l-r) Matt Armstrong, Dagan Thogerson, Adam Turla, and Sarah Balliet. Not pictured, Scott Brackett. Photo by Greg Whitaker.
A long, long time ago, people often discovered great new music by turning on the radio and listening to what their local disk jockey was spinning. Those were the days of Alan "Moondog" Freed, the Cleveland radio personality who coined the term "rock and roll," helped bring the new form of music to the masses, and later allowed the North Coast to lay claim to the site of the Rock and Roll Hall of Fame and Museum. So what if he took money to play records? They were still some damn fine tracks.
Those days are long gone. Today, terrestrial radio sucks. If you think payola was a scandal, what's the soulless bullshit pushed by Clear Channel that now dares to call itself music? These days, if you turn on the radio and you don't happen to land on a station playing Adele or maybe Mumford & Sons, your chances of finding any truly quality music are next to nothing.
Even as radio has gone by the wayside, new methods to discover music have opened up. There's satellite radio, which plays a much broader spectrum of tunes than its land-based cousin. And, of course, there's the internet, where iTunes, Pandora, Spotify and—dare I say—sites like No Surf Music allow people greater access to information about music than ever before.
Still, for my money, nothing strikes a listener harder than hearing a band live, and nothing else has quite the same power to create a musical love affair. Many of the bands that stick out most in my mind were groups that I'd never even heard of before finding myself at one of their shows simply because they shared a bill with someone I was already into. Usually, it's the headliner who introduces their fans to a great up-and-coming act. I have Old 97's, for instance, to thank for Ha Ha Tonka. Sometimes, though it's the other way around. Credit goes in turn to the Tonk boys for introducing me to Murder By Death, for whom they opened several years ago at the Grog Shop. Even though I'd heard of Murder By Death before and even knew a few of their songs, it was when I saw them live that something clicked. I got them for the first time.
You won't hear Murder By Death on the radio. Their music isn't poppy and dumbed-down enough to attract millions of fans. What it is is just plain good. They specialize in dark story songs penned with minute attention to detail by frontman/vocalist/guitarist Adam Turla, and bring those stories to life with highly textured, diversely influenced music that spans genres with as much ease as the Detroit-Superior Bridge spans the Cuyahoga. That's why so many of the people who do discover their music become enthralled. With more than a decade of tireless touring under their belt, Murder By Death has built one of the most loyal cult followings around, and it grows every time somebody hears them play for the first time.
At their most recent appearance in Cleveland, Adam Turla sat down with No Surf in the shadow of the House That Freed Built to discuss the band's evolution, their songwriting methods, their upcoming album, and more.
For a taste of Murder By Death, buy Good Morning, Magpie on Amazon!

| mp3 | cd | vinyl |
| --- | --- | --- |
| | | |