---

---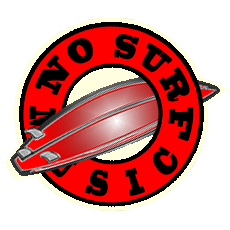 Artist:
Ha Ha Tonka
Based In:
West Plains, Missouri
Website:
Interview Subjects:
Brett Anderson (guitar/mandolin/vocals), Lennon Bone (drums/vocals), Lucas Long (bass/vocals), Brian Roberts (vocals/guitar)
Interview Date:
November 9, 2013
Interview Location:
Albums:
Buckle in the Bible Belt (2006), Novel Sounds of the Nouveau South (2009), Death of a Decade (2011), Lessons (2013)
Genres:
Americana, alt.country, rock, indie rock
Related Articles:
---
#25 Ha Ha Tonka: Brett Anderson, Lennon Bone, Lucas Long and Brian Roberts
by Jason D. 'Diesel' Hamad
The Tonk rocks the Beachland Tavern immediately following our interview. Lucas Long (l) lays down a bass groove while vocalsist/guitarist Brian Roberts (r) hangs back for an instrumental break. Photo by Jason D. 'Diesel' Hamad, No Surf Music.
Twenty-five editions of No Surf Music's Burning River Fireside Chats can be considered something of a landmark. Along the way we've talked to everyone from awesome independent artists like Kelley McRae (#1) and Alice Wallace (#24) to legends like James McMurty (#19) and Billy Joe Shaver (#5 and (spoiler alert) another on the way). But for a nice, momentous number like #25 it's exceptionally fitting that our guests are No Surf Friends Ha Ha Tonka. Not only have I known these guys since way before there was a No Surf Music, but my review of their album Death of a Decade was the very first No Surf Review and the encouragement of band frontman Brian Roberts is one of the reasons this site even exists. Having the chance to sit down and catch up with these guys is always a highlight of the year's musical calendar.
If you read this site even sporadically, you've probably noticed that I'm pretty picky about music and so for Ha Ha Tonka to have reigned as my personal favorite band since their first album was released way back in 2006, there have to be some good reasons, and there are. First of all, these guys just rock. All four members contribute an impressive musical ability that makes both their studio work and live performances stand out. Each also displays an almost unbounded level of enthusiasm, and their shows are among the most energetic I've ever seen. Even when they tone it down for, say, an a cappella song like the traditional "Hangman," they still rock. In their own words, they have the power to be "so quiet they're loud." Speaking of lyrics, that's another highlight of the band's work. Roberts, despite being a relatively young man, has a sense of wisdom beyond his age and an ability to observe his life almost from a third-person perspective, giving him an exceptional ability to find meaning in both everyday events and epoch-making transitions. He also has a particular talent for crafting punchy little lines that stick in the brain long, long after the last note has gone quiet. "This glimpse of brilliance is far better than your long look at mediocrity," was seared into my mind the first time I ever saw them play live and it's the kind of mantra-like fragment that comes up again and again whenever I think about where I'm going in life.
One more thing about Ha Ha Tonka, they're also Americana envelope pushers. They refuse to be restrained by any thought of what their music "should" be. There's a clear progression of ever more complexity starting with the rock-heavy alt.country of their debut, Buckle in the Bible Belt, and culminating (at least for now) in the multi-layered hillbilly symphony/Ozark rock opera that is their latest release, Lessons. The path of constant self-improvement is one of the themes of this latest work, and it's a theme these guys live through their music. Although they always stay true both to their roots and to themselves, the listener can never quite be sure what they're going to get when they first play any new Ha Ha Tonka record, and that constant change, that continued striving, is one of the qualities that makes the music so exciting.
So if you're ready to delve deep into one of the best bands on the Americana scene, pull up that chair, get those marshmallows roasting, and come chat with the Tonk.
---
For a taste of Ha Ha Tonka, buy Lessons on Amazon!

| mp3 | cd |
| --- | --- |
| | |